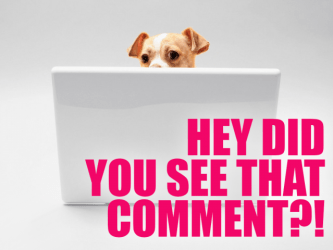 Hello, spring chinchillas!
What a week! Megan and Laneia got married, the "Orange Is The New Black" season 3 trailer premiered and "The Golden Girls" is maybe probably getting a Lego set!
And it gets better! Hologram Selena is happening, Obama called for an end to conversion therapy and we learned all the strange places you weirdos have done the deed.
Also, Rachel wants to help you help yourself, Molly took us on an adventure through the desert and Dinah Shore and A+ members got to read Laneia's diary.
Finally, there were so many good comments this week that I actually saved a few for next week because y'all are shining stars.
---
On The 100 Gayest Places You've Had Sex:
The Wandering Eyes Award to Emily:


On 18 New Slang Terms For Lesbians I Just Made Up:
The The Other Side of the Tracks Got Too Crowded Award to Fiona: 
The Gotta Catch 'Em All Award to Lauren L:
On 10 Historical Straight Theories About How Lesbians Have Sex:
The And They Were Meant To Get Dirty Award to K:



The It's A Sex Thing Award to Carmen Sandiego:



On Saturday Morning Cartoons: Bed Reception:
The Appropriate Avatar Award to Rones: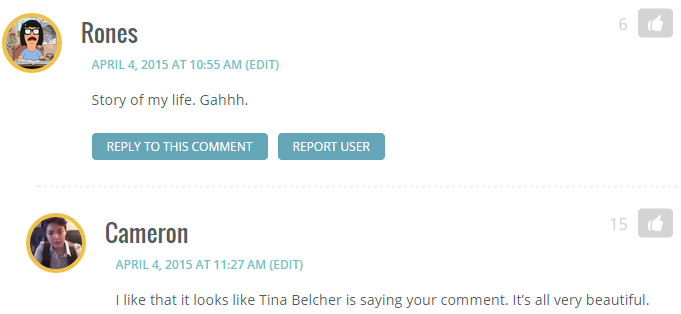 On NSFW Lesbosexy Sunday Wants Her Face Between Your Legs:
The Romance Guru Award to Blackmar:

On Sunday Funday is Filling Your Stadiums, Weddings, Theaters With Gay People, Sorry Not Sorry:
The Your Wife Rules Award to Madeline:
On Pop Culture Fix: Lily Tomlin and Laverne Cox Team Up, Kate McKinnon Is Everywhere And Other Exciting News:
The Bow Down Award to Autumn:

---
See a clever, hilarious or thought provoking comment around this website-ship? Email it to me at: carrie [at] autostraddle [dot] com!