It seems like it was only yesterday — nay, last Tuesday — that we marked the 20th anniversary of the assassination of Selena Quintanilla-Perez, queen of Tejano music and also my heart. Has it really been two entire decades since the ambitious and boundlessly charming Selena was notoriously murdered by Yolanda Saldivar, her fan club president? I just re-watched the classic Jennifer Lopez biopic of Selena's life last week, and it's every bit as emotional as it was when the film premiered in 1997 (and I still know all the words to "Bidi Bidi Bom Bom," thankyouverymuch).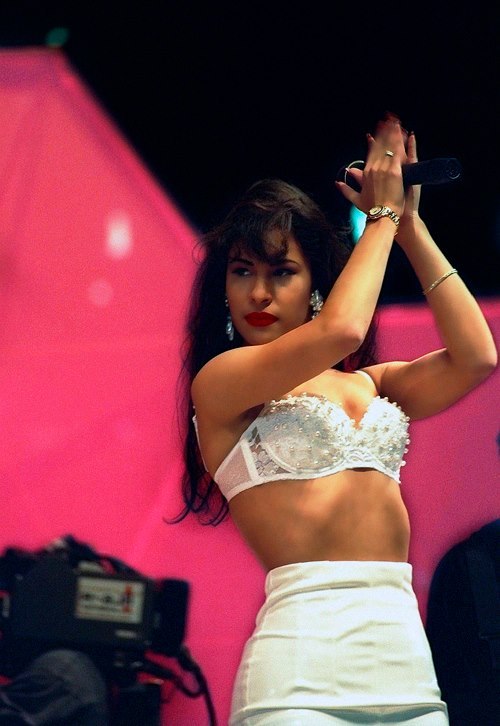 For fans who never got to see Selena live and in person, a beacon of hope has arrived on our horizon. On April 16, an Indiegogo campaign will launch to fund development of Selena The One, a futuristic hologram specifically designed to perform Selena's music in an entirely new way.
With the help of a Nevada-based company called Acrovirt and their partnership with a research and development team at the University of California in San Diego, Quintanilla's family hope to bring fans a realistic representation of Selena's essence — which doesn't come cheap. To create a "walking, talking, singing and dancing digital embodiment" of Selena, Acrovirt is asking for $500k. With the help of top scientists, they hope to build a believable hologram of the star that would be able to perform the hits and even go on tour in 2018. The cost of transporting the hologram's equipment alone is astronomical, and according to Selena's father Abraham it will be extremely important that the quality of the image is realistic enough to satisfy Selena's rabid fanbase. If you happened to catch hologram Tupac at Coachella a couple of years back, you'll be interested to know that even the company behind that particular miracle was not up to the Quintanilla family's standards. "We all decided that it wasn't enough for the fans," brother AB told the Associated Press. "She looked like a ghost. The image was not well defined."
For the quality necessary to make the hologram believable, Acrovirt needs 360 degrees of detailed photographs of Selena's body and according to AB, Jennifer Lopez's body is not an appropriate substitute. "If you love Selena, why would you want to see the body of J. Lo and the head of Selena? It would be like Frankenstein," AB told the press.  Sister Suzette told Billboard, "By no means is this something that's creepy or weird. We think it's something amazing. A lot of the new fans that did not get to experience what Selena was about hopefully will be able to get a sense of her with this new technology that's going to be coming out." Acrovirt co-CEO Terry Kennedy's LinkedIn page explains, "Using detailed individual personalized functions spanning the mind, brain and body, the individual's Digitized Human Essence will autonomously learn and react on behalf of its human counterparts." Hologram Selena sounds incredible, and frankly terrifying.
Perhaps the most astonishing news of all is the announcement that hologram Selena will be able to collaborate with new artists, and she'll even be performing brand new material on her 2018 tour. Somewhere on a mysterious compound in Cuba, Tupac and Selena are clinking their mojito glasses together conspiratorially.