Welcome to Idol Worship, a biweekly devotional to whoever the fuck Carmen is into. This is a no-holds-barred lovefest for her favorite celebrities, rebels and biker chicks; women qualify for this column simply by changing her life and/or moving her deeply, which sounds only slightly harder than it is in real life. 
This week, Yvonne is filling in and shares with you her undying love for legendary Tejano music star, Selena.
---
I grew up 10 minutes from the Texas-Mexico border in the Rio Grande Valley, a magical place where cultures collide and where you can find some real fucking tacos. As a Tejana, a Mexican-American woman, I've straddled the line of two cultures: one that is dominated by the English language and American mainstream culture; the other, my vibrant Mexican heritage. Cornerstones of my distinct experiences include being Catholic, speaking Spanglish, going to hundreds of large family gatherings, eating homemade tortillas and listening to Tejano music, especially SELENA.
Let me tell you something, I've been dancing and singing to Selena's music since I was a wee toddler, whether it is at a party or in the kitchen with my mom. Whenever the synthesizer starts for "Como la Flor" and Selena begins to belt the first notes to the song, I get so excited. It's like a signal — a call —to get your ass to the dance floor as soon as possible because it's about to get real and you will dance like your ancestors before you danced because the rhythm is in your blood and you will have the time of your life. I have adored her since I first heard her amazing voice and my love has grown exponentially throughout the years.
Selena was a talented Tejano singer, who skyrocketed to success in a male-dominated genre and told machismo — which is so ingrained in Mexican/American culture— to go fuck itself. She performed all her life, beginning in the 80's as a child in her family's band and eventually became a legendary star. Selena was only 23 years old and at the height of her career when she was murdered by a deranged fan over a financial dispute at a Corpus Christi motel in 1995. She lives on in her music and in the hearts of many Latinos around the world, especially mine.
Selena was born on April 16, 1971 in Lake Jackson, Texas as the youngest of three to Abraham and Marcella Quintanilla. A former musician, Abraham encouraged his children to embrace music. Selena started singing at the age of 9 while her brother Abraham picked up the bass guitar and her sister Suzette played drums. They became Selena y Los Dinos and performed at their family-owned restaurant. A second-generation Mexican American, Selena grew up speaking English. It wasn't till she started singing that she actually learned Spanish. Her father encouraged her to sing in Spanish to resonate with her community, so she learned Spanish lyrics phonetically and eventually learned to speak the language fluently.
After the restaurant went bankrupt, the family moved to Corpus Christi where they performed wherever they could, from weddings to fairs.  Slowly but surely, Selena y Los Dinos became very popular and were booking shows all over Texas. Their hard work paid off when 14 year-old Selena and the band recorded their first album in 1985.
In 1987, Selena's career really took off. She won Female Vocalist of the Year at the Tejano Music awards — an award she would win eight consecutive times starting in 1989. She landed her first major recording contract with EMI in 1989 and released her self-titled debut album. In 1990 her sophomore album, Ven Conmigo was the first Tejano album recorded by a female artist to achieve gold status. In 1992, Selena's song "Como la Florwp_postsdebuted and boosted her success with Mexican and other Latin American audiences. Her following album Selena Live! won Best Mexican-American Album at the 36th Grammy Awards in 1994. Her following album Amor Prohibido would go on to be nominated for another Grammy for Best Mexican-American Album. In early 1995, she was preparing to enter the English-speaking market with a new album.
Long before today's pop stars donned bejeweled tops and flashy outfits, Selena was a pioneer in the Tejano world for expressing herself and being confident while doing it. She had a passion for fashion and created an eccentric sense of style, designing her many stage costumes, including her famous sequenced bustiers. In 1994, she began her own fashion line and opened two boutiques in Texas, which were equipped with beauty salons.
Not only could this woman belt out a song, she was an excellent entertainer that had some great dance moves. She was graceful and sparkled across the stage and got the party started.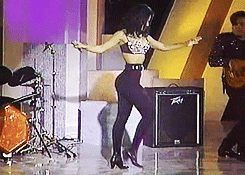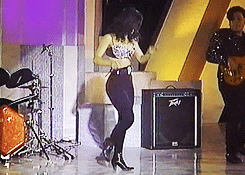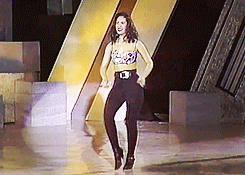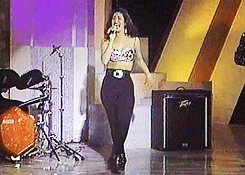 Her best accessory was her smile though. Selena had a bright smile and an infectious laugh to go along with her lovable personality. She was relatable to her fans because she was a down-to-earth Tejana who always put family first. That's why Selena was the coolest person to me growing up. I understood her because she was parte de mi gente. She was a humble person who never let her successful career outshine what was most important to her — her family. Once the Quintanilla family made it big, they didn't splurge on a mansion in a big city, no they settled down in their hometown of Corpus Christi and lived in three houses right next to each other. Selena never lost sight of her roots and owed her success to her supportive family and strong legion of Mexican-American fans.
There is a range of memories I associate Selena with, even though she was actually only alive for four years of my life. I don't really remember her murder being on TV because I was so young, but I remember realizing that she was gone, that there was no more Selena. Shortly after her death, I remember being on my aunt's porch with my friend, listening to Selena on a small portable radio. She told me that Selena had died and I didn't believe her. I was in first grade when they made the Selena movie starring Jennifer Lopez, which became one of my favorite movies ever.
When I was in second grade, I was really ambitious and wanted to be in my school's talent show, singing a Selena song of course. I decided to sing my favorite song at the time, "Dreaming of You." When I say sing, I mean just sing loudly in tune over Selena's recorded voice. I told my parents I wanted to look like Selena and recreate the last scene of the Selena biopic.  My mom bought some white material and sequins, and our seamstress neighbor made me a CUSTOM dress that looked like the one JLo wore. I was a dark, chubby Mexican little girl with glasses and you bet I sang my heart out and won 3rd place. To this day my siblings still bring it up (and make fun of me). I wish I had a picture to show you but these memories are stuck on a VHS tape.
My quinceañera was traditional and complete with a poufy dress and court of honor. There were two special choreographed dances I did with my court (aka my friends) — one was a waltz and the other was a crazy, upbeat remix, during which I had a solo, break-out dance move to Selena's "Baile Esta Cumbia". It was amazing, because it was all me having the time of my life.
This past summer, I went to a fundraising event for allgo, Texas' queer people of color organization, called Queer Qumbia. Let me tell you friends, it was a beautiful experience to sing and dance with fellow queers to the anthems of my culture, like Selena's "Baile Esta Cumbia." I can dance to that song anywhere, anytime (especially when I'm cleaning my bathroom) but the dance floor was electric that night because all my identities were being acknowledged. After going to countless quinceañeras, bodas, family parties, etc. and only seeing straight couples bailando to their favorite cumbias and not being able to do the same, it was a magical feeling dancing with the girl I love to the songs of my childhood in a space where we were welcomed.
Today, Selena is immortalized through her music and the impact she made in this world during her short life. She brought communities together, made people happy and broke down barriers for women in Tejano music.
Before Britney Spears and Christina Aguilera and the Spice Girls entered the picture, Selena was the first superstar that I fan-girled over and looked up to. She served as a role model for young Latina girls because she made them visible, she told the world, "Hey this is me, I'm a successful Latina woman who's bilingual and has curves, beautiful brown skin with jet black hair and I'm proud of that."
Selena's music feels like home to me — it reminds me of the Valley and my family. When I listen, it feels like a Sunday afternoon hanging out with my huge family and eating arroz con pollo and a big pot of frijoles at my grandma's. As cheesy as it sounds, Selena's music is the key to transport me home wherever I may be. The memories I associate with Selena are an integral part of my identity and will always be there for me to celebrate and reminisce.