Orange is The New Black:
Big news, ladies: Alex Vause isn't quite done with you yet.
At the Variety/Women in Film Pre-Emmy Party last Friday, Prepon "aimed to counter reports that she would not be a presence in the sophomore year of Orange Is the New Black," assuring reporters that she is "definitely coming back for season two." Prepon added: "I know what's happening, but I can't spoil anything… I know there's a lot floating around, but I can't wait to get back there. It's exciting."
When asked if she was prepared for the show to be as successful as its been, Prepon responsed: "I don't think anybody was. It's so awesome, and the fans have just been so supportive. It's really unbelievable. People have said a bunch of really nice things."
Prior to this piece of news, rumor had it that Prepon would return for one episode only. Although filming has begun, it seems Prepon hasn't yet returned to the set, which means there's still plenty of room for us to nervously speculate while maniacally cruising tumblr for Alex Vause gifs.
In other Orange is the New Black news, it appears Natasha Lyonne and her But I'm a Cheerleader co-star Clea Duvall reunited at the Emmys on Sunday. From Natasha's instagram: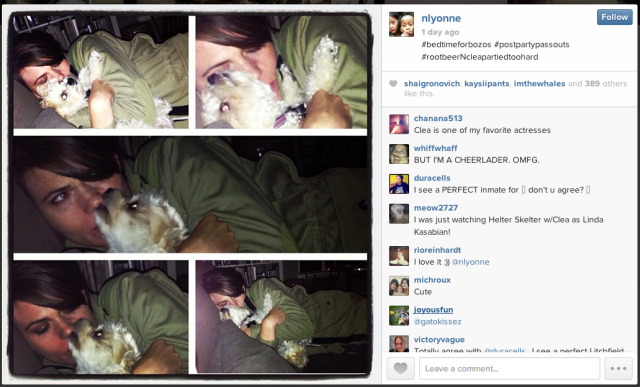 Glee:
Everybody's pretty pumped for Demi Lovato to join the cast of Glee as Santana's new girlfriend, debuting in Episode 502, "Tina in the Sky With Diamonds," which promises Santana finding a "potential new love interest" at The Spotlight Diner, "if only she has the courage to seize it."
The folks at ET Canada asked Lovato about kissing scenes with Naya Rivera, to which Lovato noted, "She's gorgeous, so it's not hard." Furthermore: "I am just really honoured I get to play one of the first young lesbian couples on primetime TV." Lovato talked to ET about her work raising awareness around eating disorders and mental health, adding that she hopes her role on Glee will remind her fans that it's "cool to be who you are."
Naya Rivera spoke to E! News yesterday about the new storyline. When asked if there'd be any love scenes, Naya responded, "There is no love scene. I don't do love scenes. Well, there is no love scene yet." However, were there to be a love scene, Naya joked that her boyfriend Big Sean "definitely has to direct it." That sounds like the worst idea ever, but moving on to additional pressing questions, E! asked Naya if it was "easier" for her to kiss a man or a woman, to which Naya responded, "on Glee, I have to kiss both women and men, and I would say it is easier to kiss women."
Naya Rivera Dot Com also has some new photos of Rivera and Lovato on set:
Judging by these photographs, it seems their place of employment, The Spotlight Diner, will be the Fake Glee version of Ellen's Stardust Diner in Times Square, where the servers, mostly aspiring actors, are required to sing all the time. It's actually a profoundly irritating place to attempt to consume food, but I digress.
Fox has released a few additional videos in anticipation of Thursday's premiere, including Rachel Berry's 30-second callback for Funny Girl..
https://www.youtube.com/watch?v=IL6FEU0IL0M
…and Sue Sylvester's return to McKinley, as principal…
http://youtu.be/XV_Gt-zJXLA
…and Darren Criss taking on some Beatles Trivia.
https://www.youtube.com/watch?v=9hvX1N2SloE
Meanwhile, I am emotionally preparing myself to recap yet another season of this strange situation starting Thursday night. Pray for me.