I've always wanted to get pregnant, have a baby, and be a mom. It's one of the few things I've been certain of for as long as I can remember. I've always thought that growing a baby would be the coolest, most trippy, most transformative thing I could possibly do with my body. And I love kids — their absolute zest for life, their curiosity and silliness. That unadulterated fascination they have with the world, how everything is up for grabs. How easily they love. I adore make-believe and singing all the time, jokes and new adventures. I love constantly discovering, and the way kids remind us how much there is to teach and learn. I've always filled my life with children.
My family describes me as "capricious," which I don't think is exactly fair, though it's true that I throw myself passionately into new things, and there have been quite a few new things.
When I was a kid, I thought I'd be a mathematician or an actress. Then I thought I'd work in post-conflict zones or be a professor. Then I wanted to be a writer. Or a professional activist, or a lawyer, maybe, just briefly. I wanted to live by the ocean, abroad, on a farm — no! — definitely in a city.
When I landed a full scholarship to college, I took the money I'd saved waiting tables during high school and flew to Cape Town. I spent the next 15 months in 25 countries spanning Africa, Europe, and the Middle East. I thought, then, that I might be a traveler forever.
In college I went to sit-ins, disrupted white supremacists, got arrested and became, for a moment, the poster child for everything wrong about radical left youth. (She's queer! She's been to Africa! She's majoring in performance art!)  As a performance artist, I was booed off a stage at Mondohomo in Atlanta. As a gardener, I sorta accidentally grew hundreds of pounds of tomatoes and thus learned to can a lot earlier than I'd initially planned on. I've got a lot of passions that turn out to be whims. In 2010, I moved to San Francisco. I had a place to crash, but beyond that, my only plan was to meet some queer people I (or my exes) hadn't already slept with.
So I understand why my loved ones sense they'll never know where I'll end up next, or if my next passionate whim will stick.
But no matter what, I've always, always, always known that I would be a parent. I've always wanted to have a baby. Actually babies, plural. Lots of them. One miscarriage, four embryos, dozens of pee sticks, 18 months, and approximately 132 injections later, I'm 18 weeks pregnant!
---
Even though I grew up without queer role models, I've been privileged enough to never feel the need to be closeted or worried that my queerness would conflict with my desire to be a Mom, and as a cisfemale femme, I didn't grow up with the kind of gender policing that less gender-normative queers often experience (although I've certainly experienced other forms of gender policing!). I came equipped with the hardest-to-come-by parts of conception (uterus, eggs), as well as the desire to carry a child. So I was surprised when someone close to me responded to me coming out by saying, "but you've always wanted to have kids!"
I know there are so many queers out there who've felt this external questioning, or an internal one, emotional or physical, about whether their queerness would prevent them from having children. Will I find a partner to start a family with? Will someone love me in my queer wholeness and brokenness? Do I/we have all the necessary ingredients to make a child? If not, how will we afford them? If not by procreation, will some authority let me take home a child? Will my partner and I be legally protected if we have a child together? Will our child be safe in the world, this child of queers?
I'm so fortunate that for me, the answers to those questions never led me to think a child couldn't be part of my life story.
---
On my first date with my now-partner, Simone, I said, "I want to have kids young, and I want to have them on my own. I don't think I'll find a life partner until much later, maybe my fifties." I also told her that I didn't believe in monogamy and wasn't looking for a serious relationship. Long-term relationships were not for me. I wasn't necessarily charming first date material, but at least I was honest!
I'd moved to San Francisco only three months prior, and I was getting acquainted with every experience and person I could get my hands on, reveling in what still felt like a queer mecca. I was ready for only one kind of long-term thing: having kids. But I'd just emerged from a decade of variously devastating relationships and couldn't imagine meeting a potential girlfriend I'd want to commit 18+ years to any time soon.
On that first date, Simone told me she was looking for something serious and wasn't interested in anything casual. "I find you too attractive to just sleep with you," she said. I told her I was disappointed when she said we shouldn't date, but that I understood. I was hoping we could be friends, because I thought she was very cool and very fascinating.
Then, at 1:00pm on a Monday, before going back to work, she drank a chocolate martini and kissed me. Everything changed.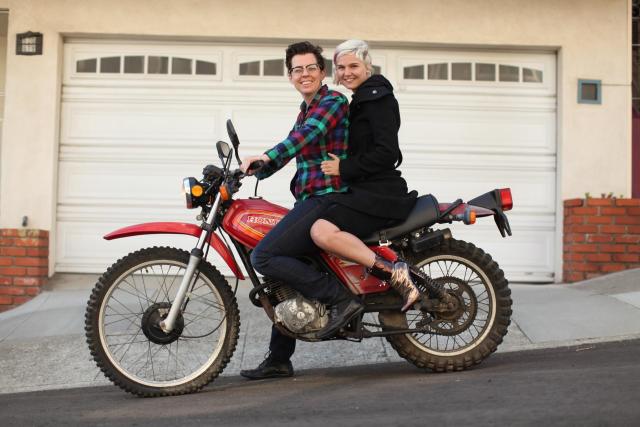 Nearly five years later we are expecting our baby. To be precise, I'm the one "expecting," but the two of us are in it together. I'm every bit as thrilled as I imagined I'd be, even if it hasn't been exactly the road I was expecting. It's been so much harder, longer, stranger, more expensive, and more joyous, too, than I ever knew it could be.
So I'm doing this thing, this column and video blog, to share this journey with you, fellow queers! I'm excited to contribute to a growing conversation on queer parenthood — how we get there and what the fuck we do once we're there.
I'm writing this all from the only perspective I can speak from, that of a white queer cis-female femme, living in San Francisco, partnered with a female-bodied masculine-identifying person who is the love of my life. I'm 28, and she's 39, and we spend our days making movies and drinking lots of (decaf) coffee.
There are so many other things I feel like I should tell you about me, about us, about who we are and how we got here, but instead I'll let you watch this first video. In addition to getting to know me a little better, you'll catch a glimpse of my hot butch sweetie and our cute dog.
This column is just beginning, and definitely still evolving, so give a shout in the comments if there are things you want me to address. I'd love to connect with other queer expecting parents as well!
Next column you'll learn how I got knocked up (hint: not the old fashioned way).