Hi ya, Gremlins. It's Wednesday and you know what that means: It's time for your Pop Culture Fix! Also, it means you're halfway to the weekend and can start planning whatever Netflix binge you'll be going on when Saturday finally gets here.
---
Sports
Angel McCoughtry
WNBA superstar Angel McCoughtry came out on Instagram. There are a million reasons to love this woman. She was the first player to have her jersey retired at Louisville. She one time burned RG3 so bad on Twitter. She's the fan favorite of my hometown team, The Atlanta Dream. And now:
https://instagram.com/p/05jcDExOGY/?taken-by=mccoughtry
UConn Huskies
The UConn Huskies won their third straight NCAA Women's Basketball National Championship last night, and Breanna Stewart won her third Final Four Most Outstanding Player Award. That's a record! And she'll be back; she's only a junior! Another record was tied by another guy who is my archenemies and so I refuse to say his name. But he coached his way to his 10th title last and tied John Wooden for most titles ever and FINE.
Coming Out in Sports
Kristin Russo's PBS series, First Person, tackled coming out in sports this week. Russo chatted with ESPN's Kate Fagan about coming out as an athlete in college and how being openly gay has shaped her professional career.
---
The Teevee
Arrested Development
It looks like Portia de Rossi will be doing double duty with Scandal and a fifth season of Arrested Development for Netflix. Producer Brian Grazer says 17 new episodes of the chicken-dancing comedy are in the works.
Saturday Night Live
Kate McKinnon is everywhere (everywhere!), and that's a-okay with me. She's staring in a new web series called Notary Publix alongside SNL co-star Aidy Bryant. The series is about actresses who play characters who are rival notary publics, and it is obviously hilarious.
To celebrate her new digital shenanigans, HitFix has rounded up seven of McKinnon's best sketches.
Orphan Black
Tatiana Maslany's name is on the wind, as it should be, because Orphan Black is back on April 18th.  The New York Times Magazine profiled the her last weekend. And AdWeek's "The Women Issue" is full of photo after photo of her perfect face, and a really in-depth interview talking about how 13 of the best, most complicated characters on TV are all played by her. (Oh, Cosima, stay alive.) (And dude clones, stay out of the way!)
Misc.
+ Do we need a new The L Word?
+ Fans of Agent Carter, the only female-led superhero show on TV, are launching a campaign to convince ABC to bring the drama back for a second season.
+ Jonesing for a Sarah Paulson action figure? Jones no further!
+ Not gonna lie, this new fan fiction-themed web series, OTP, looks awesome.
---
Movies
Grandma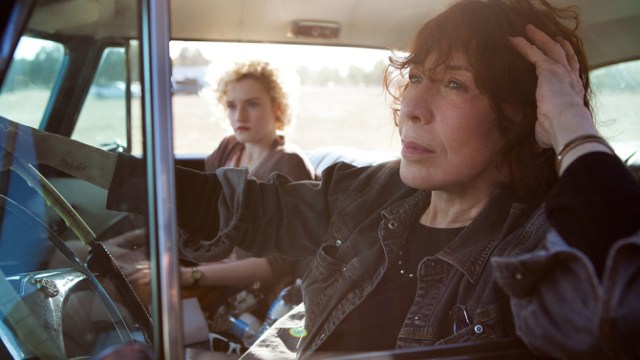 Lily Tomlin's Grandma (a movie that co-stars Laverne Cox, FYI) is set to open the Los Angeles Film Festival on June 10th. According to Variety:
Directed by Paul Weitz, the movie stars Tomlin as the woman whose granddaughter unexpectedly shows up needing $600 before sundown to deal with an unwanted pregnancy. The duo spend the day trying to get their hands on the cash as their unannounced visits to old friends and flames end up rattling skeletons and digging up secrets.
Tomlin will be honored with the Spirit of Independence Award at the festival.
Bessie
HBO has released a full-length trailer for their new Bessie Smith biopic and it just keeps looking better and better! (For more about the queer pioneer, check out last week's Rebel Girls.)
https://youtu.be/8FhmzwXfgz8
---
Also.Also.Also.
Have you heard? The Brontosaurus is back! You're next, Pluto!