Bessie Smith was an out, proud, loud, and prolific jazz singer credited with popularizing the blues in America. She recorded over 200 songs before her untimely death in a car crash at 43 in 1937, by which time she'd made her way from Tennessee to big stardom — redefining gender expectations, challenging a deeply homophobic culture, and destroying all of her obstacles on the way.
Bessie Smith didn't back down, and she didn't keep quiet, either. She defied convention and social norms with explicit lyrical content about her attractions to women, and in true Carmen Rios fashion once told one of her lovers, "I got 12 women on this show, and I can have one every night if I want it."
All of this makes it fitting that when HBO's Bessie premieres May 16 to bring the Empress of Jazz back to life, nobody will be skirting the issue of Bessie Smith's bisexuality. It's been confirmed that the film, starring Queen Latifah as Bessie Smith and Mo'Nique as her friend, mentor, and rumored lover Ma Rainey, won't skim over Bessie's love affairs with men and women. With Director Dee Rees at the helm (who brought Pariah to your world, thus shaking it to the ground), it's hard not to assume that it'll do it right.
---
Bessie Smith was born on April 15, 1894 in Chattanooga, Tennessee. Her father, mother, and brother died shortly after she was born, leaving her sister Viola at the head of the house and landing Bessie and her brother on street corners, performing for money. When her oldest brother joined a traveling troupe and left home, she was just a child; when he came back years later, he squeezed in an audition for his little sister and she took on a role as a dancer. She was 17.
This was where she would meet then-unknown singer Ma Rainey, who would later become her mentor as a performing artist and provide Bessie with a direct connection to the queer underground jazz scene. Although not all of their counterparts would ever come to be as open or out as them, Ma and Bessie were by no means alone. There were lots of queer women singing the blues in the 1920's and 30's, and especially coming out of the Vaudeville universe, including Billie Holiday and Lucille Bogan.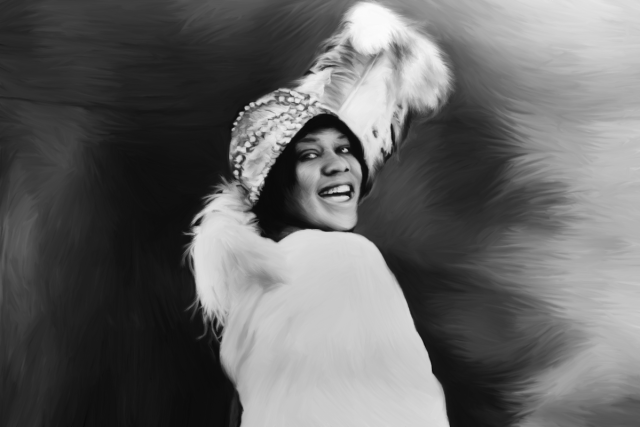 Despite her marriage to Jack Gee in 1923 and a later common-law marriage to Richard Morgan that lasted until her death, Bessie was known for her many affairs with both men and women. Rumors flew about her relationship with Ma Rainey, and it was relatively well-known that she was involved for some time with chorus dancer Lillian Simpson. In fact, it was being caught with a woman which ultimately dissolved her first marriage. As Chris Albertson tells it:
Bessie knew, of course, what she was singing about when she recorded [Foolish Man Blues] in 1927. Most urban blacks — whether they indulged or not —accepted homosexuality as a fact of life. Jack probably did, too, but not when it was so close to home. Not that he was totally straitlaced — he did indulge in heterosexual promiscuity. He may have suspected Bessie's sexual interest in women before the incident with Marie, but that appears to have been his first actual confrontation with his wife's bisexuality. Clearly it was more than he was prepared to take.

…Jack charged into the crowded dressing room and knocked Bessie to the floor. "I'm not going to do any more to you now," he said, looking down at her, "but wait until the show is done tonight — you ain't a man, but you better be like one because we're gonna have it out." He would be waiting at the hotel, he said, and walked out.

Bessie wasn't ready to face Jack. "I'm in real trouble now," she told Ruby after clearing her room of performers and guests, "and I ain't about to mess with Jack as mad as he is. Fix my feathers, baby, and let's get this show over with and get out of town."
In many ways, Bessie embodied the bawdiness and hedonism of the jazz age, and in those ways she also bucked respectability politics and gender norms. Known as a heavy drinker and a big eater, Bessie sang about getting rid of "no-good men," subverting the masculine and feminine in her relationships, and her own desire for sexual and bodily autonomy.
Oh, right, and she sang frankly about sex, queerness, and also her own declared self-love in the midst of so much societal hate, baggage, and pressure.
In "The Boy in the Boat,"
When you see two women walking hand in hand,
Just look 'em over and try to understand:
They'll go to those parties
Have the lights down low
Only those parties where women can go
In "Young Woman's Blues,"
No time to marry
No time to settle down
I'm a young woman
and I ain't done runnin' around
In "Tain't Nobody's Bizness If I Do,"
There ain't nothing I can do or nothing I can say
That folks don't criticize me
But I'm going to do just as I want to anyway
And don't care if they all despise me
And  best of all — in "It's Dirty But Good."
I know women that don't like men
It's dirty but good, oh, yes, it's dirty but good
There ain't much difference, it's just dirty but good
This is stuff that's revolutionary, even today — so to do so then seems almost unthinkable. But Bessie thought it, said it out loud, and then repeated herself when people didn't hear her.
All of this, of course, makes her meteoric rise to fame even more ironic and delicious. Bessie Smith, publicly queer, made the blues big. Her wide appeal brought the blues subculture into the mainstream and forced venues to desegregate, despite how flagrantly her own music and experiences flew in the face of America's white-bread values. Even in an age where women could sip moonshine with the rest of them, Bessie was larger than life and braver than the rest of them.
---
It's been almost 80 years since Bessie Smith died in a car crash, and in that time various writers and historians have explored the trajectories of both her career and her turbulent personal life. Too often, however, these perspectives bring an added layer of invisibility, shame, or straight-up erasure of the heart of her story: her fiery queer heart, and how it surely empowered her to speak out, live loudly and proudly, and defy convention.
Surely, we'd remember Bessie as a badass and a boundary-breaker even if she wasn't queer, but that she so proudly and unabashedly was – even in the face of social stigma, a pervasively homophobic industry and culture, and the imminent threat of her husband's anger – is a testament to the strength that let her move mountains and create waves. That piece of the puzzle matters now, too, in the face of a society that not only tries to erase women, but also their sexualities.
For Bessie Smith to be so boldly queer as a celebrity and especially a woman of color in the early 20th century was powerful. To celebrate her for everything she was now – every last drop of her boisterous, promiscuous, defiant person – could still change everything.
Stories like these need to be told in full, queer and all. And Bessie could be a damn good shot at making it happen.
---
Recommended for This Unit
---
Rebel Girls is a column about women's studies, the feminist movement, and the historical intersections of both of them. It's kind of like taking a class, but better – because you don't have to wear pants. To contact your professor privately, email carmen at autostraddle dot com. Ask questions about the lesson in the comments!