SPOILERS ABOUND.
At the close of its second season, the CW's The 100 is making waves — the brutal postapocalyptic world liberally peppered with the deaths of young teens didn't turn too many heads after season one, but the revelation of the canon bisexuality of its protagonist, Clarke Griffin, sure has.
Clarke spent the last, oh, season and a half or so embroiled in one way or another with Finn, a (male) troublemaker with a heart of gold, sort of. After they have sex one time, Clarke refuses to get into a real relationship with Finn or return his declarations of affection, although he's clearly still important to her. After Finn's death in Season Two, Clarke isn't super concerned with getting back on the horse as far as dating goes; she's pretty busy trying to save her entire community from grisly death, a task that can only be accomplished via a fragile alliance with the community of people who have been native to the earth for the last 100 years instead of living in a climate-controlled spaceship. The good news is that Clarke has a lot in common with their commander, named Lexa; they're both about 17 going on 45, total badasses, and young women who have proven themselves so thoroughly that grown-ass men with weapons will follow them into battle (although it's notable that there appears to be pretty good gender equity in this particular dystopian hellscape). They're even both dealing with the heartbreak of a romantic interest killed in war; Clarke is mourning Finn and Lexa a girl named Costia. All of their shared experiences seem to be surely paving the road to gal pal bffdom forever — right up until Lexa kisses Clarke, and Clarke kisses back. Here, look, you can see it.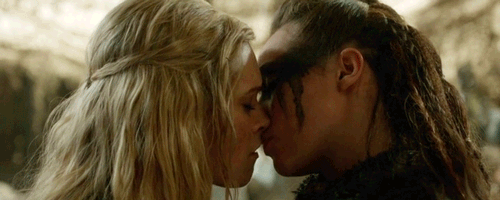 When we look at the standards by which we often discuss bisexual representation on TV, The 100 is kind of a mixed bag. My initial takeaway was, honestly, disappointment — Clarke and Lexa's kiss, the first indication that their relationship isn't platonic, doesn't come until very late in the second season. When it does come, it's a very brief moment — Clarke FOR SURE kisses back, but she also stops kissing about three seconds later, and tells Lexa "I can't." The implication is at least that Clarke means "I can't right now because my last love interest died about five minutes ago and also I'm responsible for keeping hundreds of people alive even though I'm only 17," not "I can't because we're both girls." Still, though, I was hoping for a little more than the few seconds of blissful bi reciprocal feelings we saw. I had heard so much about this show, and so much of it enthusiastic, that I was prepared for a full-on relationship. What we actually got ultimately amounts to a demonstration that our protagonist is bi, but the scene doesn't last long enough to do much more than that. What's more, Lexa and Clarke don't exactly end the season on an amicable note. While I'm cautiously optimistic about their reconciliation, the fact remains that if I had blinked several times, like if I had particularly dry eyes on the day I finished the show, I could plausibly have missed this entirely.
However! There are still several things about this arc, miniature as it is, that are worth celebrating. The bisexual character is indeed the protagonist, which is a rare bird; usually we're relegated to side characters if we exist at all. I'm also thrilled to see a bisexual character who isn't stuck with a love triangle between characters of different genders. I think the show does sort of ask us to compare Finn and Lexa in our head, but not in a way that feels specifically about gender — more like the same way that we were tempted to compare Rory Gilmore's boyfriends. And of course, it's always great to see any LGBT character whose storyline doesn't center around coming out, or function as a Very Special Episode. In this arc, Clarke's bisexuality isn't the focus of attention; Lexa is. Their interactions are allowed to be just that, interactions between characters we care about, not a device meant to serve an identity plot.
Some fans and writers have found this in particular worth celebrating — the 'normalcy' of Clarke and Lexa, the fact that it's not made a big deal of. I'm less inclined to be impressed by this, given the context of the world of The 100. So far in this show we've seen someone use their own teeth to chew a tracking device out of their arm, a twelve-year-old girl with PTSD stab someone to death, and somebody climb inside a warhead to use it as a spaceship because a hallucination of their dead kid encouraged them to. No one is fucking around here. If it isn't about survival, it doesn't rate very high as a priority. Even the rivalry between Raven and Clarke, something which many other shows would have (and have, in fact) drawn out into a primary conflict that lasted the show's whole run, couldn't last longer than a couple episodes, because Clarke and Raven's reliance upon each other for survival is just too important. In this world, I would find it more surprising if bisexuality was a big deal.
We haven't seen any other relationships get much explicit discussion, either; Finn and Clarke never had a conversation to define their relationship, and other characters rolled with the Clarke/Finn situation without much comment. I mean, it makes sense: ten minutes spent dealing with specificity of sexual orientation or labels is ten minutes that could be spent sharpening sticks into spears or trying to engineer antibiotics out of rocks. This isn't new; there's a reason why we have often more success with representation of marginalized groups in scifi/fantasy/dystopian universes, because show creators know that viewers are more likely to accept it not being "a big deal" in a world different than ours, where the characters have concerns that are different than ours. This doesn't mean points should be subtracted from The 100, just that this doesn't seem to me like the most interesting takeaway from this show in particular.
For similar reasons, I'm not personally bothered by another common trope of bisexual representation: the absence of the word "bisexual." Usually it grates on me, as it does on many other bi viewers, when otherwise articulate characters who are well-educated on issues of sexual orientation (Piper of OINTB, Sarah of Transparent, etc) seem fundamentally incapable of calling themselves or anyone else bisexual. Often they opt to either avoid the subject entirely or say they "don't like labels," which is a perfectly acceptable way to self-identify, but is frustrating when it's used to characterize almost every character on TV attracted to more than one gender. But this is less irritating to me when the show isn't set in our real world, a world where these terms are in fact in common usage. In The 100, there's no indication that we live in a culture where there's any particular vocabulary around relationships or orientation, at least not one that seems all that important. For instance, Lexa isn't referred to as a lesbian, even though as far as we know she only has relationships with women.
Ultimately, what I'm most interested in about what Clarke means as a bisexual character isn't how she stacks up against others, or how well The 100 as a show fills out checklists of ideal representation (although I think both of those can be valid lines of inquiry). I'm interested in the dynamic between Clarke and Lexa, because even though it got jarringly little screen time, it resonated with me in a way that even I was surprised by.
My first memory of seeing a bisexual in a relationship with a girl on TV was The OC's Marissa; she dated Alex for a very short arc before returning to her tumultuous on-and-off again relationship with Ryan, as all viewers knew she would. I was glued to the screen during the Alex storyline, but it was clear even to me that this relationship wasn't really going to be Marissa's story. She wasn't really choosing Alex, she wouldn't end up choosing Alex; she was choosing not-Ryan, she was choosing to try something new and different and daring just to see what would happen. Alex wasn't who she wanted; Alex was just another fifth of vodka for Marissa to sneak into her purse. But that was what there was, and that was fine.
We've come a fairly long way since then, and there are multiple other bisexual women on TV — Bo in Lost Girl, Callie from Grey's, Brittany from Glee, Delphine from Orphan Black, and more — who we see in real relationships with other women, relationships that aren't portrayed as a phase even if they don't end up lasting forever. It's pretty cool in and of itself that The 100 isn't the boat that all of our bisexual representation hopes are riding in together. But Clarke is a unique kind of protagonist in that her choices have consistently been shown to be rigidly controlled; every decision she makes on the show is ratified by strict standards of rational necessity, moral righteousness, or both. In fact, at some points it seems almost like a flaw in her character development — does Clarke ever even have subjective human wants and needs? Does she ever not do The Right Thing? (She definitely does not do the right thing, as far as I'm concerned, when she ultimately stands by and tries to help Finn after he straight up mass murders a bunch of people that his community has already invaded and colonized because of his own psychological issues, but I'm not sure that the show itself agrees with me. The totally skewed moral compass of this show when it comes to colonialism/imperialism and why so many characters seem willing to forgive Finn for something unforgivable is also really worth talking about with this show, arguably moreso than its representation of bisexuality. But anyways it's not clear to me that the show's internal ethics judge Clarke as being in the wrong here, even though I think she was).
We've actually never seen Clarke choose to enter into a real relationship on the show; she clearly has emotional ties with Finn, but at every point where a real reciprocal relationship is offered, she explicitly turns it down. She cares about Finn, but there are too many obstacles: his past with Raven, his horrifying crimes at the village of Tondc, the general conflict of interest she feels about loving one of her soldiers. When offered a choice, she chooses not to be with Finn, not really. In fact, Clarke chooses almost nothing for herself, ever.
Which is why it's such a powerful moment to see her kiss Lexa back. Clarke virtually never acts on what she wants, at least not if there's any real reason not to — she only slept with Finn when there seemed to be no complications, and as soon as they emerged, she backed off. Her self-control is astounding, especially for a teenager. But Clarke does (temporarily) allow her feelings to overwhelm her sense of obligation when it comes to Lexa. Clarke never chooses anything unless she can feel totally confident that it's the right decision — and she chooses Lexa. For a few seconds, that is.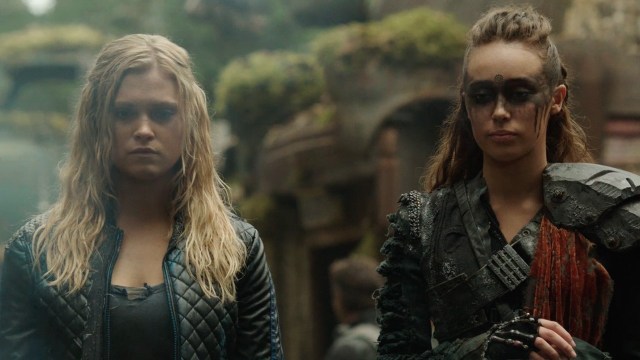 Clarke's choices are consistently depicted by the show as being good ones; she has to make difficult or debatable calls sometimes, but she's not portrayed as being Wrong in the same way that Finn or early Murphy was. This feels important to me because in many ways, I was used to seeing bisexual women in relationships with women portrayed as lapsing, aberrating, or as somehow acting out of character; giving in to some deviant part of themselves. If they were with another woman, it was because they were taking a break from their "real" selves, which was assumed to want a stable relationship with a man; they were "misbehaving." But Clarke doesn't misbehave; Clarke doesn't have lapses. Clarke isn't interested in Lexa as an alternative to something or someone else; being attracted to Lexa doesn't require a change in her character. In fact, being into Lexa makes much more sense for Clarke's character than being into Finn did. Lexa and Clarke share experiences, values, have both been through things that no one else understands. I'm grateful for seeing this on TV because it depicts a (young!) woman for whom being with another woman is a reasonable choice, one that makes sense for her at least as much as a different-sex relationship would.
Both Clarke and Lexa spend much of the show struggling with whether they can allow themselves to feel human emotions and still have the strength to survive; the context for their kiss is that Clarke has just wondered out loud whether maybe both of them might deserve more than just survival. It's never a bad thing to see a depiction of intimacy between women that's worth surviving for. But I do wish I could have seen more than a few seconds of that possibility and not have it called almost immediately into question. I wish Clarke could have chosen Lexa in a way that was at least as emotionally committed as her connection with Finn, and I wish the show had chosen to give Clarke and Lexa's relationship as much screen time and depth as, say, Jasper and Maya's, or Raven and Wick's (much as I want good things to happen for Raven).
Ultimately, I'm not sure that The 100 gives us quite the vanguard of bisexual representation that I had hoped for. It doesn't mess up in the particular ways that I am used to watching pop culture representation of my community mess up, which is refreshing, but it's also hard to mess up that badly when your representation is so brief and limited. (Not that it hasn't been done!) In a universe largely defined by tragedy, violence, and terrible sacrifice, the moments of real human connection and the risks taken to protect it are what really make The 100 special — hopefully in Season 3 we'll see a same-sex couple get to have that in a real way.