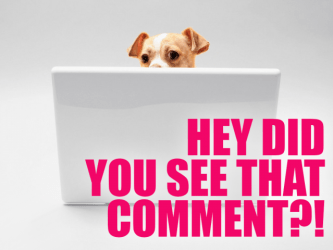 Good day travelers! Happy day after Pi Day and day before St. Patrick's Day eve day!
This week we bid adieu to underwear love with posts on tech savvy panties, the dapperQ underwear survey and plus size underwear. Recaps for love-to-hate shows Glee and Pretty Little Liars went up and Vanessa, meanwhile, went down to the RodeoH with the harness's creator, Jennifer.
Also this week, the Queen kinda sorta showed support for gay rights, Cara gave nuanced look Christine Quinn's NYC mayoral bid and Laura thinks there might yet be hope for the new Pope.
Speaking of world affairs, did you see that we got our hands on a queer girl guide to St. Petersburg, Russia? Brilliant trans*scribe posts continued with Robyn addressing sports and transitioning, Nika discovering beauty in baldness and Sarah's trans* coming out letter to name a few.
Now put on your fancy new Keds because we have awards to give out!
---
On Ode To My Pantry: Sweet Potatoes:
The Fact Checker of Our Heart Award to dcnz:

On Briefly Noted: Underwear For Your Masculine Center:
The More Important Than FDA Approval Award to Sugar: "AE boxer briefs are the best, best, best! I go in thinking I'm going to get a nice button down and walk out with at least 2 pairs every time. PLUS they update styles all the time. Can't say enough about these. Seriously, Sugar tested, and approved.

But also..at A-Camp #1 I bared by undies for the whole camp and those were Urban Outfitters, which are also super comfy."
The Taste It Award to Marika: "I would just like to say that I am pretty sure I have 4/7 of that underwear rainbow AND I AM NOT ASHAMED."
On "Is She Gay? Should I Ask Her?" Advice To Moms Who Have Queer Daughters:
The Welcome to the Family Award to ThatGirrl: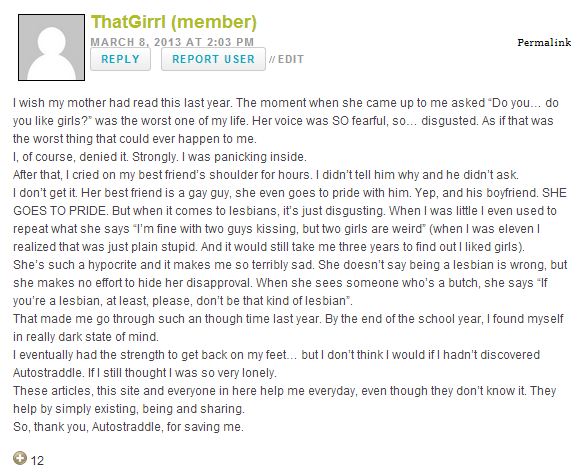 On Why Does Boston Have Two St Patrick's Day Parades?: In A Word: Homophobia:
The Not Easy Being Green Award to bookbound: "I thought it was called 'Evacuation' Day because of the longstanding tradition of bros regurgitating large quantities of green beer in Southie on March 17th…"
On Getting With Girls Like Us: A Radical Guide to Dating Trans* Women for Cis Women:
The Real Real Talk Award to Lexi:
The What We Comment About When We Comment About Comments Award to hibiscus: