Learning to feed yourself can be one of the most terrifying things. Am I about to give myself food poisoning? If I eat this too often will I end up with scurvy? How can I get the most nutritional bang for my buck? Why does this still taste like ass?
With Ode to My Pantry, learn to navigate a grocery store without having a meltdown in aisle three. Give a man a fish and feed him for a day, teach a queer to cook and stave off malnutrition for another semester.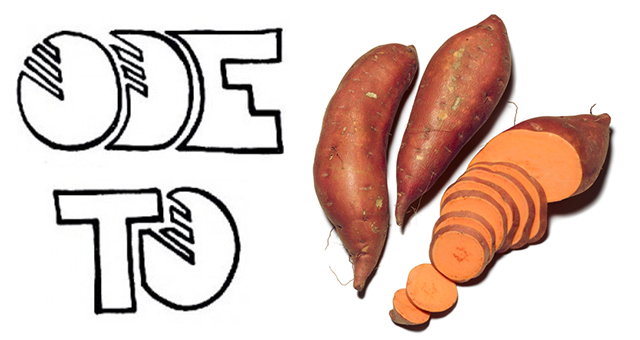 Kristen has generously traded columns for the week so that I can talk about my obsession. Some people obssess over movies, significant others, or their cat. My obsession is sweet potatoes. I feel like I may or may not be single-handedly keeping the sweet potato farmers in business year round. I have six or seven sweet potatoes in my pantry at any given time (I just checked and I only have five, but I'm grocery shopping tomorrow so don't worry).
Sweet potatoes are not white potatoes and they aren't yams. I don't care what your family has been calling that Thanksgiving dish with marshmallows for years: they are not yams. They are actually closely related to the Morning Glory family. In grocery stores, sometimes they are labelled as yams purely because Americans have been calling them yams for so long, but they legally have to be labelled as "Yams/Sweet Potatoes." The FDA is a weird, weird organization. Sweet potatoes are harvested in the fall months, but they store well enough for us to have throughout the year.
Sweet potatoes are super packed with Vitamin A and beta-carotene (an antioxidant which your body converts into Vitamin A).
When you're in the grocery store, you may find yourself standing in front of the sweet potatoes, thinking they look too ugly to eat. There are nearly 7,000 types of sweet potatoes, but the most common types of sweet potatoes you'll find in a United States grocery store are: Beauregard, with a reddish-orange skin and bright orange flesh; Jewel, with copper skin and orange flesh; and Red Garnet, which has dark red skin and dark orange flesh.
I almost always buy Red Garnet because they make the best mashed sweet potatoes and they have the highest beta-carotene content, but Beauregard are considered the staple of the sweet potato world. Jewel are specifically from North Carolina, the United States' sweet potato paradise.
Other varieties of sweet potatoes worldwide include Japanese White, which has a chestnut flavor and velvety texture; Okinawa, which is purple; Ureniki, or Maori potato, which is another purple potato; and Boniato, which has a cream flesh and is popular in the Caribbean.
In good news, sweet potatoes are #12 in the top 15 fruits and vegetables with the lowest pesticide and you don't necessarily need to buy them organic.
Okay, back to the grocery store. You're standing there. What the fuck do you actually look for? Pick out firm, medium sized sweet potatoes with smooth, blemish-free skin. The larger tubers tend to be starchier. When you get them home, store them in a cool, dry place (the pantry) as opposed to the refrigerator.
Now let's talk about preparation. Sweet potatoes get sweeter as you cook them, so it's best to slow-bake them if you want something them to be super sweet.
Boiled: Boil them in the skin to keep nutrients locked in.
Mashed: Prepare them just as you would regular mashed potatoes (baked or boiled), with butter and milk. Savory? Add salt and pepper. Sweet? Brown sugar. Awesome? Ginger!
Baked: I do this probably 4/7 mornings a week as a hash brown substitution. You can bake them whole in the skin just like a baked white potato, but you know what's better? Dice, toss in olive oil and spices (I recommend chili seasoning or rosemary), then lay on a baking sheet and bake at 350º for ~45 minutes or until tender, flipping once. You can also make sweet potato fries by slicing them and sprinkling them with olive oil, then baking them at 450º for 20-25 minutes or until tender.
Fried: Shred or cube, then press the water out of them before tossing in a skillet.
Sweet potatoes are a wonderful substitute food. If you put white potatoes in it, you can probably get away with subbing sweet potatoes for at least half of the portion if not all. Try sweet potato cookies, muffins, gnocchi–the list goes on and on.
So buying and cooking sweet potatoes doesn't sound like your thing? Lucky for you, there are also bazillions of things that have taken on sweet potato status in the past few years. You can buy sweet potato chips, fries, or tortilla chips (I want to personally recommend the latter about 29875 times) at almost every basic grocery store.
Here's my new favorite thing in the world: sweet potato pancakes. Think more pancake than latke.
Sweet Potato Pancakes with Ginger Butter
Adapted from a Food Network recipe
Yield: 4-6 servings
Ingredients
2 cups all-purpose flour
4 tsp baking powder
2 Tbsp brown sugar
1 tsp cinnamon
Pinch nutmeg
2 cups milk
4 tsp melted butter, plus more for greasing skillet
2 eggs
1 large sweet potato, cooked until tender, peeled and pureed
Ginger butter, recipe follows
Directions
Combine all ingredients in a large bowl. Whisk until smooth. Cook in buttered skillet on medium-high until bubbles form on the surface, then flip and cook until dark golden brown. Serve with ginger butter and maple syrup.
Ginger Butter
Adapted from a Food.com recipe
Ingredients
4 Tbsp butter, room temperature
pinch salt
1 1/2 tablespoons fresh lemon juice
1 (1 1/2 inch) piece fresh ginger, finely minced
Directions
Cream all of the ingredients together with a fork. Store in fridge or freezer until needed.
---
Any other sweet potato recipes/preparation techniques I should know about?