Hi crush monsters, this is Straddler On The Street, a feature where I celebrate all of you incredible Autostraddle readers by hunting you down, demanding you chat with me, and then writing about you on the Internet so we can all crush on you. Get excited, because butterflies in your stomach 24/7 is a fantastic way to live.
Header by Rory Midhani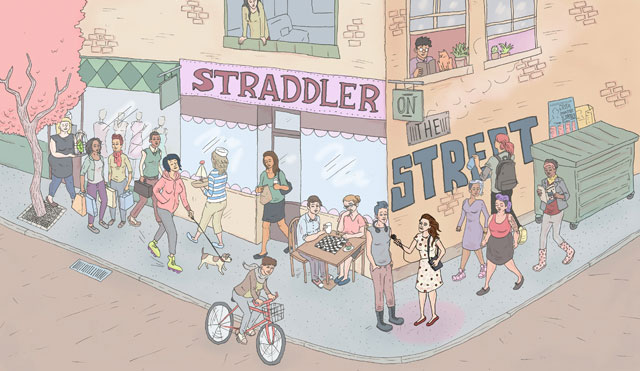 ---
Straddler On The Street: Veronika, 25
Remember when we met Caro (no, not the Lingerie Lesbian from last week, the founder of Miami's queer girl meetup group The Fist from a couple of months ago!) and she told us how her partner in crime, Veronika, designed all the posters for The Fist meet-ups? Well guess who we're chatting with today?
That's right, we're hanging with Veronika! I made her send me more examples of her impressive artwork (check out her book club flyer below), and if you just can't get enough be sure to check out her design portfolio. The 25 year old Miami native is a busy bee, but she devoted some time one Sunday morning to chat with me and she couldn't have been friendlier. She even offered up some vegan cookies for an official Autostraddle Taste Test, so be on the lookout for that post in the near future!
In the meantime, meet Veronika. I'm starting to think there's something magical in the Miami sun, because this is our third Miami Straddler and they're all confident, badass, independent sweethearts. Suddenly a trip to Florida sounds like a really good idea.
Hello! How are you this morning?
Great! Totally rested after massive TLC marathon yesterday. And yourself?
Oh my that sounds so good. I am equally rested, just wishing we had some nicer weather. It is gross in New York today.
Let me send you some sunshine from Miami!
I would love that! Have you always lived in Miami?
I've always lived here, except for that one year I went to college at SUNY Purchase to study costume design. I came back to Miami after freshman year and changed my major to graphic design. I graduated from New World School of the Arts in 2011 with a concentration in graphic design and minor in art history. Now I'm about to finish a year long museum studies program at Miami Dade College.
I once went to SUNY Purchase to see Regina Spektor in concert!
Shut up! I was at that concert. Front row right in the center. I was literally the first person to buy tickets to that show. I'm a huge Regina Spektor fan.
That's too funny!
Concert buddies! Let's not talk about how since I used to be a theater tech major I had been around that theater and was going around through stage doors to find Regina.
That's incredible. So now that you're not hanging around a theater all the time, what does your typical day looks like?
It changes every day. I work from home doing freelance graphic design. On Wednesdays I am the secretary at MDCpride at Miami Dade College. Right now I am also working as the marketing intern for a vegan cookie company called Om Nom Nom Cookies. I also work at the Coral Gables Art Cinema on weekends. I'm basically all over the place!
Do you ever feel stressed?
No, not really. I pretty much make my own schedule except for my work at the cinema, so I'm never like "Oh my god, I don't have time to watch the new Pretty Little Liars."
Whew! That is important. So you work for a vegan cookie company. Are you vegan?
No I'm not vegan. I just like cookies!
Valid.
Like every lesbian, I experimented with being a vegetarian.
Haha, how did that work out?
I was vegetarian before going to college at SUNY Purchase, which was a great place to be vegetarian since they had a place on campus that was veggie only. But then I found myself eating a lot of sandwiches and getting tired of the same dishes on rotation. Then one day I ate chicken nuggets. Never went back. I just try to eat some meals without meat.
I love chicken nuggets.
I love Morning Star fake Chik'n Nuggets as well. I still eat all of that! When I was vegetarian it was funny. I'm Hispanic so my family just did not get it.
Oy! Speaking of food, what are your favorite restaurants in Miami?
Havana Harrys — I will never get tired of Cuban food. I like going to Yard House happy hour way too much. And Meat Market on Lincoln Road is amazing.
How did you meet Caro?
I actually met Caro because a friend told me she read Autostraddle and wanted to start a queer meet up group. From there we hit it off and plan monthly events together. I design the flyers.
YES, the flyers are fucking fantastic!
Thanks!
Can we actually talk more about your amazing artistic skills please? When did you know you wanted to be an artist? 
My first foray into design was designing the posters and programs for my high school theater troupe. I took my publicity designs to competitions and I did well and received superior ratings. Then when I decided to move back to Miami and I switched from costume design to graphic design, it was natural.
What inspires you?
I love to incorporate a lot of texture in my work by collaging. My favorite art movement has to be Dada and one of favorite graphic designers is Saul Bass. I love their styles and it influences my work a lot.
Okay now for my predictable question: Do you have a celeb crush?
Yes! Right now my computer desktop is Marina and the Diamonds. So beautiful and talented!
That's so funny, I was about to ask you about some of your favorite musical artists! I assume she's up there, along with Regina?
Yes ma'am. I'm a concert addict. I go to shows almost every month. I'm a big fan of Tegan and Sara, Of Montreal, The Sounds, Grimes, Ellie Goulding, Yelle, Lana del Rey, Nina Sky… music lover is my full time job.
‪T‬hat is amazing! I have tickets to see Tegan & Sara with fun. this summer and I am dying. I'm not a huge concert goer so when I go it is a Big Deal.
I have seen them like five times. I can't stop!
I'm envious! If you were granted three wishes today, what would they be?
I'd want enough money to pay off my loans and go to grad school in Scotland, I'd want my closet to constantly replenish with the latest trends and I'd want to be able to plan an epic Euro trip and make it all the way to Moscow.
In lieu of those wishes coming true, is there anything else you'd like to say to the Autostraddle community?
I'm single. Go find my okCupid! Hahaha!
---
If you would like to be featured as a future Straddler on the Street, please email vanessa [at] autostraddle [dot] com. Include a few photos, 3-5 sentences about yourself and put "Straddler Submission" in your subject line. Approximately a million people have submitted so far, so please be patient as Vanessa goes through her inbox — you're all sexy with really smart brains, and don't you forget it!