Hi crush monsters, this is Straddler On The Street, a feature where I celebrate all of you incredible Autostraddle readers by hunting you down, demanding you chat with me, and then writing about you on the Internet so we can all crush on you. Get excited, because butterflies in your stomach 24/7 is a fantastic way to live.
Header by Rory Midhani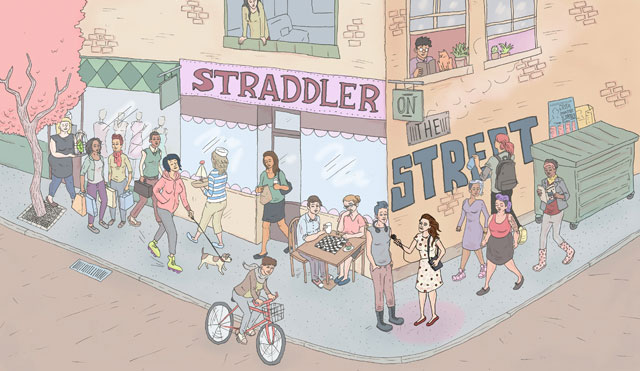 ---
Straddler On The Street: Amanda, 23
Amanda was born in Miami and raised in Miami and Port of Spain, Trinidad and Tobago. She's traveled extensively, both because of her extracurricular activities — which include drum corps, steel drums, classical music, and roller derby — and just for fun, and has the west coast on her mind when it comes to places she'd like to visit next.
Amanda finished her undergraduate degree at the University of Iowa in 2012 as a percussion performance major, did an extra semester at University of Miami "for fun" and is now getting ready to start applying for grad school. She plays percussion, baritone, and bassoon, and currently marches for Tampa Bay Thunder Drum and Bugle Corps in Tampa, FL. She was just in Trinidad for Panorama 2013, a big steel drum competition that takes place in the middle of Carnival. She wrote to me from the road, saying, "We got tied for sixth place in finals with Caribbean Airlines Invader…pretty good but we gotta work for next year." That encapsulates Amanda perfectly: always working toward her next goal.
Amanda calls herself an "open book" and would like to let y'all know that she's 100% single. She spoke with me extensively about all things roller derby (FYI, her derby name is Mah-Ko), her favorite love songs and the importance of supporting our queer youth.
Okay, let's talk about roller derby! Your derby name is Mah-Ko. How did you get that name and what does it mean?

It comes from Maco, which is slang for "noisy" in Trinidad, or minding other people's business. My mom always called me that when I was young!
How did you get involved and how long have you been doing it for?
I started watching derby when I was in college with the Old Capitol City Roller Girls in Iowa City, IA, but I didn't start skating until September 2011. I got picked up by a couple of skaters who started the Miami's Vice City Rollers when I went to a game at the University of Miami. I skated with them for a while and then transferred to Gold Coast Derby Grrls in Fort Lauderdale, and that's where I am today. In the beginning I did not know how to skate at all. I actually had my ankle in a brace at the time because I had tendinitis from all the marching I was doing. I wasn't expecting to be decent, but from practicing and being really dedicated I've gone pretty far in a little bit of time. It's a lot of fun.
Wow, so you didn't even know how to skate in the beginning?! How did you learn and progress?
I'm always the first at the rink and always the last to take my skates off. When I was skating with Miami, I would practice with the South Florida Junior Derby Team and then stay for the main practice afterwards so I was on my skates extra hours which really helped me get used to how I feel in them. I did a little bit of inline skating when I was younger, but I was not good at all. I never skated in quads until I started derby.
What are quads?
Quads are the skates with the four wheels side to side. They're the "old school skates."
Oh, okay! Sorry, I don't know any of the lingo.
Another way I learned to skate is studying my quads a lot and how they work for me. I have taken my skates apart so many times, it's fun. I have three pairs and I love them all.
Do all derby skaters have so many pairs of skates?
Um, some of us. Not all. Each boot is different, and each plate is different. You have to experiment with what feels right.
Huh, I didn't know any of that. I think I would be so scared to skate in quads, let alone do derby!
I still don't know how I play derby! I am not a very aggressive person at all.
I've never been to a derby game but I would like to go. That is one of my goals for 2013. Wait, are they called games?
I call them games but technically they are called bouts.
As I'm someone who learned about derby exclusively via Whip It, can you tell me if I have the right idea?
Well, the game is changing and really pushing players to get in shape. We are real athletes. We do have home teams and recreational leagues so the girls can still have their fishnets and have fun. But WFTDA (Women's Flat Track Derby Association) has now expanded to teams overseas. Banked tracks still exist in some places, but it's not as common because it is a lot of money to maintain (and scary as hell!). But parties still exist and the games are still intense and the bruises…I should tell you about my first bruise.
Yes please do!
I am pretty dark skinned, so I don't bruise easily at all, like never. But we had a scrimmage one day and I just ate it hard on my side. It was just sore so I brushed it off. Woke up the next day, and my right side on my outer thigh was purple and swollen. I was freaking out, so I called my Captain Baller Shot Caller, she was laughing her ass off at me of course. She just told me to ice it. But for weeks after I could not keep my pants on — I had to show everyone my bruise.
I think I am probably not cut out for derby, is what that story tells me. But if girls are interested, how can they get involved?
There are a lot of leagues all over the place. Always check the local skating rinks, we love to hang out and be rink rats. Or you could always check online — WFTDA.com has all its ranked leagues on there, or you can simply Google "roller derby" in your state. We're also always looking for referees, NSOs (non-skating officials) and super fans!
Perfect, thank you! Now onto some personal questions. How did you discover Autostraddle?
Wonderful Caro and The Fist. She swears by Autostraddle!
She is totally wonderful isn't she?!
Yeah, it is nice to see that there are regular people still left in Miami!
Do you have a celeb crush? Or crushes!
Well I have derby crushes and celeb crushes. My two derby crushes are on totally different sides of the spectrum: Juke Boxx from Minnesota Roller Girls and Demanda Riot from B.ay A.rea D.erby Girls.
I am googling frantically right now…
As for my celeb crushes — Lori Petty, especially in Tank Girl and A League Of Their Own and Nicole Kidman back in her Moulin Rouge days.
Oh my god I forgot about Moulin Rouge until right this second. That is so legit.
I adore love stories and love songs.
Do you have a favorite love song?
My team makes fun of me because my favorite song to just belt has got to be "Can't Fight This Feeling" by REO Speedwagon. Also "Teenage Dirtbag" by Wheatus.
Finally, do you have anything else you'd like to share with the Autostraddle community?
As we get older, we need to really support queer youth and activities for them. If it wasn't for band, I would be going crazy, and I know a lot of us practiced sports, arts, and plenty of other stuff to get through what a "wonderful" time high school was. I was so glad to have an outlet to express myself.
---
If you would like to be featured as a future Straddler on the Street, please email vanessa [at] autostraddle [dot] com. Include a few photos, 3-5 sentences about yourself and put "Straddler Submission" in your subject line. Approximately a million people have submitted so far, so please be patient as Vanessa goes through her inbox — you're all sexy with really smart brains, and don't you forget it!