Hi crush monsters, this is the seventh installment of Straddler On The Street, a feature where I celebrate all of you incredible Autostraddle readers by hunting you down, demanding you chat with me, and then writing about you on the Internet so we can all crush on you. Get excited, because butterflies in your stomach 24/7 is a fantastic way to live.
Header by Rory Midhani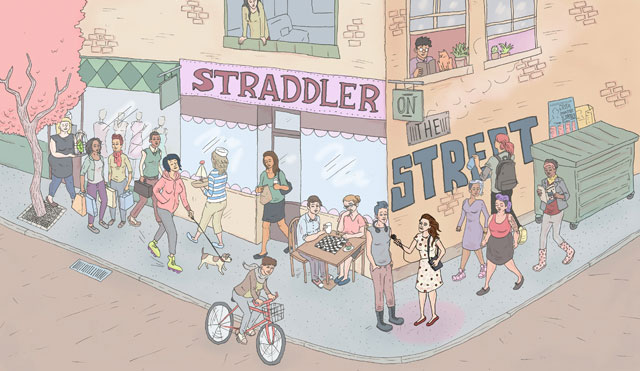 ---
Straddler On The Street: Caro, 22
I met Caro at A-Camp in April 2012 and I secretly had the teeniest tiniest crush on her back then, because when we spoke she made amazing eye contact and it felt like she was really listening to everything I was saying and also I love humans who straddle the line between masculine and feminine seemingly effortlessly.
Then a few weeks ago, Gabby went to Miami and met up with Caro. Upon her return to New York, she sent me this text: "Dude you HAVE to interview Caro. She works for a gay non-profit focused on gender, started the only Miami lesbian meet-up group via Autostraddle, and she's andro femme adorable and smart as fuck." Gabby's word is essentially gospel, so I knew if she thought Caro was a good fit for Straddler on the Street that I needed to talk to this girl.
Meet the first Straddler of 2013. She's a keeper.
Hi! You live in Miami! Do you like living there?
I hated living here for a very long time. Miami is great if you're into a big club scene, which I wasn't so I hated it. And for most of my time here I was not 21, so I couldn't do much. But now I love Miami. We have this new area above Downtown that is really artistic and hipstery. There are enough cool little artsy bars and coffee shops that make Miami really nice. And it's always warm, which is amazing.
Ugh, yes. I just got home from Hawaii and I had forgotten how cold New York gets in the winter. It's the worst.
Yep. So in short I like Miami now. But when Gabby visited she thought I was going to take her to a lesbian bar, and I had to tell her that there are no lesbian bars in Miami. So that sucks.
So what does a lesbian do in Miami?
Well, I started this queer girl meet-up group with other girls who were frustrated with the lack of things to do in Miami, "The Fist." Even with its multiple connotations, we're pretty vanilla – we go bowling and have potlucks with a vegetarian focus, and we recently started a book club.
Tell me all about the meet-up group!
When I came back from A-Camp I just wanted more of that kind of community, so I started telling every girl I met that I wanted to do this. They told their friends, their friends told their friends. We first met at a bookstore. There were six people and we came up with the name and brainstormed all the things we wished Miami had just for lesbians. Then I created a Meetup.com profile and a Facebook group. Once I created the Facebook group those six girls invited every girl they knew who liked girls. Then those girls invited girls. So there are about 100 members in the Facebook group and there are 60 members in the Meetup, but a solid 15 to 25 people show up to each meet-up.
That is so, so cool. What are some of the books you guys are reading in book club?
First we read Rubyfruit Jungle, and the one I just finished reading for the meet-up in a couple of weeks is Tipping the Velvet. At the meet-up we choose the next book. I'm probably going to print out the Autostraddle 100 for the next one so we can choose from the Top 20.
Excellent idea! And you said Camp is what made you really feel like you wanted to build this community?
Yeah, it's what made me think it could really exist. The moment I spoke about it to another girl they were like, "YES YES YES!" and pretty much every girl I meet has that reaction. My friend Veronika, who I met on that first night of the meet-up, is my partner in creating all the events. She makes these amazing beautiful posters for each event.
That makes so much sense. I think we all crave community, and that's the point of Autostraddle meet-ups and Camp and all that — you guys are just doing it on your own!
Yeah, well Veronika and I are huge Autostraddle enthusiasts so we see what you guys do and try to recreate it here. Unfortunately there are not enough people in Miami reading Autostraddle, so we really try to raise awareness and let people know that it exists.
Thank you for doing that!
I talk to everyone I know about Autostraddle all the time. I don't know why more girls don't read Autostraddle, I think most people who don't just don't know about it. Once I tell someone about it and they read three articles, then it becomes a site they check everyday. I have even gotten some straight girls to read it. It's a really great website!
Well I think I speak for the whole staff when I say thank you for raising the awareness! Now for a totally new topic — let's talk style. You told me that you are a self-identified dandy. What does that mean to you??
Okay, I first want to say that I had no style before my first style workshop at A-Camp. I have a lot to thank A-Camp for. I went to the style workshop, and for the first time I felt like someone was saying, "It's okay to dress nice, and dressing nice doesn't have to be wearing a dress and heels." That was mind blowing to me. I stayed in LA for a couple of days after camp and I bought myself two V-necks, a blazer, a vest, and grey oxfords. My life has not been the same.
I guess I choose dandy because it's in between butch and femme. I'm effeminate.
Let's talk about your job. Gabby made it sound seriously incredible. Tell me all about it.
I work for YES Institute. It's local and it started in 1996. We provide education and communication on gender and orientation to ensure the healthy development of youth. We get invited to do community dialogues for a variety of places, places you wouldn't expect like for hotel staff or homeland security. They invite us and we start a conversation about gender and orientation.
Whoa, that does sound incredible. How did you land the job?
I started as a volunteer. I took their Communication Solutions™ course and I fell in love so I just wanted to be there all the time. I became an intern and then last spring they hired me. It's amazing.
You said you guys are invited to do community dialogues. What does that look like?
Someone, like a college professor, invites YES Institute to start a dialogue on gender and orientation with their class. We bring a presentation of slides to guide the conversation, but a lot of our education is more about asking questions than giving answers. Once the presentation is over we have a speaker who shares their story about how gender and/or orientation has impacted their life.
Can you share one of your favorite experiences with YES Institute?
We mostly work with adults, so when we get invited to have dialogues with high school kids or middle school kids that's the best. We ask them how often they hear the word "gay" being used as a slur, and most of the students say "everyday." We collect anonymous data from our presentations.
After one presentation we did for a middle school we read a post-evaluation from a student who said that they had always hated gay and trans people, but after that dialogue it had changed the way they thought about gay and trans people. That makes me cry!
Oh my god I probably would have cried. You are literally changing lives. So with that incredibly emotional answer, let me awkwardly steer the conversation to some, uh, equally important questions. Like, what is your favorite bar and restaurant in Miami?
Favorite bar is The Corner, favorite restaurant is Gigi's.
And now my personal favorite question. Do you have a celeb crush?
Yes! It's so bad and weird. Chely Wright. And her wife probably, too. Barely anyone knows who she is.
Wait we've written about her, right?! Country singer? Why is that bad?!
It's so weird and specific, because no one really knows who she is. But I saw her on Ellen one time and bought her book and it was all before I had gay friends so she was like a crush and a role model.
That's adorable and not weird at all! Speaking of crushes, I bet everyone is gonna have a crush on you when they hear you play the ukelele. What is your favorite song to play?
Ugh, this is so terrible, and I don't play it for anyone because its so douchey… but "Banana Pancakes" by Jack Johnson.
That's one of my favorite songs! Before I realized I was gay I kinda had a thing for dbag guys, so.
I know! I like the song, but I also know that dbags play that song for girls, so I don't like admitting that I play it.
Hmmm, are you okay admitting it to the Autostraddle community? I promise everyone will love you and will want to make you banana pancakes, or maybe have you make them banana pancakes.
Yeah, yeah. I would tell all my secrets to the AS community.
Well that brings us perfectly to my final question! Do you have anything else you'd like to share with the Autostraddle community?
Haha, that is perfect! I'd like to say that we're awesome. And everyone can start queer girl meet-up groups in their towns! They just have to tell people about it and spread the word.
Sounds like a good plan for 2013. Thanks so much for chatting with me, Caro.
Thanks Vanessa! Thanks for being an editor and writing words for my eyes to read!
Thank you for reading them! And telling other people to read them, too!
It's good for the soul to read Autostraddle!
Amen.
---
If you would like to be featured as a future Straddler on the Street, please email vanessa [at] autostraddle [dot] com. Include a few photos, 3-5 sentences about yourself and put "Straddler Submission" in your subject line. Photos must be high-quality vertical shots that are taken outdoors or in very amazing indoor lighting — low-light selfies, while sexy in their own right, will never ever ever be considered. Approximately a million people have submitted so far, so please be patient as Vanessa goes through her inbox — you're all sexy with really smart brains, and don't you forget it!