Welcome to the seventh installment of Style Thief, where I steal the clothes off queer style icons' backs. Metaphorically, that is. I'll try figure out just exactly what makes queer style icons tick by breaking down their look into itty bitty bite size pieces. I get a lot of questions about how to look like different celebrities/characters, so I'm finally tackling the question "How the hell do I dress like that?"
Header by Rory Midhani
Get ready to hug the nearest woman with your legs in friendship, because this week we're stripping down Ellen Page. Ellen Page reminds us that you don't have to be a lesbian for us to worship at your style feet. You can just be super hot Canadian of undisclosed sexual orientation!
Ellen Page's look is best described as just slightly femme of tomboy. The tomboy components are all there: jeans, button-ups, sneakers but her hair hangs loose and her face is softly framed by a never ending supply of scarves.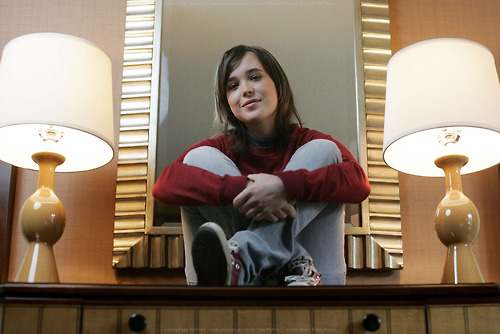 Starting off, Ellen seems to live in worn out skinny jeans. Jeans that were once as tight as leggings but have since been worn day after day without washing until they hang loose at the knees and ankles. Though stores are filled with the classic black or dark blue skinny jeans, Ellen rocks grey jeans in a big way. The secret to wearing grey jeans is to pick a dark enough shade that the front center seam up towards the zipper doesn't show. If you pick too light a shade of grey, and this seam shows, you'll look like you have a permanent camel toe. Ellen also wears sturdy denim skinny jeans in a good old classic medium blue. Most importantly, don't be scared of a few rips. That's how people know you love your jeans to death.
On top you're basically looking at either a button-up or a T-shirt. For a button-up your obvious first choice is a plaid. Forget all those stores selling curvy cuts and forget about blues and yellows. This is a classic lumberjack red and grey plaid situation. If plaid isn't your color, you could also try a light colored chambray shirt. If you opt for a T-shirt go for something black that you genuinely want to wear. You want a comfy faded T-shirt of a band you actually listen to or a design you actually like. Remember, you're not trying to be ironic here. Your look shouldn't say, "Hey remember the 90's?!" It should say, "Just so you know, I fuck like it's the 90's."
Now that you have your base, it's time to layer. You're in LA, the temperature has finally dropped enough that you should probably put on a coat, but instead you're going to try to get away with just a sweater or sweatshirt. To be warm enough you're probably going to need a lightweight scarf and a hat. This is the weather at all times in Ellen Page's world.
The sweatshirt is easy. It's a grey or a black American Apparel hoodie. You want the white zipper, the white strings and no logos or other such nonsense. As for the sweater, it's kind of grandpa sweater but also just sort of a cardigan. Ellen's sweaters always looks vaguely like they came from a second hand store, except that the fit is so flattering that it's probably from Nordstrom. This is a difficult balance to strike, but the key is to prioritize high quality materials and flattering cuts while shopping for a neutral color and worn in feel.
As for the hat, Ellen basically wears a slouchy grey knit hat or a brown trucker hat. When I wear slouch hats I am chronically tempted to try to stuff all of my hair inside of it like the hat is my new knit wig. On the contrary, Ellen shows us that by far the coolest way to wear a slouchy knit hat is by wearing your hair down and wavy in front of your shoulders. Then you sort of perch your hat on top of you hair. It's totally okay to pull you hat a bit down your forehead to help it stay on, but I think it looks better a bit further up in front.
Similarly with a trucker hat, you just pull it over your loose hair. Resist the erge to put your hair in a pony tail out the back hole or tuck your hair behind your ears. You're a casual free wheeling kind of girl! You can't be bothered to do things like tuck your hair back. More importantly, choose a subtle trucker hat– perhaps the name of a hotel or cafe– and wear your hat just simply forward. Again, you're not trying to be ironic.
The most important part of Ellen Page's look are those scarfs. Well, actually, it's almost always a bandana. The key is to start with a square bandana or scarf and fold it diagonally. Then tie the two back corners into a small knot. Be sure not to tie your bandana too tight. Pull the scarf forward so it sits like a loose necklace. Alternatively, you can tie the back once (but don't knot it) and pull the ends forward. If a classic bandana isn't your style, Ellen sometimes opts for a silk bandana. A double looped infinity scarf is also an option. You could even sew one yourself. Regardless of your bandana/scarf choice, go for something black or navy with either a classic bandana print or a black and white striped motif.
Finally we finish off with a few simple accessories. Ellen's accessories are easy: no jewelry, wayfarer sunglasses and converse sneakers. It's just that simple. Following her personal color scheme, she nearly always wears either high black converse sneakers or low red ones. When Ellen isn't wearing converse sneakers, she sometimes wears brown or black Vans or other skate-style shoes. While skate shoes can be outrageously expensive, if you're not actually skate boarding there's no harm in picking up a cheap off brand pair. Ellen opts for all black wayfarers with black lenses. These look particularly good peeking out from underneath a hat, but aren't as distracting as brightly colored sunglasses might be. Additionally, wayfarers have the added benefit of looking good on basically everyone.
The great thing about Ellen Page's look is that it's all about convenience. You can wear the same jeans, T-shirt and hoodie every single day and that is totally totally fine. Her look says "Nope, I didn't blow my hair dry or put on any makeup today, but that's okay because I still look awesome." I think we need more women who are willing to create a personal style around that sort of laid back mentality.
This week also marks the beginning of a Style Thief collaboration with artist Rory Midhani. Rory will be drawing paper dolls for our spotlight icon so you can dress up and strip down our featured woman to your heart's content. Just look how cute Ellen Page is!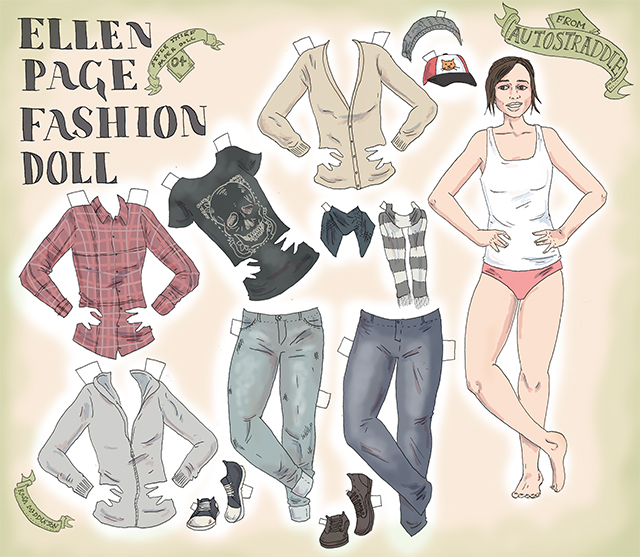 Obsessed with our Ellen Page paper doll? Check out more of Rory Midhani's awesome paper dolls!
---
If there's a queer style icon you'd like to see stripped down in Style Thief, send me an ASS message, ask on my formspring, or tweet me @Ohheyitslizz