I know October seems like a lifetime ago, but remember when it happened? My October was a whirlwind of pumpkin spice lattes and Halloween and grandpa sweaters. Was that your experience too? Maybe you live in a warm-all-year city and your October looked like my July…who knows! I do know that all of our Octobers had something in common, and that something is only one of the best and most amazing things to have happened all year: We all celebrated International Autostraddle Meet-Up Week(s) together!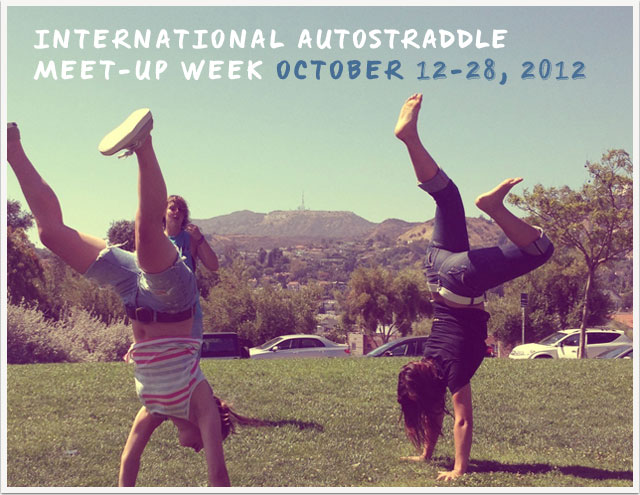 Yes, it's true. Y'all helped us raise $116,645, and we really can't ever stop thanking you, and one of the perks for hitting that insane amount of money was to have a huge international meetup week. But you guys are so awesome and enthusiastic that it turned into a meetup month! And not like anyone should be surprised, because Autostraddle readers are obviously the coolest, but the meetups were really cool!
You went on hikes and climbed tress and played with your puppies. You grabbed October by the collar and hosted Halloween parties, pumpkin carving extravaganzas, and fall picnics. There were crafting days, activist events, and a Kaki King concert. A few of you crazy kids attended a clothing optional pool party (!) while others queeraokied your little hearts out. You brunched and you drank, you made new friends and potential partners, and a few of you even emailed us to let us know you kissed a pretty girl (!) and now you're dating that pretty girl (!!!) so I'm gonna go ahead and call this whole shebang a huge fucking success. As one reader said in an email: "We're all grateful for meetup week…Autostraddle for the win, as always!" To which I say, AMEN.
I also say you all are very very very cute, and I think we should take this moment to celebrate that cuteness in the form of a gallery with over 300 images. I'm warning you, clicking through all of these photos might make you die of cute, but it's totally worth it.
Thank you for participating in International Autostraddle Meetup Week(s), thank you for sending in photos, and thank you for being incredible. We love you. You love each other. Everything is beautiful and nothing hurts. Enjoy this gallery, and keep meeting up! We're gonna take over the world one day, I just know it. And we're gonna look really fucking adorable when we do.
Note: It was extremely labor-intensive to make this giant gallery, so we did not include individual photo credits on images unless the photographer specifically requested it. If your photos are up here and you would like credit, please send an email to vanessa [at] autostraddle [dot] com and we'll make it happen. Thanks!