I meant to post this post yesterday but was waiting to see if Shopstyle would recover from its storm-damage so I could access the lookbook spreads and links I built for you chock-full of Julie & Brandy Fashions, but alas Shopsense (Shopstyle's interface for affiliates/developers) remains broken so I will plow forward nonetheless and add that section to this post when Shopsense is back up! 
---
Are you stuck at home due to inclement weather? Has your Halloween parade been cancelled? Have you chosen a niche Halloween costume that nobody will think is funny besides you and your internet friends? Well, I know how that feels. I mean, I live in Berkeley, California, so there's no inclement weather (there's no weather at all here, actually, not ever), but all my friends live in Los Angeles and New York so there's nobody to dress up for and FURTHERMORE, this year my girlfriend Marni and I decided to dress up as Julie Goldman and Brandy Howard, a relatively niche selection.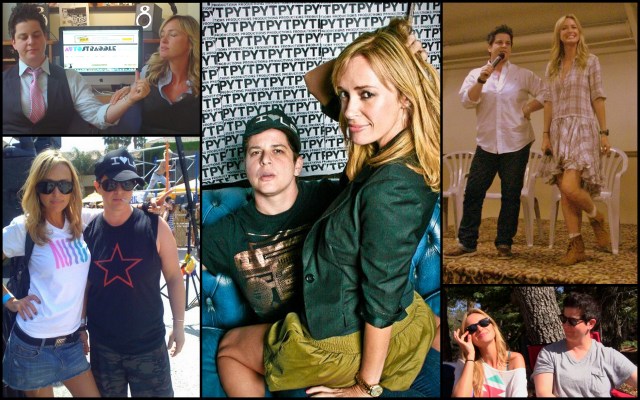 Julie Goldman, world's funniest lesbian, and Brandy Howard, G-d's gift to beer commercials, are best known to Autostraddlers as hosts of the hit webseries Julie & Brandy In Your Box Office:
As the editor for said webseries and an intimate pal of the zany duo, I spend a lot of time looking at Julie and Brandy's faces and therefore felt totally prepared to pay tribute to them at a private Halloween Party.
The best part of having a private costume party is that it facilitates multiple costume changes, you don't need to pick just one! All you need is a relatively simple concept and a camera, and you can be celebrating Halloween in your very own special way.
If you, too, want to be Julie & Brandy, you can probably throw something together from what's lying around the house or, hopefully, hanging nicely in a closet. Brandy generally prefers hoop earrings, cute boots with a very flowy dress, or a loose t-shirt with jeans or a skirt, often topped off with a cute jacket/blazer, cardigan or plaid shirt. Julie usually wears diamond stud earrings and favors Sambas, dark jeans and a graphic tee or a button-up shirt either open or with a vest and tie.
Furthermore, for extra authenticity, we recommend the following accessories:
Water bottle filled with Vodka
Vintage Blackberry
Supersoaker
Xanax
Doritos
a guitar
lipgloss
multi-colored nail polish
two dogs
Are you ready? I sure am.
+
+
Private Costume Party: Julie Goldman & Brandy Howard Edition
+
For this look, Marni donned a white shirt and we cut a pair of black underpants into the shape of an untied bowtie! This photoshoot took place in our "backyard" which we refer to as "The Grove."
+
Julie & Brandy Look #2: Lesbian Executive Realness
Julie & Brandy are very serious about bringing you lesbian executive realness in the form of coordinated formalwear.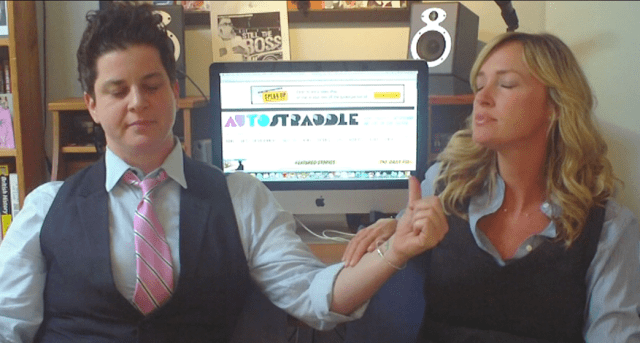 Unfortunately, I finally donated that one sweater vest I never wore to Goodwill in August, so our interpretation of this costume is incomplete, as I should be wearing a sweater vest. But I think you can still get the basic idea.
You can also rock this look with fake glasses, as per the opening credits of IYBO. I didn't wear fake glasses for this though because they're red and therefore made me look like Sally Jessie Raphael.
+
Julie & Brandy Look #3: Talking About Movies On The Couch
Julie and Brandy host their program from one of two locations:
A) Couch
B) Backyard
Occasionally Julie & Brandy will don thematic outfits for their conversations. For Black Swan Black Swan Did You Really Happen, Brandy slaughtered two entire black swans, and then re-fashioned them into stylish earrings. Julie, inspired by the dancing theme of Black Swan, selected a "dance practice" ensemble including a red sweatband, a modified workout shirt and black leggings. In order to sex up the place, Brandy forewent underwear, but did don a pair of opaque black tights.
For The Runagays, Julie and Brandy played with the "rock star" theme: Brandy feathered her hair and wore a leather jacket with a red scarf, whereas Julie selected a musically-themed graphic tee and wrapped a giant sheath of fabric around her head.
Usually, however, Julie and Brandy just wear everyday clothing while sitting on the couch talking about movies, although thematic drinks are often involved, such as wine for Sex and The City and Bloody Marys for The Hangover 2.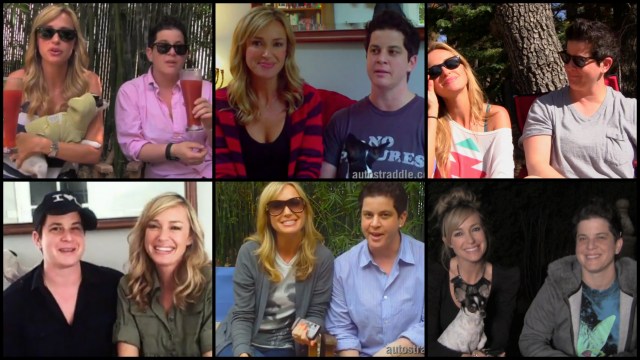 For our interpretation of Julie and Brandy Sitting On the Couch, I wore a boyfriend cardigan with a deconstructed white t-shirt and a denim mini-skirt and Marni was adorned in a graphic tee and cargo shorts. Accessories included my dog Tinkerbell playing Brandy's dog Nacho, beer, a water bottle filled with vodka, a black leather bracelet, and a bag of Doritos.
+ 
Julie & Brandy Look #4: Pool Party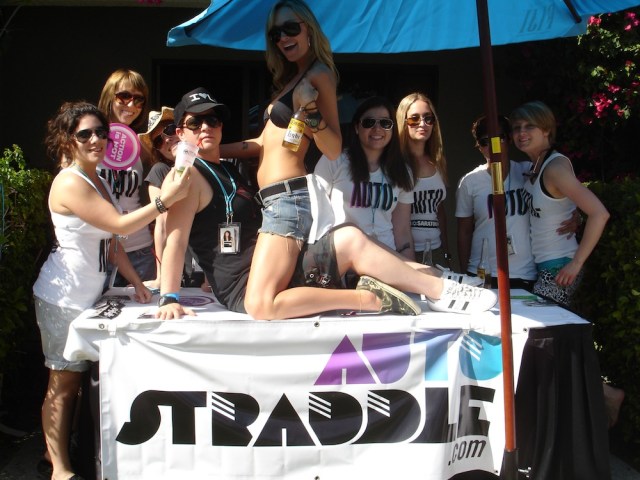 Being a Professional Lesbian involves a lot of lesbian pool parties, such as Dinah Shore. For this look, I paired a bikini top with a denim mini-skirt and Marni paired cargo shorts with a t-shirt folded to appear as if the sleeves had been cut off. We topped off the look with aviator sunglasses.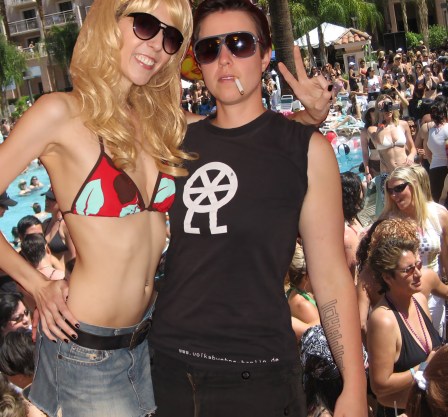 You can get great tips on how to beach it up like Julie via our Swimsuit Guide, but this outfit is generally quite simple.
Well, that about wraps it up! I hope you have the happiest Halloween and if you now feel the urge to watch every episode of In Your Box Office in a row, I want you to know that it's perfectly normal and I support you.