Welcome to the tenth installment of Style Thief, where I steal the clothes off queer style icons' backs. Metaphorically, that is. I'll try figure out just exactly what makes queer style icons tick by breaking down their look into itty bitty bite size pieces. I get a lot of questions about how to look like different celebrities/characters, so I'm finally tackling the question "How the hell do I dress like that?"
Header by Rory Midhani
I freaking love Valentine's Day. This is at least partially due to how much I love wearing red, but maybe because it's also another great excuse to go shopping. In this extra super special edition of Style Thief, I'll be setting aside my usual "one icon, one article" policy to take a look at my favorite celebrity looks for Valentine's Day. I've got a handful of my favorite queer style icons whose looks scream "Choose Me Forever" and "Choose Me For Tonight." We'll figure out exactly how to strip down their looks just in time for February 14th.
Amber Heard
Wearing a red dress is, of course, one of the most classic femme looks for Valentine's Day. I love Amber Heard's red sheath dress because she takes a simple look and makes it pop. She chooses a bold red-orange color, as oppose to a more vampiric dark red, which keeps her look a bit more casual and a bit spunkier. Additionally, she pairs it with fun red cheetah print pumps, which can be a nice change from your same old black evening shoes. This also breaks up her look a bit more than matching red shoes do.
Evan Rachel Wood Bisexual
As far as I'm concerned this is the ultimate look for someone on the femmier side of androgeny. Evan Rachel Wood Bisexual's styled up short hair leaves her perfect shoulders bare to show off that amazing charcoal wool vest. While her suspenders would probably look a bit silly over the vest, they look perfect casual slung down. The skinny matching pants keep her look modern and flattering. For a more center of center look, this could be paired with straight leg instead of skinny pants and black oxfords.
Kristen Stewart
On Valentine's Day we tend to go for red and hearts. While I love all that good stuff, it's important to keep in mind that you can also go for a look that's romantic and sexy in other ways. I love KStew's deep brown leather body-con dress. It's sexy, simple and, oh yeah, also the color of chocolate. Plus the leather is soft and inviting without being overly girly. This is particularly good if you want to go for a look that screams "Oh, is it Valentine's Day? I had no idea! I just look this good for every date." Just don't forget to flesh out a deep brown dress with some dark red lipstick.
Blaine
Sometimes Valentine's Day can be stressful for all you hot gentlequeer if you want to look nice but not too nice. I mean, do you wear a suit? A blazer? Blaine's dapper combo of a red bow tie and pants paired with a black polo shirt is a nice balance of casual and fancy. The bow tie is more fancy, but the cotton polo shirt keeps things more casual. The red pants, well, they're just fun.
Zooey Deschanel
I can't help but include my personal style icon, Zooey Deschanel. I mean, just look at those bangs. I love how Zooey Deschanel's deep reddish-purple tights take her dress from typical to spectacular. Particularly in that she pairs it with a matching ribbon belt. I recognize that not everyone has the time or money to run out and buy a whole new outfit head-to-toe just for Valentine's Day. It is, of course, just one day. But tights, belts, hats and other accessories are cheap and easy ways to pump up your gooey stickey love look.
Queen Latifah
Maybe you're not all jacked up on Valentine's Day juice. Maybe you just sort of want to wear something moderately applicable to the holiday so your co-workers won't give you a hard time. Queen Latifah's look is great if you need something you can wear to work and then out at night. Her outfit is particularly great because it has huge re-wear value after V-Day is over.
Naya Rivera
So this is a day about love, but let's be honest, this is also a day about sexy times. Is there anyone in the world better equipped to show us hot femme lingerie than Naya Rivera? I think not.
Kate Moennig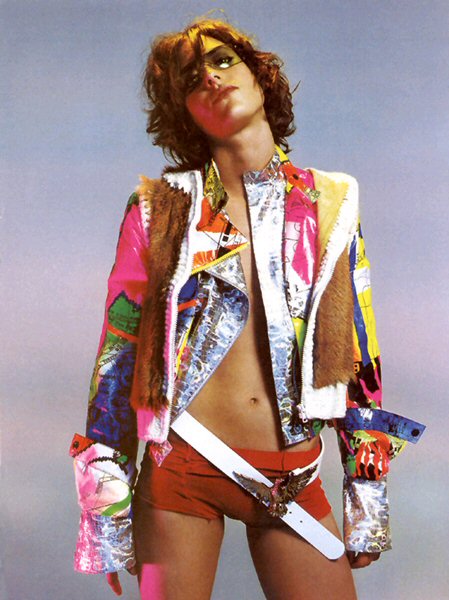 Of course, there's a world of great Valentine's Day underwear out there and, regardless of the style, it all looks super hot. So so hot.
Valentine's Day is right around the corner, and even if you're not super psyched about it you can still use this opportunity to steal an awesome look. Who knows, maybe on Valentine's Day there will be cute girl across the coffee shop (or across the bar) who just can't wait to tell you that she loves your sense style!
---
If there's a queer style icon you'd like to see stripped down in Style Thief, send me an ASS message, ask on my formspring, or tweet me @Ohheyitslizz