I arrived in St. Petersburg, Russia on September 5, where I eagerly met the new host family that I would be living with for the next three and a half months. With its elegant architecture, massive churches and broad streets, Petersburg makes you feel like you'are living in a dream. Though it's got its share of pros and cons, the memories you make in this gorgeous city will stick with you forever.
Get Down With Your Bad Self
As a general rule for club going in Russia, the party doesn't really start until well after 1 am! For those of you staying in different parts of the city, it helps to be aware that the metro closes at 12 pm and that bridges leading back to specific islands go up, and could leave you stranded. Try to book a hostel or hotel in the center of the city so that you can avoid these hassles because who really wants to go home before midnight anyway?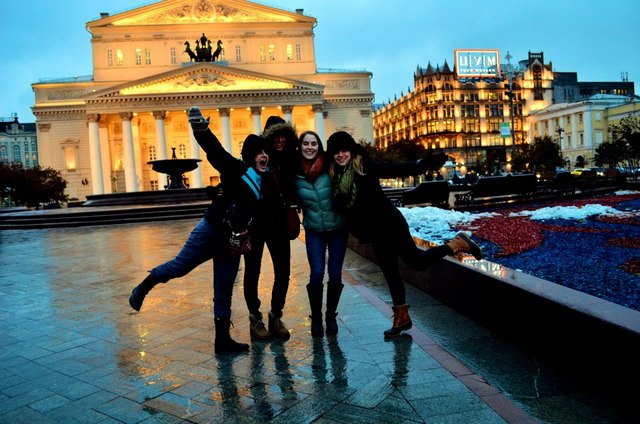 Tri El (5-aya Sovetskaya Ul. Dom. 45, Metro: Mosckovskiye Vorota) This was the first lesbian bar created in St. Petersburg and is still the most well-known lesbian bar here. If you want to go to a strictly "I am only into girls, so screw you" bar, then go here. They have a large dance floor and music that will definitely get you dropping it low. The drinks are reasonably priced, but you are always welcome to hit up a local prodykti before going to save some money. If you do plan on going to this club, try to arrive later in the evening, preferably after 12:30, because the club will be virtually empty until then and you will look significantly less cool. Open weekends from 10 pm-5:30 am, Tuesday 6 pm-11:30 pm, Thursday 7 pm-11:30 pm.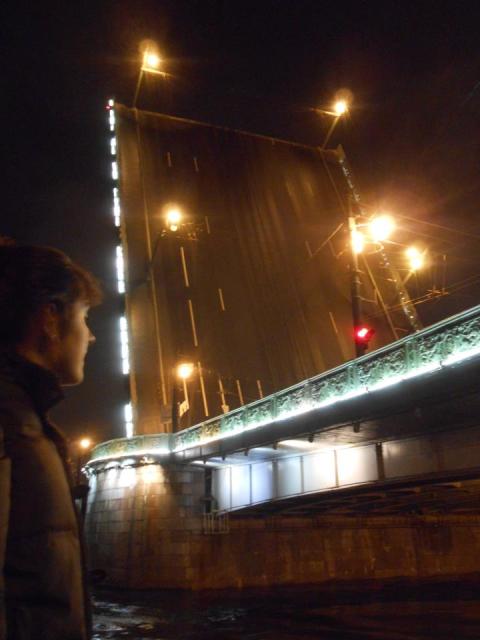 Greshniki (nab. kanala Griboedova 28/1, Metro: Nevskiy Prospekt) While this is not a club specifically for the lesbian crowd, it is the most well-known gay club in all of St. Petersburg. It has four floors, plays mainly European dance music and has a typically gay atmosphere. When you walk into the club, they give you a card on which all of your charges will be written so that when you decide your night is over, they can take your card and ask you to pay. DON'T LOSE THE CARD OR YOU WILL BE CHARGED A LARGE SUM OF MONEY FOR IT AND I WILL BE FORCED TO LAUGH AT YOU BECAUSE I WARNED YOU IN ALL CAPS!!!! If you are not in the mood to dance, they have a floor dedicated to just sitting and relaxing with friends, which is another way to say "making out with the hottie you just met." In my experience, more gay men frequent here than women, but if you're looking for an accepting atmosphere and killer music, this would be the place to go. Open daily from 6 pm-6 am
Central Station (ul Lomonosova 1/28, Metro: Gostiniy Dvor) This is a gay club geared more toward men than women. It has multiple floors and plays mostly pop/house music. Due to its location near the metro station Gostiniy Dvor, it tends to attract a lot of straight people who are dumb enough to walk into a club with a rainbow sticker on its door. There is a ladies night on Thursdays, but I have heard that they tend to be sort of a wash out. They do offer drag shows here, which I personally think are fabulous and fun to watch. Sometimes they even offer karaoke, so if you are into drunkenly singing this place is for you. Open daily from 6 pm-6 am
Blue Oyster (1 Lomonosova street, Metro: Gostiniy Dvor) This club is actually down the street from Central Station, which makes it an easy bar hop destination. Like the others, this club also attracts mostly gay men but the crowd is a little more mixed than at Central Station. Security at the door does do face checks which, yes, means if they think you're not pretty enough you're not getting in. The atmosphere is legit with leather as its theme and gets a good Rihanna "S&M" vibe going. The dance floor is not huge, so if you are a big time dancer, pick a different club or become a stripper. I would recommend coming here only if you love making gay best friends as opposed to meeting a future girlfriend. Open daily from 7 pm-6 am.
School is for Overachievers
The main college in St. Petersburg is Saint Petersburg State University. College life is not the same in Petersburg as it is in the U.S. In Petersburg, they do have a campus located on Vasilevsky Island, but college students do not hang out on it as you would typically see in the U.S. In Russia, students go to school to legitimately learn and then go home to do whatever daily tasks they have left to complete. This is extremely different from the U.S. because usually when you walk on to a college campus in the states, you find a ton of students aimlessly wandering around high or drunk and playing games like can jam and frisbee. You will not find this in Russia, so don't even try to look for it. I do recommend visiting the campus so that you can see the 12 colleges and get a feel for what it is like for Russian students to attend university. It just might inspire you to appreciate the luxuries that we have at our campuses in the U.S.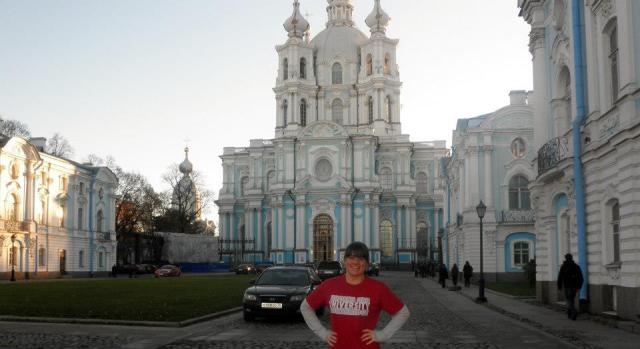 Let's Go SKA and Zenit!
If you are in St. Petersburg and it is still hockey season, I highly recommend you go to a SKA hockey game. You can buy tickets online using your credit card and then you simply print your ticket and go to the game. These games are incredibly exciting and a great group activity. Russians are very passionate about hockey so the games usually include lots of cheering, lots of drinking, lots of clapping and lots of awkward drunken Russian moments. They play all the cheers on the screens surrounding the stadium so you can easily join in on the festivities. To get to the stadium you will take the metro, specifically the orange line, and get off at Prospekt Bolshevikov. When you exit the metro, you will take a left, walk straight for maybe a minute and then at that point you should see the stadium.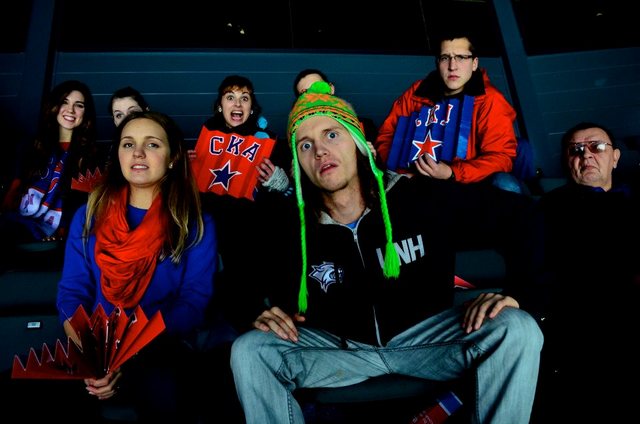 Zenit is St. Petersburg's local soccer team and they are absolutely awesome. I personally have not gone to a game and unfortunately will not be able to go anytime soon because, due to one rotten fan, the games have been closed off to the public. In the event that it changes anytime soon, this is a must see attraction if you are in St. Petersburg. The atmosphere at these games is electrifying because just as Russians are passionate about hockey, they love their soccer. You are guaranteed a good time that includes drinking, shouting and being immersed into a huge part of St. Petersburg's culture. It is also a nice break from the daunting everyday life of St. Petersburg, it's kind of like eating happy pills.
Food, Drinks and Traditional Russian Eats, Oh My
Zoom café (Gorokhovaya street, 22) is hands down my favorite café in all of St. Petersburg. It has a hipsteryatmosphere combined with awesome food and drinks. The food is decently priced (I would say mid-ranged budget) and the drinks are within that same ballpark. The best part of the whole experience is that they give you markers to color on the menus and a selection of games that you can play at your table while you wait. The only downside to Zoom is that it is usually packed and it is extremely difficult to get a table for over 4 people. If you are planning on going here, I would recommend going on a Tuesday night because, as everyone knows, Tuesday nights are the crappiest nights of the week. Open Monday-Friday 9 am-12 am, Saturday 11 am-12 am, and order food before 10:30 pm.
The Idiot (Moyka emb. 82) is a great place to eat if you are looking for a quaint little place with a Dostoevsky vibe. They offer a full drink and food menu. The price range for this restaurant is on the higher end, although it will not completely demolish your wallet. I went to the Idiot for breakfast and had amazing Bliniy! They also gave our table complimentary vodka shots with our breakfast, which we happily drank with our coffee. Some of my friends have ventured to the Idiot for dinner and said it was just as amazing for dinner as it was for breakfast. If you have time and some extra cash to spend, go have a bite to eat here, you will not regret it. Open daily 11 am-1 am.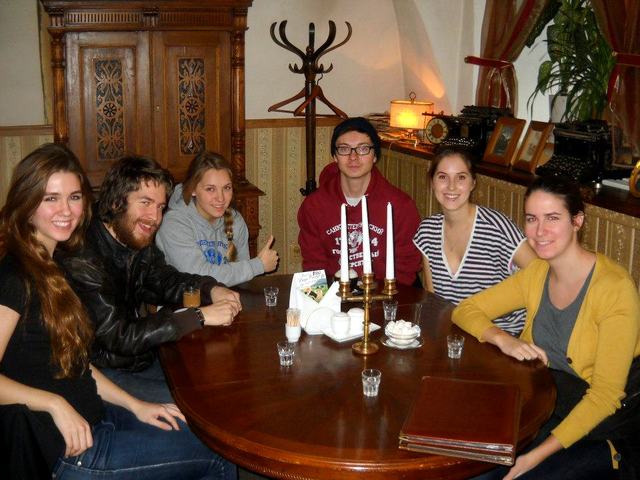 The Vodka Museum (Konnogvardeysky Boulevard, 4: Gostiny Dvor Metro) Russia is extremely well-known for their vodka, so why let an experience to try 3 different popular Russian vodkas pass you by? The vodka museum has a restaurant connected to it that offers gourmet meals that are absolutely to die for. The food is extremely pricey and, should you choose to do the vodka tasting after your meal, it costs extra. Do not let the price prevent you from going! I ordered a chicken cutlet when I went and it was literally one of the best things I have ever tasted or put into my mouth up until that point. I believe that the vodka tasting is a must, simply because it really does give you a genuine feel of Russian vodka and a chance to have a blast with your friends. I mean, 3 shots in the matter of approximately 20 minutes can be cause for some seriously good times, you know?
China Koff – This is one of my favorite places to go for coffee or tea. It is a pretty cheap café and offers both a smoking and non-smoking section. Their teas are amazing and I recommend pina colada. When you order, you can choose between a pot of tea or just one cup. If you are going with a friend a large pot is always better because you can get more cups out of it for both of you for a more reasonable price. They always have an English menu on hand, but the workers usually only speak in Russian so expect a look of fear in their eyes when you try to order in English. They also offer really good pastries which are always a great snack after wandering around St. Petersburg aimlessly for several hours. Basically, if you are tired of walking, need a break, and want some great tea, come here.
Teremok – Personally I don't love Teremok, but it is a very cheap alternative to getting typical Russian food at an extremely fast pace. It is basically like going to Boston Market in the states, but with cheaper food and all of it being specifically Russian cuisine. I have had borsh here and it was pretty subpar, but did the trick. My friends swear that their sweet bliniys that are filled with bananas, chocolate, and strawberries are just like eating a banana split. I have also gotten a "salad" here and it was covered in mayonnaise, as most Russian foods are. I would say only eat here if you are looking to spend very little money, are drunk, or if you are in a hurry.
I need Help; Do you speak English?
MEDEM (улица Марата, 6, г. Санкт-Петербург 191025 – 8 (812) 336-31-34)
I have never gotten seriously ill in St. Petersburg (I'll keep my fingers crossed on that one), but if I ever was to become ill I would immediately go to Medem. It is St. Petersburg's international clinic and hospital which includes staff that speak English, making it easy for you to explain what is wrong. They also work with different types of insurances so if you are one of those people who worries about paying out of pocket, they should be able to work something out with you. You could also go to a Russian Hospital in the area, but most will not take Americans and will not accept insurance, so you must be willing to pay out of pocket. If it is an absolute emergency, please do not hesitate to go to a Russian hospital even if it costs a lot. The host sister I have lived with the whole semester is doing her residency right now at a hospital close to where we live and she told me that it is better to get help immediately then try and work out the bill later.
Freedom, To Walk Around That Is
There are no specifically gay areas of St. Petersburg, but there are areas of interest in which most tourists like to venture. The first area is Palace Square, which is home to many of St. Petersburg's art museums and the infamous Winter Palace (The Hermitage). It's a great area to hang out in because it has beautiful architecture, tons of museums you can go to and is surrounded by chic cafes. If you aren't interested in museums, but want to check out some shopping then you can head over to Nevsky Prspekt where you can find anything you could ever want or need. They have stores that range from souvenirs to clothing to electronics which makes it a shopper's paradise.
Then if you get completely sick of blowing all your money on stuff, you can go over to Vasilevsky Island which is known as St. Petersburg's intellectual neighborhood. There you can visit the 12 colleges and Menshikov's Palace.
Some places that are not part of a specific part of town that I recommend visiting are:
The Church of Spilled Blood
St. Isaac's Cathedral (pay the 150 rubles and go to the top!)
The Bronze Horseman Statue
Yusopovs Palace (by far the best palace in St. Petersburg)
The Summer Gardens (although if you are coming in the winter, it's not worth it)
The Sphyxes
Peter and Paul Fortress
Tats, Mods, and Awesome Hair
Cuts By Katya – While in St. Petersburg, I went ahead and got my alternative life style haircut done by a fabulous haircutter named Katya. She speaks English and just happened to be the host sister of someone on our program. She cuts hair at a reasonable price (usually 500 rubles without coloring) and she does the absolute coolest things I have ever seen. She has a signature style in which she creates her own unique hair tattoos by shaving a design into part of your hair. This is really great for short haircuts but if you have longer hair, she does "secret" ones, that are only visible when you put your hair in a pony tail. She works out of her home because hair cutting is a side job for her, but everyone on my program who has gotten their hair done by her absolutely loves their cuts. Just e-mail her at iekatarina [at] mail [dot] ru and tell her that you heard about her through CIEE.
Tattoos and Piercings – Honestly I would not recommend getting a tattoo in Petersburg. The AIDS epidemic is still going strong and they do not have high cleaning standards here like they do in the U.S. The same goes for getting piercings.
Books!
If you are looking for books in St. Petersburg, I would recommend two places. The first is called Bookvoyed which comes from a Russian phrase literally meaning to devour books. They offer a great section of books, but they are all in Russian. The only exception to this is the largest Bookvoyed that is located across from the Gostiniy Dvor metro which has English books (although they are pricey). The second place I suggest is Dom Knig which also has a great selection of Russian books. I know that the St. Petersburg public library has books in English if you are that desperate to read for free while in St. Pete. There are no LGBT or feminist bookstores that I know of and if there were, it would be very hard to find out where they were because it is taboo to talk about such things in Russia.
Artsy Fartsy
I hate to say it, but I am art challenged. I have a hard time recommending artsy places, but I do enjoy theater. If you are looking to go to a theater, opera or ballet performance, then St. Petersburg is your oyster. All you have to do is go to a Kacci (ticket booth) which are located all over St. Pete, pick the show you want to see and buy a ticket. It literally is as easy as that. However if you want to completely avoid human interactions, you can just buy tickets online. The best two theaters in the city are the Mirinsky Theater and the Mixailevsky Theater. I have been to both and enjoyed the shows I saw. The seating is great no matter what ticket you buy so if you're worried about not being able to see, don't be. As for art, I suggest the Russian Museum. It has art that dates from all the way back to archaic Russia to contemporary Russian art. It took me about 2 hours to get through the whole museum, so plan accordingly.
 + + +
We're talked about the good, now let's take a minute to talk about the bad, the ugly, and the just plain no-judgements different.
Heard of Pussy Riot, Don't Do It
If you are a hardcore feminist and activist, do not come to St. Petersburg to spread your word. I think it is great that you want to spread your ideas to a place that is in many ways so closed off from feminist ideals, but you will probably be arrested unless you are super tricky and can outrun a cop. Russia in general is not the place for women being that it is a long-standing tradition to always put males before females. In my opinion it's is getting better, but it will not be fully eradicated until the younger generation (specifically children born in the 90s) get to be much older and start teaching their kids new ways of viewing life. A lot of the Russians I have spoken to that are around my age (20-24 years old) definitely have different views about society compared to Russians who were adults during the USSR.
We Ain't Got No Pride
As a bisexual new to Petersburg, I was excited to meet Russian girls. The only problem is that St. Petersburg created a law not too long ago banning the propaganda of homosexual activities in public. This includes images, public displays of affection and protests related to homosexuality. This made me very nervous at first, but my ex and I managed to get around it while being together in Russia (stolen kisses are the best). Every once in a while you do see a cute couple defying Russian law by showing massive amounts of PDA on the public streets and to them, I tip my hat, it just proves that in a world with such hatred, there can be spurts of joy. The diversity of St. Petersburg itself is pretty broad. I feel like there are a lot more queers here than people let on. I have a pretty good "gaydar" and feel that if you are willing to seek people out, you will find them.
Am I Gonna get Mugged?
The city is not dangerous per se; just don't put yourself in the position to get mugged. When you go out drinking, use the buddy system and pay attention to where you set your drink down. When you get on the metro, wear your bags in front of you and when you are walking on the streets, make sure you know where your money is. You will have to carry your passport on you at all times so make sure you don't lose that or you are royally screwed. Just be safe and smart.
Do Russians Smile?
I'm not trying to sound cruel, but if you are coming to St. Petersburg because you think you are going to go out and instantly make lots of new friends, you won't. The city itself is more liberal than Mosco, but it is still a traditional Russian practice to be closed off. Russians typically don't smile on the streets, the metro or anywhere in public. They will not usually approach you and begin to talk to you unless they are really drunk or a bit of a creep. Just be careful who you become involved with and be aware of what you are doing in public, do not purposely draw attention to yourself, no good will come of it.
If you do happen to meet someone in the rare instance that it occurs, though, they probably will be very welcoming and helpful. The cool thing about being here is that if you become friends with a Russian, they treat you like family! The tough part is meeting them in the first place.