Welcome to Underwear Week, a whole week dedicated to your favorite bum-hugging clothesthings. As we said many moons ago, we feel a lady is at her best when she's not wearing pants. And while our last adventure around this neck of the woods took us only as far as boyshorts, this time around we're exploring the vast and many-flavored land of underwear. From edible panties to hoopskirts and history, we've got you covered. Just like your underwear. 

By Ariel Speedwagon
As Autostraddle was gearing up for underpants week, dapperQ was having underwear ideas of our own. As part of our ongoing mission to explore the wide world of transgressing men's fashion, we wanted to get a sense of how all of our readers thought about their underoos. We put out a survey, and 270 – 270! – responses later, here we are.
One thing that's important for you know: at no point in this survey did we ask about gender identity or restrict it to certain kind of respondents. The information about gender we received was voluntary. We had answers from trans women, cis women, butch women, people who are not women, trans men, and lots of people who didn't bother talking about their gender directly. People, their underwear, their genders, the ratio of their hips to their waists, the convex or concave nature of their crotches – we wanted everyone to reply. Obviously, dapperQ has a key audience of masculine-of-center folks, and based on responses to the essay questions, I assume that that's mostly who answered. From this, we pulled all kinds of data. There are charts, people. And statistics! Never let it be said we don't take our work seriously.
Here's what we found:
1) Boxer briefs 4eva
We asked about two situations: underpants when it's just you and underpants when you're expecting company. No matter the situation, one thing's clear: dapperQs luuuuuuv boxer briefs. Two-thirds of our respondents said they wore boxer briefs in either situation. The rest of the responses were split almost evenly between boxers, fun-style y-front underpants, women's department briefs, and women's department boy-cut underpants.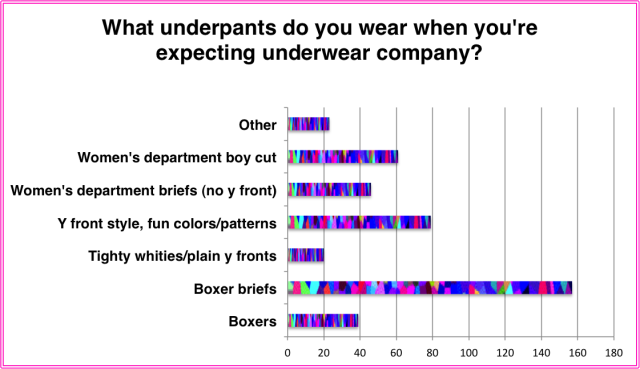 2) People can either find underpants that affirm their gender, or they just don't care.
It's important to us to know if it's even possible to find underpants out there that make you feel good. And here's the thing: 50% of you can find underpants that affirm your gender. And as for the rest of you, you just don't really care one way or the other.
Regardless of where they fell on the affirmed/not affirmed/don't care spectrum, most people agreed: it's stressful trying to buy underpants in underpants departments that they weren't assigned to at birth. To quote one of many respondents:
"I almost passed out the first time I bought boy undies. I wish that had been easier. I expected someone to shoot at me. Probably just refuse to sell to me, or laugh, really. But still. Racing heart, whole deal."
And, of course, the is the far and away the most cited problem…
3) Respondents really, really, really want "men's"-style  underpants that have fun patterns and do not have incredibly spacious crotch pouches.
It makes a certain amount of sense that, in the "men's" department, most of the underwear has crotch pouches. That said, our respondents really wish they didn't. Even respondents with convex genitals said they generally needed something less roomy. Which, of course, begs the question: what do people do with all that space?
+ + +
As a part of the dapperQ underwear survey, we solicited ideas: what are the underpants features you've always wanted and never been able to find? It's an understatement, putting it mildly, to say that the masculine-of-center female-assigned underpants market is underexplored. We are not a large market, to put it mildly; we're out here as per the usual, making do with what we find, making compromises, et cetera, et cetera. But that doesn't mean we don't have dreams. Let's take a look at what some of the dapperQs had to say.
1) Give us some affordable and attractive options
The people want some style. Specific requests were made for polka dots, glow in the dark, classic cars, stripes, bright colors, pastel colors, rainbows, dinosaurs, frogs, superheroes, hearts, different shades of pink, colorful waistbands, camo print, checks…we'd like some extra pizzaz that doesn't cost a ton of money.
There was a lot of discussion about how frustrating it was that the nice/fun men's underpants cost so much. And it's true: Hanes briefs sell in a multipack for less than $10 while a single pair of the much-loved American Apparel briefs cost $14. Some of the queer-specific underpants are upwards of $20. When it comes to small designers, it's impossible to price things competitively with a giant multinational company. And that's a major problem because we are no,t generally speaking, a rich people.
"I expect to hear an "aww" echoing up from across the world as you read this: My sweetheart has a made a tradition of customizing underwear for me for gifts – ironing on glittery and velvety letters that spell out things like "tenderqueer," "que hermoso," and other sweet inside jokes and affections."
2) Solutions for that time of the month
To quote: "This is TMI I guess, but I wish there was a way to not have to wear girl underpants under my boxers during my period. I cannot deal with tampons or DivaCups, so I used a pad of some sort, but then I need to wear briefs. I sometimes put a pad in my men's briefs, but I really prefer to wear boxers. So usually I wear two pairs of underpants, and that gets a little bulky."
RIGHT? There's nowhere for that to go. I for one love the wider crotch of the men's brief generally but if I want to wear any kind of external menstrual protection – forget it. Has anyone come up with a good solution to this?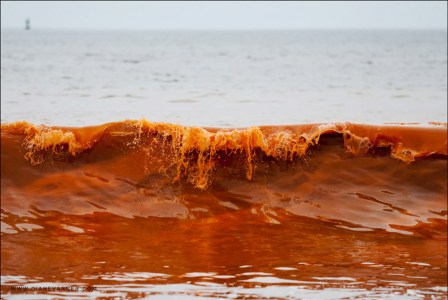 2.5) Other concave crotch design problems
Other design incompatibilities were mentioned in particular – lack of lining for the down theres, awkwardly placed seams, and – of course – the pouch problem.
"More lining under my vagina, as in women's underwear. I don't need the extra lining in the front, I need it underneath."
"It irritates me (literally) that boxer briefs don't have the double gusset type of thing that I need with my beloved girl parts. Things sometimes chaffe that should never chaffe, and in summer it can get a little… unpleasant."
3) Pack it up, pack it in
I love my underwear, but they can't hold a soft pack. I wish gender affirming undies were as cheap as other undies. It's really just another flap of fabric! Where to put the packer? Soft or hard pack – anything at all – this being built into underpants was a HUGE desire.
And a few other great ideas: condom pouch! Tiny pocket for lube or condoms! Pee funnel! The possibilities are endless!
+ + +
So, that's a taste of what we've got. And now, of course, dear readers: How do you straddle cost versus style? How do you deal with the great pouch problem?  What are your underpants dreams?