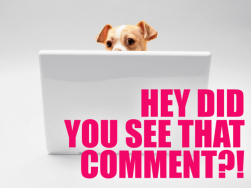 Hello Shoppers!
So many things to be thankful for on Autostraddle dot com this week!
We got to spend time with our chosen family of like-minded individuals on the Thanksgiving Open Thread.
Ellen won a thing and, let's be real, Ellen wins all the things.
Erin is still navigating the heteronormative Patriarchy via spot on fashion choices.
Supergirl, sex toys, and garlic!
Also Freedom! And Comments!
---
On OPEN THREAD: Thanksgiving 2016 Family Togetherness Time Right Here Together:
The No, Thank YOU! Award to Bae:

On Four Femme Ways To Wear Bodysuits This Fall:
The You Do You Award to jane:

On Tila Tequila What The Fuck: Former MTV Star Now Identifies as "Literally Hitler":
The Truth Award to Jessica Vazquez:

On View From The Top: Aftercare For Tops:
The Tribute Award to Mavi:

On 18 Thanksgiving Recipes for Huge Stinkin' Garlic Lovers:
The California Dreaming Award to Carmen SanDiego:
On Sunday Funday is Having the Best Day Ever, Considering the Circumstances:
The Congratugaytions Award to Moriarteaparty:

---
See a clever, hilarious or thought provoking comment around this website-ship? Email it to me at: bren [at] autostraddle [dot] com!