Happy Sunday Funday, muffin tops! (As in, the actual top of a muffin. My favorite part, as a note.) Welcome to your weekly grab bag of good gay news! Let's get started, because I'm just finishing up this coffee in bed while tackling an unholy to-do list and I need both a distraction and a reminder that I have faith in humanity. Wheee!
Well Isn't This Fucking Amazing
You know how A-Camper Extraordinaire Grace is on a mission to give everyone their Best Day Ever? I do, because the days we've spent together were mine. Also, here's a video of Gaela's! You're gonna cry! I promise!
In the Name of the Law
+ Canada's House of Commons just advanced legislation that would add protections from discrimination on the basis of gender identity and expression to the nation's Human Rights Act. Also, sounds like they really do want you to move there. I recommend Nanaimo.
"It's a very important and historic day to see the House of Commons finally pass Bill C-16, providing protections for transgender and gender diverse Canadians in all federal government services,wp_postssays Wells.

"Given some of the concern and rhetoric coming out of the United States these days post-election, this is another important sign and step forward for Canada's leadership role in the world to unequivocally protect and support human rights for some of our most vulnerable citizens."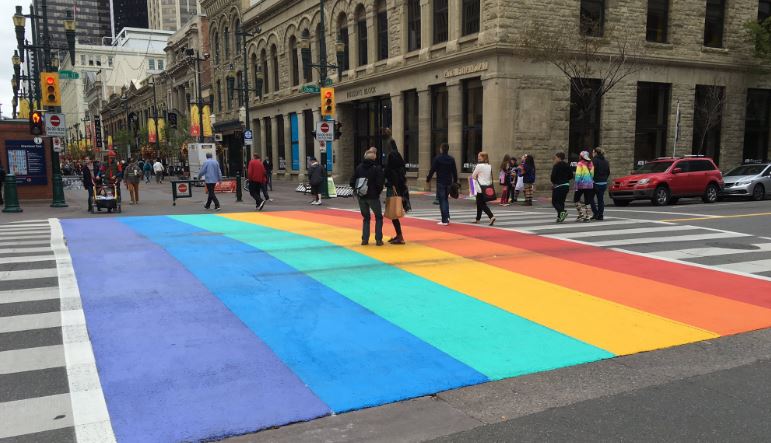 + Minnesota's ban on transition-related surgery has been ruled unconstitutional because oh my god, duh.
+ Planned Parenthood of New York City will begin offering hormone replacement therapy next month. B L E S S.
F*ck Pat McCrory
Pat McCrory, awful dude and once-Governor of North Carolina, is trying super hard not to admit he just lost his race for re-election. His opponent's lead, after ten days, however, is only growing. HB2, Pat? More like HB who? 
Some sassy highlights from the scene:
The Human Rights Campaign and Equality North Carolina decried McCrory's refusal to admit defeat. "Governor-elect Roy Cooper has won this election, and we're all ready for him to restore the reputation of this great state,wp_postssaid HRC President Chad Griffin in a press release. "North Carolina continues to suffer from the petty and dangerous leadership of Pat McCrory who refuses to admit defeat, despite now being down by more than 6,000 votes. It is time for Pat McCrory to accept he's lost, stop wasting taxpayer time and money, and allow for the peaceful transition of power. To undermine the results of this election would be an affront to the will of the voters, and the Human Rights Campaign and our allies are prepared to fight any attempts by Pat McCrory to overturn the will of the people. No one likes a sore loser."

"Pat McCrory is once again putting his personal politics above the best interests of the people of North Carolina,wp_postssaid Equality NC executive director Chris Sgro in the same release. "He was wrong when he signed HB 2 into law despite opposition, and he is wrong now in refusing to acknowledge his defeat and concede. A lot of politicians lost difficult races in 2016, and Pat McCrory is the only one dragging his heels and being petulant. Roy Cooper is the clear victor — the voters of North Carolina have spoken.  Pat, you have the opportunity to do the right thing and let North Carolina finally move on."
Light in the Darkness
The election isn't over yet and neither is the eternal and everlasting goodness of humanity.
+ I know you already know but like, come on, once more with feeling.
Yes #MikePence was at @HamiltonMusical here's what we had to say pic.twitter.com/YIjt7JZ3gF

— G R E G O R Y (@ghaney22) November 19, 2016
+ Someone in Rachel's home state of Virginia vandalized her historic Clinton/Kaine yard sign with anti-gay graffiti. And well, let me tell you, her neighbors just didn't like that one bit. They fought back with gifts and signs of their own. Someone really should replace her historic Clinton/Kaine sign, though. That bitch should be president.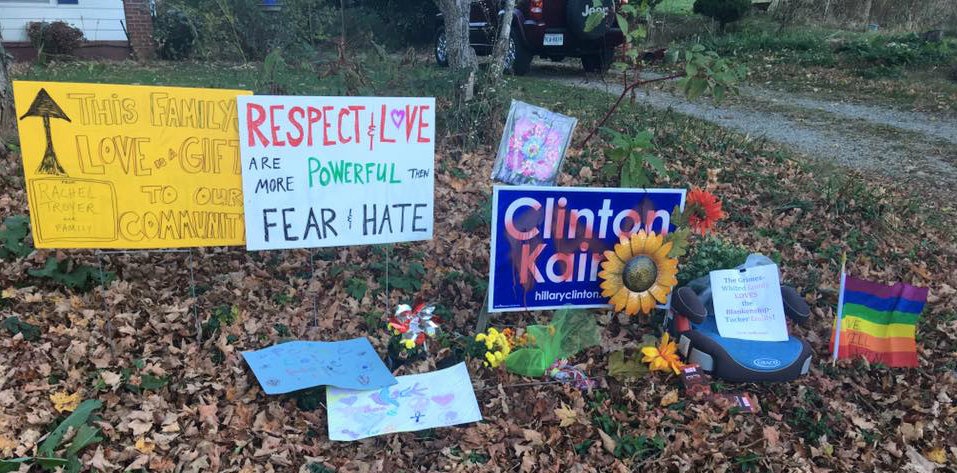 "It felt like sort of this personal kindness, like they were saying specifically to us 'We care about you,'wp_postsRachel's wife Emily said. "But then after a few days it started to feel like the community was saying we care about ourselves, we care about each other, this is how it's going to be here."
+ This Texas woman overheard a family discussing their "awful gay nephew" and bought them dinner to embarrass them. It was the ultimate power move, and I respect the fuck out of it.
Tiny Salamander Moment
These are precious. I still don't want them near me, though.