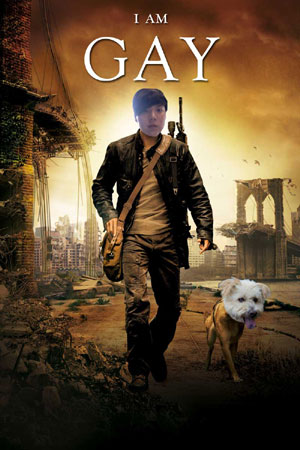 I lived in a world seemingly devoid of any hope.
I've known I was gay since I was four years old and growing up in a conservative, religious Asian household in gay-friendly San Francisco was my version of a lonely post-apocalyptic world. I had been told in sermons week after week that there was no greater sin than being homosexual and that I'd go to hell for feeling these urges that I couldn't understand as a four-year-old. I genuinely believed I had no chance at real happiness in this life and that my soul would be damned in the next.
I was so scared of letting my secret out that I went selectively mute from age four to twenty-four. I didn't talk unless it was to request basic needs like food, water and toys. I lived in complete isolation and miserably trudged along through my young life. I thought happiness was an emotion I didn't deserve to feel and never allowed it to take camp in my heart. At the ripe age of eight, I decided that the only solution was to take my life as soon as I graduated from college. Even though I was so miserable I could have ended it then and there, some part of my Asian genes wouldn't let me die without affixing M.D., Ph.D. or some other string of letters to the end of my name. I settled on B.A.
I lived my life truly believing I had an expiration date.
I hoped for death and had no concern for my safety, which led me to make a lot of bad decisions. I'd buy drugs from homeless men off of Craigslist, drive at 120 mph with my eyes closed, stand on the ledge of any building I could sneak into and try any sort of drug and alcohol combination that would just let me feel… something, but nothing worked. I went 20 years living in this hopeless prison I had created for myself in my head.
Once I graduated from college and D-Day arrived, I was more than ready to plunge head first into the abyss. I reflected on my life as I counted down the minutes before I'd take the pills to end it.
For some reason in the midst of it all, I tried to remember the happiest day of my life. There wasn't one. I made the decision then and there that I deserved one last day that would be the best day of my life. I figured I owed it to myself.
I decided to spend the day gallivanting around the city of San Francisco. I rode a cable car, explored different areas, went to three different bookstores and discovered a bench with the most peculiar writing scribbled on it.
"There's beauty in everything, it's up to you to see it."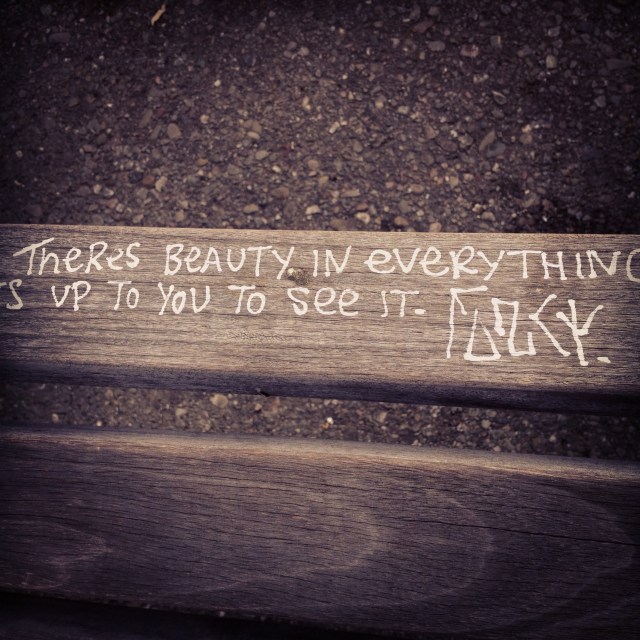 The words were swimming through my head as I was walking towards the Montgomery St. Bart Station when I noticed a homeless man by the entrance. Growing up in a big city, you grow desensitized to this form of suffering as it's a daily sight, but I saw him clearly that day. I decided to dare myself to get over my fear of talking to strangers and asked him if he wanted something to eat. He agreed to let me buy him a sandwich and as we were waiting in line, he shared his story with me as if it were payment for the meal.
His name was John. He was a veteran, a former musician, and had traveled to San Francisco in the nineties to follow Rob Zombie's concert tour. He told me he got into drugs, fell on hard times and never managed to pull himself out of it. He then thanked me for treating him like another human being and we parted ways.
I began to reflect on my conversation with John. At first, I wasn't able to understand how someone could let themselves live in squalor on the streets for almost twenty years without doing anything about it. And then it hit me, I had been letting myself live in utter misery for the same duration without ever trying to pull myself out of the dark hole I was living in. As these new thoughts began taking root in my brain, my phone rang and it seemed like I was listening to the lyrics of my ringtone, the song Across the Room by Fox Royal, for the first time.
I don't care where it goes, just as long as it's going.
In that moment of enlightenment, I realized I'll never know the meaning of why I'm here but as long as the world keeps spinning, I have the power to make my life whatever I want it to be. We don't have control of the events in our lives, but we have control over how we react to them. Life will run everyone down at some point, but you can choose to either let it consume you or rise above it.
I realized I had just had the best day of my life and none of the things I had done to make it the best day were out of the ordinary. All that changed was the way I approached the day in my mind. I wanted it to be the best day and so I approached it as if it were going to be. It led me to take risks, leave my comfort zone and do the things I'd normally never do out of fear.
As humans, we are most afraid of the unknown, and that makes us stick within certain boundaries that we know we can handle. We have volition, but if we consistently limit ourselves from pursuing certain avenues out of fear, we deprive ourselves of all the possibilities awaiting us.
Living my life in fear had deprived me of experiences, and most of all, happiness. I decided from that day on, I was going to live the exact kind of life I wanted to live, be the exact kind of person I wanted to be, and see the beauty of life by approaching every day as if it's going to be the best.
This is my Best Day Project.
I've written out 100 things I've always wanted to do. There's everything from skydiving and performing random acts of kindness to basic things like hitting on a girl for the first time that my experience growing up a depressed, selectively-mute loner didn't allow me to do. I draw one task at random before I leave my house each morning, force myself to do it and fall in love with life a little more every day. Wounds have been healing, courage has been gained, and every day has been the best day of my life.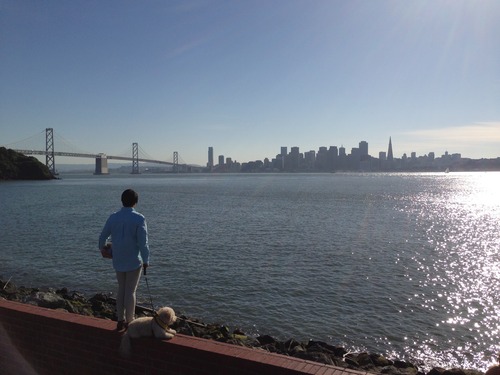 ---

About the author: When Grace Kim isn't fighting the urge to rub her face all over her puppy, looking forward to A-camp or scaring the shit out of herself for Best Day Project, she is working on her sponsored web series for queer youth suicide prevention.
If you have similar experiences as Grace's and would like to take on something you've always wanted to do as an episode of her web series, please email bestdayproject@gmail.com for more details. Must be 18+, in the United States, willing to be filmed talking about past experiences and sign a release.
Special Note: Autostraddle's "First Person" personal essays do not necessarily reflect the ideals of Autostraddle or its editors, nor do any First Person writers intend to speak on behalf of anyone other than themselves. First Person writers are simply speaking honestly from their own hearts.