feature image via Tila Tequila's official Facebook page
If you've been paying attention to Tila Tequila lately, and most of us haven't, you won't be surprised to learn that she recently attended the National Policy Institute's conference in Washington DC, home of white nationalism's most nefarious Hitler youth douchebags. Tequila (née Tila Nguyen, a Singapore-born child of Vietnamese immigrants) has recently become quite active in white nationalist circles, proclaiming herself "Hitila" and offering via Twitter to create "the whitest babies" for self-described "alpha males." She caused quite a stir this past Saturday when she posted an image of herself with fellow white nationalist activists, throwing an unrepentant Nazi salute at the camera. The photo was captioned, "Seig [sic] heil!"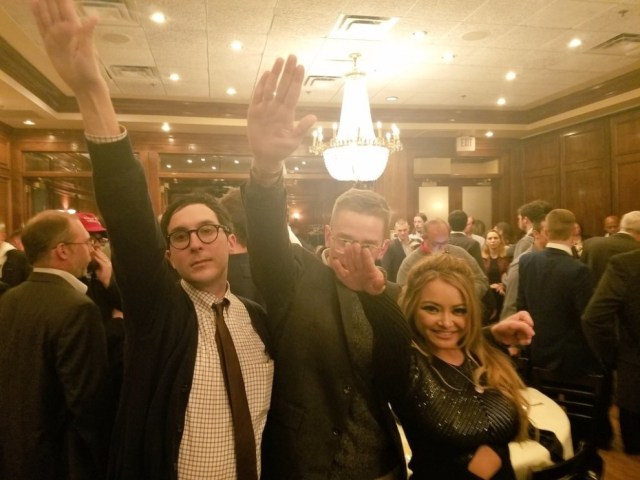 Tila Tequila holds a specific infamy in the hearts of the queer community — when her dating show, A Shot at Love With Tila Tequila, premiered on MTV, many of us couldn't look away, despite its active promotion of bisexual stereotypes and overall grossness. The world was surprised when Dani Campbell, who Tila had initially written off as "too masculine" for her, made it to the final round (but lost to the male suitor). Dani was one of the few butch lesbians to ever appear on television at that point, and became a celesbian heart-throb for many ensuing years.
If one were some kind of masochist trying to make sense of this flaming nightmare we're currently calling reality, one might wonder what exactly draws a self-identified bisexual Asian American immigrant woman to a movement of white supremacists? She told the Daily Beast that Pepe the Frog memes were a pretty major draw.
"Honestly, I think that the meme-warring, I think it's very refreshing.. I've never seen anything like that in any [other] group. They are very creative, that is very important to have for the children. Creativity, and art, and magic… and humor! They add a little humor to it, which is good… And I think that's why I'm also invited here because I bring a little bit more diversity to the movement."
As a mother, she explains (yes, Tila Tequila is currently raising a human person), her values have evolved to reflect the world she'd like her daughter to grow up in.
"I'm becoming more conservative ever since I became a mother," she continued. "I wouldn't want porn all over the internet [for instance]…Law and order, I think that's very important to have. Most people are so used to being all about their 'freedom,' so they becomes these little crybabies. They can't live by laws and rules. Civilization needs to be civilized."
Tila has certainly been on a journey with regards to her political leanings; when we spoke to her in 2010 she explained how coming out as a lesbian (as opposed to bisexual) had affected her life. Very shortly thereafter, her fiance Casey Johnson died very suddenly after neglecting to take her insulin, and Tequila vowed to fight for custody of Johnson's daughter Ava-Monroe (Johnson's mother retained custody). It was during this period of time that Tequila's erratic behavior and struggles with her mental and physical health became overwhelmingly apparent to the public. Tequila claimed to have Disassociative Identity Disorder and announced that one of her personalities had taken over her Twitter account. In 2012, she had a brain aneurysm and also overdosed on prescription pills; her roommate told police she'd been "trying to kill herself all week." Later, she seemed to develop extreme feelings about Judaism; she told TMZ that she was "fascinated with Kabbalah, the culture, and the way of life of the reform Judaism religion." She even mentioned taking classes at a local synagogue in order to convert.
In 2013, these feelings seemed to have dissipated as she posted a tirade on her website entitled, "Why I Sympathize with Hitler: Part I," which read in part:
For those of you who focus on the victims of war well that is just part of war. What do you think war is about? People DIE in wars that is why I am against wars. It brought me to tears because I used to think all of those horrible things about him [Hitler] until I learned the truth about the war and what Hitler truly did and he was not a bad person as they have painted him out to be. Here is a man who was not a coward, stood up for his country in a DESPERATE TIME OF NEED (unlike all of our cowardly leaders), and yet not only did he try his best to help his country and people get out of what was a time of depression, economic collapse, high unemployment, amongst many other things.
It was around this time that Tequila began posting pictures of herself in Nazi regalia, photoshopping herself in front of concentration camps, dubbed herself "Hitila" and began making extremely anti-Semitic remarks. In 2014, she gave birth to a daughter, Isabella, who she later dressed up in a Hitler mustache for Instagram.
As for the NPI conference this past weekend, these creative chuckleheads led the crowd in "Heil Trump!" salutes, and swarm-of-bees-dressed-in-a-human-suit Richard Spencer actually wondered out loud in a speech whether or not Jews were "people at all, or instead soulless golem." For what it's worth, Tequila spent a fair amount of the weekend bragging to her Twitter followers about having super powers, slowing down time, causing the Trump presidency with her mind and wondering why the Nazis only killed 6 million Jews instead of 25 million, until Twitter finally shut down her account for violating their new hate speech guidelines. Previously her twitter bio read "Alt-reich queen! Literally Hitler!"
While it does seem obvious that Tila Tequila is struggling with some very real mental health issues and that her cultural relevance has certainly decayed some, she is also working overtime to lend publicity to a horrific movement. As a queer Jewish American, it's been a frankly terrifying week in the news, made only slightly more disturbing by Tequila's bizarre antics and blatant hate speech. We have enough to deal with right now without.. whatever this is.