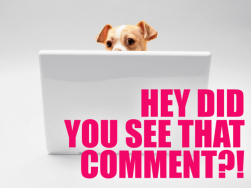 Hi there, pals! You're doing so great. I'm so glad you're here. Would you care for a glass of water?
This week, there was a lot of Carol in our lives. I think this one was my absolute favorite.
Riese stumped us (well, me) with a quiz about the lesbian '90s.
Need a game to play? A.E. recommends Lost Wage Rampage.
PETRA SOLANO BISEXUAL! OKAY? OKAY! (Thanks, Valerie!)
Mey's got all the fashion inspiration we could ever need in Style Thief: How To Dress Like Lesbian Jesus Hayley Kiyoko.
Archie co-wrote and illustrated this guide to they/them pronouns that you can pre-order right now for your very own self! Or a friend or parent! Or your local library!
From Carolyn: How To Eat Ass. This series is so good.
And then there were your comments!
---
The Archie Teaches Typing Award to Brianna:

On 30 Days of Carol: Day 6 – Carol Looks Ranked by the Degree to Which They Mark Therese as a Snack:
The Everybody Wins Award to Blackmar: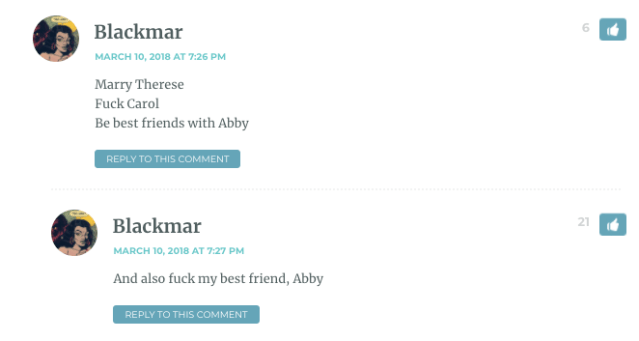 And the Stayin' Alive Award to Rous Rose: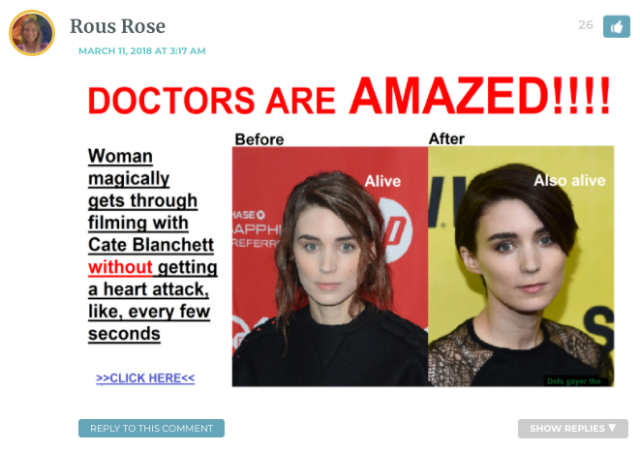 On 30 Days of Carol: Day 7 – How To Get Carol's Back Probably:
The Heart Healthy Award to AnnieStinkle: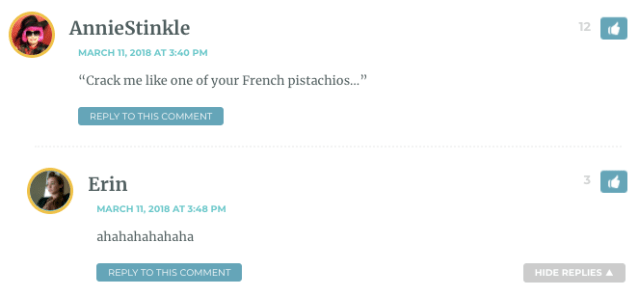 On Drawn to Comics: "A Quick and Easy Guide to They/Them Pronouns" Is Quick, Easy and Spectacular:
The Ye/Thou Pronoun Award to Chandra and Monique:
On 30 Days of Carol: Day 8 – You Can Buy Carol Aird's Home for 2.9 Million Dollars:
The Aird Sold Separately Award to Rous Rose and Harold Theyre Lesbians:
On 30 Days of Carol: Day 9 – Let's Play "Which Co-Star is Rooney Mara With?"
The Jack Skellington Award of Distinction to Kristana: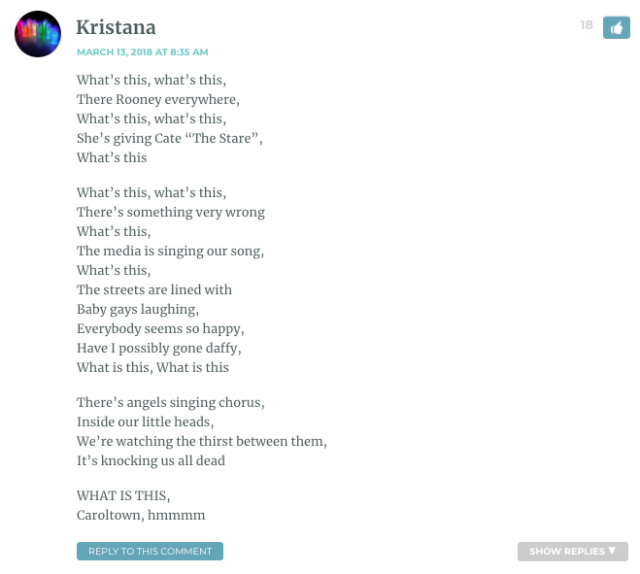 And on 30 Days of Carol: Day 11 – I'm Really Sorry:
The Safety Monitor Award to Isabel: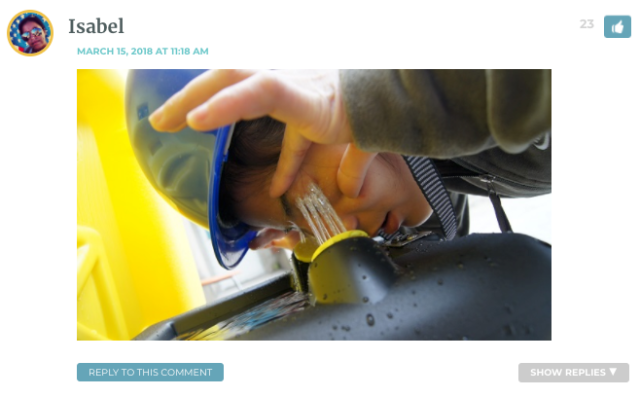 ---
See a funny or amazing comment that needs to be here? E-mail me at queergirlblogs [at] gmail [dot] com!