I've covered games by Jane Friedhoff before on Autostraddle: Slam City Oracles and Handväska! specifically. So it is with great certainty that I can articulate a couple cornerstones of a Friedhoff game. First, the game hinges on a social injustice of some kind. Second, it's a healthy outlet in which to rage against that social injustice and cause damage without real-world consequences. And lastly, generally has a rrrriot girl soundtrack so it's no surprise that Friedhoff's new game, Lost Wage Rampage, provides the same sort of space for those of us continually frustrated by the wage gap.
This game, made with support from the Peabody Essex Museum as a part of their PlayTime exhibit (on view until May and documenting the role of play in modern society), focuses on two mall employees who find out that they make drastically less than their male counterparts. Instead of feeling worthless and powerless and saying next to nothing, like we all do in real life, they steal a car from a mall display and smash into valuables on sale, stealing back the money that should've been theirs in the first place. But be careful! Mall cops have their own police cars and you can only get hit by them three times before the game ends and your total tallies up. And you do this all while listening to a song called Blood Robot, so. First I'm going to evaluate this as a game — something to be simply played. But then, because I'm a digital storytelling professor, I'm gonna do what I do and read this game as a text — sorry not sorry.
If we're talking about Rampage as a game, I highly recommend it for players of all levels. I am very, very bad at dexterity games, and this is one. But the simple graphics and simple controls (just the arrow keys, y'all) mean that the game is very easy to pick up. The game is also relatively short if you're bad at it, which means you won't rage quit it. However, I can see how this game could go on for far longer if you ARE a person who is good at dodging police cars. Bottom line, it's fun if you're good at it and it's fun if you're not good at it. I also highly recommend playing it with your bestest queer gaming pal, taking turns trying to get the highest score and groaning when the cops show up, because that is what I truly believe the protagonists of the game would want us to do and is, in fact, what they are doing with shouts of "GET OFF OUR ASS."
Now for game-as-text-time, which is my favorite time. First off, consider the space of gaming, which has the reputation of housing a good many cis dudes that don't believe the wage gap is a thing. What Friedhoff is doing is making space in nerd culture for folks who are a) affected by the wage gap and b) believe actual statistics and the lived experiences of marginalized folks. That's a space that's not inherently built into nerd and gaming culture. The game then brings something that needs to be talked about to a place where it is shunned and blows it up WITH FUN. It also welcomes folks who might feel alienated by the culture of gaming both by being a game for people with varying skill levels AND expressly featuring women of color as protagonists. Brilliant. Then let's consider the ideas embedded in the game itself: people's individual experiences are weighted more heavily than capitalist concerns. This idea shouldn't be revolutionary, but it is. And then there's the idea of constructive fake violence — likely, none of us are actually going to do this IRL (mostly because people will get hurt and we will go to jail). This game is a fantasy and allows us to express frustration in a destructive way without ACTUALLY being destructive. For those of us who experience the wage gap, it's a way to blow off steam. Now consider playing this as someone who doesn't, or someone who doesn't think it exists (gosh I hope they're playing it and not just tweeting bullshit)—when you put a player who DOESN'T experience the wage gap in the driver's seat, that player has the opportunity to experience how frustrated we are. Frustrated enough to run down a display of watches in a red hot rod. Everyone should give this a play. Everyone.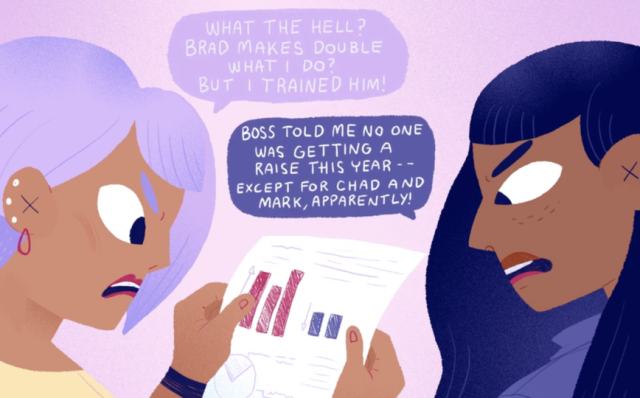 And lastly, for those of us concerned that our adorable and badass protagonists go to jail (and therefore ultimately telling us that our justifiable frustration should end in punishment), Friedhoff has our backs. Just take a gander at these tweets:
Lost Wage Rampage is a pay-what-you-will game available on itch.io for Mac and Windows. Download your copy today and burn off some of that rage, you'll be glad you did.