Hello squirrel friends! I feel like we have so much to cover today, so I won't bore you with too much news. Right quick: Mia Michaels left So You Think You Can Dance so she could work on her own show (yay!), Pam Mothafuckin' Grier is going to be on Smallville, and ABC will not be picking up a full season of Eastwick (but Haviland Stillwell Rising Star will still be on the November 25th episode).
And now…
The Carlytron Television Awards for the Week Ending 11/08/09!
---
The Best Thing I Saw All Week Award – V
Episode 101 – Pilot
We predicted that V was going to be lame back in September, and boy were we wrong! I totally loved the V pilot, you guys! It was awesome. I'm super excited to see where they take this, since they gave away the whole visitors are evil lizards thing in the first episode. Whee! There are so many hot ladies on this show, too, and most of them are terrifying aliens. Yes!
The Real Life Gay Ladies Award
On Saturday night, Wanda Sykes' new talk show premiered. It was pretty good! One segment was entirely devoted to Wanda trying to get rid of some old sex toys, which was pretty racy for Fox, right? Plus the Vanna to her Pat is a drag queen, which gets two very enthusiastic thumbs up from me.
And then on Monday, Ellen was on Oprah talking about her O magazine cover (in stores Thursday!) and her marriage to Portia. It was srsly the cutest thing I have ever seen. I think that with everything going on right now in the US with our staggering lack of equality, it's great to see the Most Famous Lesbians On The Planet on The Most Important Show On The Planet being adorable and in love and not bursting into flames or whatever. Visibility! P.S. This totally made me tear up, don't tell anyone:

The Bitch Is Back Award – Tabatha's Salon Takeover
Episode 201 – Orbit Salon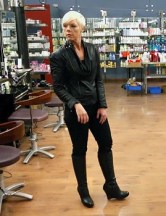 Is anyone else SUPER STOKED that this show is back? Yes, it's formulaic. Yes, the same thing happens every week. No, I do not care. Tabatha, I love you. You and your crazy black leather outfits and the way you yell at all those crazy people. Don't ever change! HBIC for life!
Additionally I'm very excited to see the Jackie Warner version of this, Jackie's Gym Takeover, whenever that decides to premiere.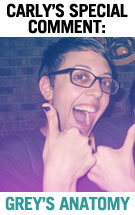 Special Comment: Grey's Anatomy
Episode 608 – Invest in Love
Like the new graphic? Allow me to explain. When this season began, I had very low expectations coming off of season 5, which was mostly horrible. So after a few sub-par episodes, I asked Alex to make me a graphic expressing my dislike for Grey's Anatomy. And then something weird happened: the show started to get good again! I used to love this show during its first few seasons, and then it took a terrible turn for the worst. But I kept watching out of my own sense of series obligation because I wanted to be around when it got good again. And now it has! And I'm not the only one who thinks so! So Alex was again commissioned to make another graphic. I have no idea where this photo came from; I don't think I've ever seen it before, which leads me to believe that Alex has a secret repository of stealthy Carly photos hiding somewhere on her laptop. I'm on to you, Vega!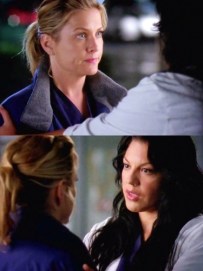 This week's episode was all about Arizona, which is awesome. I'm glad she's really a full-fledged character now, I think she's a great addition to the show. So basically, it's her birthday, but then this little boy who she's been treating for a long time gets really sick and dies, so it's not a very happy birthday at all. Before this all happens, the boy's parents donate a shit ton of money to the hospital to find a cure for what he has, but despite FBI AD Skinner (sorry, I can't see Mitch Pileggi as anyone else) and the Chief's greedy ways, they still donate the money after his death because Arizona is so awesome. #yaygay!
Mark tells Callie not to throw Arizona a surprise party because they never go well (this is a well-documented fact), and it totally goes terribly, but in the end Callie is wearing very little on the couch and then they say "I love you" for the first time. Eeeeeek!
Ok Shonda, you've got me. I completely give up. You win. Now just let them make out or something, please? Look how nice I'm being!


The Totally Crazy Hypothetical Situation Award – How I Met Your Mother
Episoode 506 – Bagpipes
Um, you guys, Barney and Lily made out. In a hypothetical situation. But still, this happened: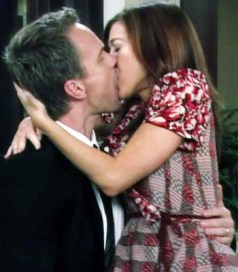 I always knew Willow and Dr. Horrible would be perfect for each other! Also, Barney and Robin are arguing! Ruh roh! I hope they work it out…


The Britney Spears Memorial Award For A Hot Mess of a Performance – The Real Housewives of Atlanta
Reunion Episode
I haven't seen something this ridiculous since Britney was like, drunk or whatever at the VMAs a few years ago. In case you missed it, here's "Tardy For the Party," in all its amazing, horrible glory:

The Amazing Guest Star Award – Parks and Recreation
Episode 208 – Ron and Tammy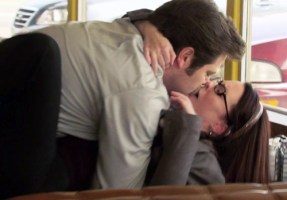 Two words: Megan Mullally. She shows up as Ron's psycho ex and — fun fact! — she's actually married to him in real life! This week is a Parks vs Library EPIC SHOWDOWN.
She and Ron have this amazing scene together where they go out for lunch (at Frank's Steak House — actually located in Burbank — which I have been to and is in fact amazing), and in a montage they get in an argument, eat separately, make out ridiculously, and get a motel room to have sex in.
"WHAT KIND OF LUNATIC WOULD WANT TO BE CLEOPATRA OVER ELEANOR ROOSEVELT?!" – Leslie <3
After she has seduced Ron she uses him to get the lot (formerly known as the pit) upon which to build a new library. As someone who used to work in a library, and who really loves libraries A LOT, this characterization of the library department as being a bunch of evil bitches is hilarious.


The Total Letdown Award – Heroes
Episode 407 – Once Upon a Time in Texas
So… I dunno, everything I've read online is saying that this episode was awesome, but I was really disappointed. It was nice to go back to season 1 and it was great to have Charlie back, but it was all kinda… dumb? Why didn't Hiro just kill Sylar? Ugh. Maybe they tried to trick us into thinking this episode was awesome, because it was theoretically awesome when compared to the rest of this season as a whole. It was nice seeing that retcon of Bennett, though. He almost got laid you guys! Aw, Bennett. And by Gay ADA Elizabeth Rohm, no less!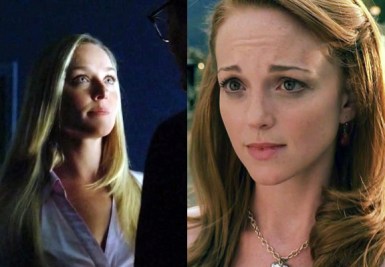 The Highly Preposterous – Gossip Girl
Episode 308 – The Grandfather, Part II
While watching this, I watched the new highly-publicized threesome episode, so I'm trying to focus on the matter at hand here, the big election episode.
Brandeis: "You're good."
Blair: "I know. I'm Blair."
I know, right? Her name is Brandeis. Like the university. She's also a for-real call girl. Everything about this episode was so amazing and so totally not capable of actually happening. I kept shouting at Nate to throw Vanessa into the water, she is just the worst! And also there is no way that she was the only person who captured the event on tape (though she was probably the only one to be able to uncover the "big hoax" with her footage), and our beloved NY1 would not have put her name on the air either. Vanessa fail. But I think I like this show even more when it's at its most absurd, so Gossip Girl: keep up the good work!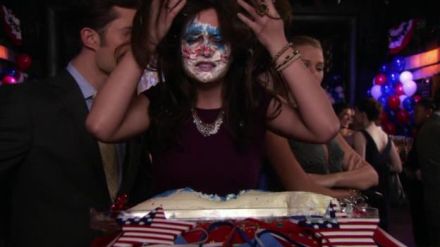 Oh, and that happened. Serena and Blair are NOT ON SPEAKING TERMS. And Serena is gonna do the Senator. And next week we will discuss this alleged threesome, which I have a lot of feelings about.


The Hot Girl of the Week
Lesbians from sea to shining sea can rejoice: Elizabeth Mitchell has finally won the prestigious Hot Girl of the Week Award. I don't watch Lost so I haven't been keeping up with her shenanigans these days, but she was awesome on V — a new prime time action hero to drool over. What can I even say about her? She was in Gia (that's what she said!). She was on ER. She gives good interview. We love her. Here is the lovely Elizabeth Mitchell through the ages:



The SNL Sketch of the Week
SNL returned this week, with Taylor Swift doing double duty as both the host and musical guest. I'm not a huge fan of hers but she wasn't half bad. The writing is still abysmal though. Sketch of the week is this driving PSA, because it is both funny and true.
Kristen Wiig is amazing: "Lets build a love gate, see a love frame. Do you hear doves? Is it a pain? Am I in the way?" Also funny: Penelope, Bunny Business, and the amazing digital short, a send-up of Twilight featuring Frankensteins instead of vampires. Amy Poehler showed up during Weekend Update for a round of "Really!? With Seth and Amy" which I love.

Honorable Mention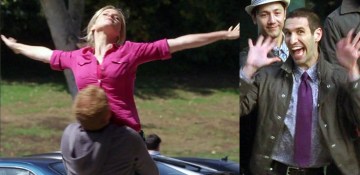 Modern Family: So good! Mitchell ice skating in the parking lot with Claire, and then later with Cameron was amazing.
30 Rock: "I'm not gay, I'm bi-larious!!" What was your favorite line from this episode? There were so many good ones. Jack picks the robot street performer dude to be the new TGS castmember. Yes!
FlashForward: This totally made me cry. Gough proves that the flash forwards don't necessarily have to come true by throwing himself off the roof of a building. Damn.
Community: Abed is awesome, has an awesomely giant dorm room, likes awesome things. Two girls make out on the hood of Jeff's car in a throwaway gag. One of these girls is NOT Britta (and neither is the other one, smartypants). Sadness ensues.
So You Think You Can Dance: Oh, gee, two of the three tappers got eliminated? It's like when the "plus-size" models get sent home on Top Model and we're all shocked. Puh-leeze.
The Office: Two inevitable things happened this week: 1) Pam and Jim went on a double-date with Michael and Pam's mom. 2) Michael realized their age difference and dumped Pam's mom. At their double-date. It was just as horrifying as it sounds. Decent A-plot, the B-plot was a real snoozer.
The Real Housewives of Orange County: I don't know if you know this about me, but this is one of my favorite shows. I am so happy this is back. The episode opens with Vicki going skydiving and screaming for 15 minutes, and ends with all of the ladies screaming at each other. Welcome home.
'Tron out!