Welcome to day 4 of the Intern Occupation! All the adults are still lost at sea. We've taken over, and we're never letting go! JK, it turns out running a website is really time consuming. Riese totally still has a job when she gets back on US soil. Speaking of which, are you reading the live blog?? You should be. Riese and Alex are really funny, even in the face of imminent disaster/drowning.
Also, Lady Gaga premiered her Bad Romance video yesterday, and we have a lot of feelings about it, mostly that it is the greatest video ever!
Now, let's get down to the news: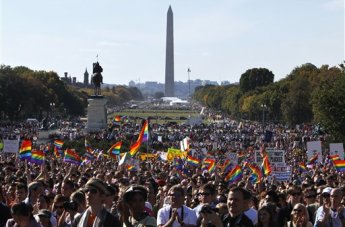 DC: Yesterday a committee sent a bill legalizing same sex marriage to the Washington, D.C., City Council for consideration. The full council will take up the bill in early December. It is expected to easily pass. (@wapo)
Maine might still suck, but at least D.C. is seeing the light! Too bad this didn't happen before the National Equality March. There could have been some fabulous marriage ceremonies after the rally.
NEW YORK: The New York legislature did not vote on same-sex marriage yesterday like they semi-promised. BUT Gov. Paterson said there would be a vote before 2009 is over, which is kind of great. (@nydailynews)
DADT: The American Medical Association dealt Don't Ask Don't Tell another blow Tuesday when they called for a repeal of the policy. The AMA's main concern is the strain that DADT puts on doctor-patient relationships. Military medical professionals have been forced to "out" their patients in the past under DADT, making many service members fearful of coming out. It seems like every day, a new group comes out against DADT. We couldn't be happier about that. (@baywindows)
RYDER: Remember how Mila Kunis and Natalie Portman are going to have crazy lesbian sex in some movie? Of course you do. Well guess what? Winona Ryder is in talks to join the cast. Personally, I think they are trying to kill all the lesbians with this movie. "Hey let's put all the strong female actors we possibly can into one film and make them all have sex with each other. Then all the gay ladies will keel over from heart failure in the theaters. Perfect." All this movie needs now is Angelina Jolie. (@variety)
PROM: An Alabama high school has forbid a lesbian couple from attending prom. The two girls have secured the help of the ACLU to fight the school. These high school discrimination cases are getting more and more common, which is probs a product of people coming out earlier and earlier. So, way to go high school gays! Fight the man! (@examiner)
MISS J: J Alexander, of America's Next Top Model fame, was on Tyra's show this week to help a gay girl come out to her parents. (collective awwwww) It's hard to imagine someone being more out than Miss J, which makes him a great person to have on the teevee. He also told his coming out story, of sorts, and it was cute. (@gawker)