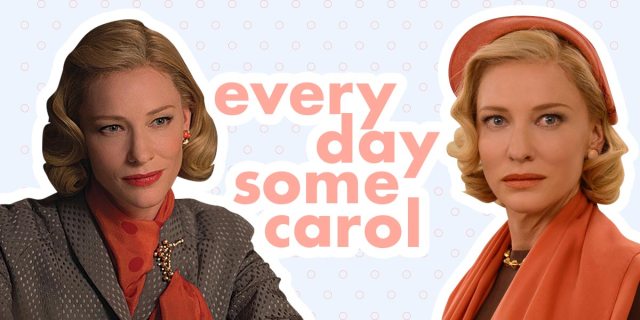 First and foremost Carol is a film about the kind of love that can wreck your whole life if you let it. The kind that becomes an every day, every hour touchstone from which you navigate. A before and after, that-was-then-this-is-me kind of deal.
It is also a film about two women who are 100% nonstop thinking about having sex with each other.
The weight of the sexual tension that anchors every scene between Carol and Therese from the moment Carol spots Therese from across the department store to the moment Carol tugs at her robe is carried in large part by Carol's gazes. This might seem like an obvious observation to anyone who's seen Cate Blanchett's face or seen even one scene of the movie, but it wasn't until I accidentally slowed down the Waterloo coffee scene that I was able to realize the full scope of their mastery.
They can be easy to miss, often camouflaged by the colors, textures, and male clownery of any given scene, but slowed down, they're wearing bright orange reflectors. The once-over's, the blatant up-and-downs – girl. I was inspired. And so I did it for every look. Made GIFs with my bare, tired hands, and you can pry this laptop from them when they're cold and dead.
Here's every Carol look ranked by the degree to which they mark Therese as a snack.
---
14. When your internal thoughts get unknowingly routed to the synapses controlling your facial expressions.
https://giphy.com/gifs/X9GgMWyfYXJwTrBVAv
---
13. Sure, this is an emotional moment, but it's also one that's being simultaneously fast-forwarded to dozens of potential ways the night could end.
https://giphy.com/gifs/9P8YBmAvQdw6bqtuTY
---
12. Risking it all from across the room.
https://giphy.com/gifs/1hMmHzvXk5j3x7mg8z
---
11. This is right before Carol asks Therese if she lives alone, which makes a lot of sense.
https://giphy.com/gifs/g0slZGumTvYkvCngqi
---
10. This is not a Therese reaction, this is a Rooney reaction.
https://giphy.com/gifs/93olNmnOhzruW99ru3
---
9. This head down, eyes up, and half-smirk combination made someone duck for cover in the background.
https://giphy.com/gifs/2YraFxcF96LgtDDLja
---
8. The intensity of this one is neutralized by where Therese's eye line begins and ends.
https://giphy.com/gifs/t7tWxx8HE1yK3PPoiN
---
7. The hesitation is Carol taking a one-person poll about how neutral it would be to offer Therese a semi-occupied shower room.
https://giphy.com/gifs/9SJa1HJOs2YrUkx59s
---
6. Goodbye.
https://giphy.com/gifs/5PhD4XkZqK5bB4K4oh
---
5. I said goodbye.
https://giphy.com/gifs/620bFKL3YIyMg3Sk6t
---
4. There's a drawing back and pause of her mouth at the very end of her drag that speaks 9706586549 words.
https://giphy.com/gifs/ZwEdrRdug88PFUfKZg
---
3. This is Carol's gaze on some telekinetic mirroring levels.
https://giphy.com/gifs/NRsy8w3BMugpYb0LGy
---
2. Invite her round up down over across under betwixt between beside above nearby throughout.
https://giphy.com/gifs/XL3sN5CR7tfiHE2s3D
---
1. The creasing, the smile, the up-down, the inhale – this is not "she means so much to me and I'm so happy we're on this trip together,wp_poststhis is Carol considering how much she values getting their hotel room's damage deposit back.
https://giphy.com/gifs/5UKlnVnqbIqFHHKysb