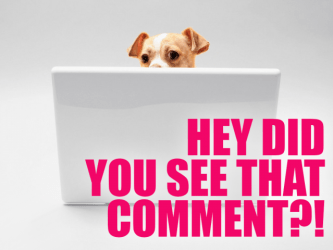 Hello readers! I'm so excited that all of your lovely comments are being entrusted to me for the next couple of weeks! I have been immersed in my third year of Resident Advisor training at school where I am learning and re-learning all kinds of good things (active listening! planning fun programs! mediating conflicts!), and reading your comments has given me great joy.
This week there are SO.MANY.ARTICLES.ABOUT.BRUNCH. And hopefully you will go and find love and support and community among your fellow straddlers, because with racism, transphobia, and police brutality taking center stage, it's important to take care of yourselves and take some time to recharge. So maybe go watch some Adventure Time now that Bubbline is canon, or check out Masters of Sex which now has some queer lady action. 
---
On 18 Things About Gender, Poverty, Rape Culture, Racism and Modern Life Only Gavin McInnes Understands:
The Straight Men, Can U Not? Award to Katrina:

On 17 Comments On Lesbian Recruitment Tactics From This Wacky Conservative Hit Piece About Raging Lesbian Feminist Carmen Rios:
The Tellin' It Like It Is Award to Shiloh: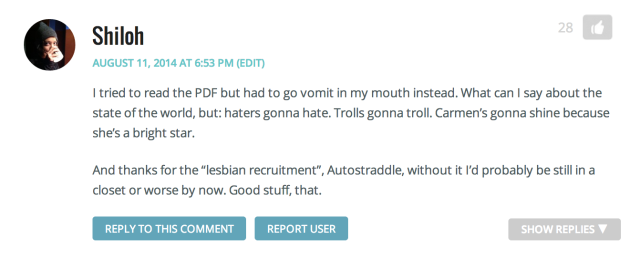 On When Misogynistic Trolls Attack: Why Jezebel's Gawker Call-Out Is Important:
The Real Talk About Institutionalized Sexism Award to Bhan:


On Michfest Could Change Its Trans Female Exclusionary Intention Only If It Tried, Only If It Wanted To:
The Finding Community Despite Controversy Award to Starling:

On #Fatkini Makes Waves for Body Positivity on Social Media:
The #BodyLove Award to EGee:

On Evan Rachel Wood Bisexual, Ellen Page and Laverne Cox Learn What A Purrito Is This Sunday Funday:
The Best Cat Gif of the Week Award to Lisa:
On National Poetry Slam 2014 Queerer Than All The Other Slams Forever:
The Feel All the Feelings Award to jane, Justina, and Carolyn Wysinger:
---
See a clever, hilarious or thought provoking comment around this website-ship? Email it to: carrie [at] autostraddle [dot] com!