You guys, I'm really sorry I haven't talked about this yet but I really thought nobody else was watching Masters of Sex this season but me! A couple of weeks ago, Sarah Silverman tweeted about wanting someone to talk about it with and I felt that deeply because I thought I was all alone, but then this past week I realized that she's actually a character on the show.
Watch Masters Of Sex tonight so I have someone to talk about it with after

— Sarah Silverman (@SarahKSilverman) July 28, 2014
For the uninitiated, Masters of Sex follows the vaguely real adventures of Dr. William Masters, a gynecologist who was one of the first medical professionals to study human sexual response. The show is very loosely based on his life and the life of his badass research assistant, Virginia Johnson. Most of us are watching the show because Virginia Johnson is played by all-around superhero Lizzy Caplan, aka Janis Ian from Mean Girls.
The tightly-wound and morally questionable Dr. Masters is played by Michael Sheen, who you might remember as 30 Rock's persnickety Englishman Wesley Snipes:
Or you may remember him as the flamboyant HBIC of the vampire government (or whatever) from the Twilight movies: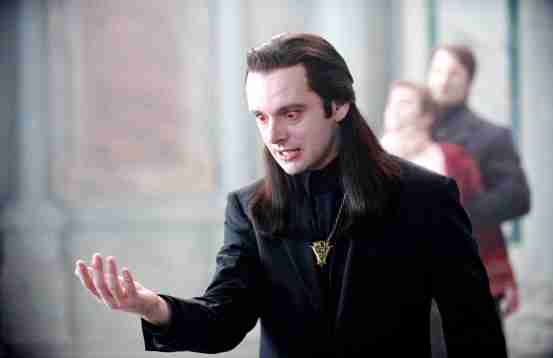 Anyway, last season the show introduced us to a fascinating cast of characters navigating their own personal challenges in a very sexually repressed time in America's history. Among them was Betty (Annaleigh Ashford), a brassy, openly lesbian prostitute who let Dr. Masters conduct certain experiments necessary to his study in her brothel. This season, Betty's married to Gene Moretti, a rich man who clearly adores her and wants to start a family with her, which is complicated for a number of reasons… but nothing complicates Betty's life quite like the arrival of her ex-girlfriend Helen, played by a surprisingly smirk-free Sarah Silverman.
Helen arrives on what she describes as a whim and immediately charms Gene by claiming to be some kind of spiritual medium. Clearly, Betty's husband has no idea about the nature of the relationship between the two women. Helen tells Gene she and Betty are old friends who met years ago when Betty came into Helen's shop looking to have her palm read. Betty's panicked expression tells us immediately that there must be more to the story, and she especially hits the ceiling when her husband jovially insists they set Helen up on a double date with an old friend of his. It's clear there's a lot of unfinished business between these two.
Betty meets Helen outside her workplace, clearly looking for a fight. We learn that the two women were girlfriends for several years — and that Betty unceremoniously dumped Helen when her meal ticket husband swept her off to a world of respectable heterosexual matrimony. Both women were heartbroken, but Betty believes she was just being realistic, that there was no potential for the two of them to be happy together in the late 1950s. She tells Helen as much — "There is no future here. Years and years of going out together as what? Two spinster friends who are living together, pretending we're sisters, or going to some bar where some butch won't serve us 'cause we're not wearing ducktails and gabardines? It's pathetic, Helen. We both like dresses, so we're just gonna have to buck up and… and do the right thing." Oh, Betty.
Helen decides she's in it to win it — if Betty got to have a rich husband, stop working and live the dream, so can she. She's gonna "grab the brass ring" and work her magic on Gene's friend Al. Betty tries telling her husband a slew of lies to dissuade him from setting Helen up with Al, but her attempts at smearing Helen's character somehow only make her more appealing. During the double date, despite her best efforts, Betty finds herself falling back into a familiar rapport with Helen — it's clear neither woman wants things to be truly over, and they know each other better than either of these men ever could. When she talks about the past in mixed company, Helen enjoys slipping a few thinly-veiled barbs at Betty, insinuating how much she cared for Betty and how hurt she is that things are over. The men are oblivious, but Betty gets the message loud and clear.
Betty slips off to the restroom to powder her nose/cry, and Helen pulls the ol' Marina Ferrer move, following her into the bathroom to make out. It's a classic.
"You can't do that," Betty tells her.
"I just did," Helen replies. The two women sit next to each other in silence, soaking up the reality of the situation. Are they doomed to a life of closeted affairs, or will those crazy kids make it? Considering how happy all the other characters on this show seem to be, the odds aren't great.
Next week, everybody on this show continues to be a terrible person except probably Virginia and Allison Janney, wherever she is.