Hold onto your eggs, we're getting ready for Autostraddle's International Brunch Weekend 8/23-24! Find a brunch meetup in your city or create your own by heading over to our events page. You can also load up on all things brunch by watching this space. From playlists to recommendations to personal essays, we're writing all about the brunch experience. Get excited! BRUNCH.
---
Oh hey were you wondering where to get brunch? Maybe like the weekend of the 23rd and 24th? Here are some ideas for you, sourced from whatever recommendations we could force our staff and close associates to provide. Feel free to irately list all the excellent places we missed in the comments!
Berkeley, CA
La Note
2377 Shattuck Ave
510-843-1535
La Note is a place I go with my friends when we are looking to treat ourselves. You drop a little more $ here, but the French-inspired cuisine is to die for: crepes, croquettes, grapefruit mimosas and Kir Royales, and coffee so strong you need to drink a gallon of water to recover!
Homemade Cafe
2454 Sacramento St
510-845-1940
Homemade has sassy waitresses, kale scrambles, and beautifully curated muffins! It's a low-key brunch place that usually has a shorter wait time than your average place, seats about 20 people, and has less-expensive food options. You can even get a frequent-bruncher card that helps you work towards free food!
---
Brooklyn, NY
Alchemy Brooklyn
56 Fifth Avenue (Park Slope)
718-636-4385
Grass-fed hanger steak & organic eggs, Sweet Guinness Pancakes, Brioche French Toast… are you in? It's around the corner from Bergen Street Comics and Babeland. So you can brunch and then go purchase sex toys and Lumberjanes all in one shot!
Caracas Arepa Bar
291 Grand St (b/t Roebling St & Havemeyer St, Williamsburg)
Brooklyn, NY 11211
(718) 218-6050
The $8.50 Hangover Relief Brunch involves fried eggs, ham, potato hash and avocado slices and will cure every problem you've ever had. The building itself is really cool and you should probs try an arepa, which I can't describe so I'll quote the website: "dense yet spongy corn-flour rounds, pitalike pockets, corn muffins, cake-swaddled mélange, white corn cakes, Latin sloppy Joe, sandwiches of a flat cornmeal patty, soft and smooth within, golden crispiness, tasty treats, burrito-killer, panini-killer, wheat-free, gluten-free crisp on the outside, steamy-soft in the middle…"
Cheryl's Global Soul
236 Underhill Ave (Prospect Heights)
Brooklyn, NY 11238
(347) 529-2855
This place, overseen by Executive Chef Cheryl of Food Network's "The Melting Pot" herself, has french toast with the best Chantilly cream in the world. There's a combo where they give you both a mimosa and coffee along with your meal. Also, there's a patio out back where you can sit in the shade and think about how great your life now that you have Chantilly cream in your mouth. There's often a wait on the weekends, but it's worth it.
Cubana Social
70 N 6th st
(718) 782-3334
It's cuban so you'd think it would be all pork everything but they are amazingly veg-friendly and everything is really fresh and delicious, plus they serve really strong coffee and you can get mojitos with brunch (which is amazing). It is also the site of cara's notorious fall, cos they sat us on the stage (they have live jazz sometimes, and other times they screen movies there). Also I dunno if this has changed since I moved but I feel like nobody knows this place is there; there's never a wait.
House of Small Wonder
77 N. 6th Street (b/t Wythe & Berry / Williamsburg)
Brooklyn, NY 1121
Worth it just for the decor which includes a tree growing smack dab in the middle of the place. Lots of brunchy sandwiches like the Fig Bree Apple Baguette and Organic Egg Scramble on crossiant. It aims for an environment like European cafes, "where the small cozy establishments focus on quality and not quantity," and a menu with Japanese influences.
Peaches
393 Lewis Ave (b/t Mac Donough St & Decatur St in Bed-Sty)
Brooklyn, NY 11233
(718) 942-4162
"Peaches is bomb southern food. You know how that guy who wrote "Stuff White People Like?" He insists that Brunch is a white people thing. That is not true, just go to Peaches. I've never felt so underdressed while eating breakfast foods. I want to make Peaches my lover." – Hannah Hodson, Peaches' lover
Taco Chulo
318 grand st
(718) 302-2485
It's mexican so if you're vegan you can get a smothered burrito or the guacamole breakfast, which is what I always got. The food, coffee and cocktails are pretty solid (hibiscus margaritas), but the best part is that it's down the block from lodge, which always has like a two-hour wait on the weekends. Taco chulo almost always seats you immediately and then you feel like that emoji with the sunglasses, which is my favourite emotion.
---
Cambridge, MA
Petsi Pie
31 Putnam Avenue
617.499.0801
This lovely spot is tucked away between Central and Harvard Squares, and while I'm terribly uninformed about the pies for which they are named, I think they make the best egg sandwiches in the Boston area. They have seven different options for egg sandwiches, all on brioche with cracked pepper baked right into the dough. I also have sampled many of their gigantic scones, all of which are top notch. Petsi Pie is a very reliable brunch place in inclement weather — I brunched there while we were shoveling out after Winter Storm Hercules. One thing that's important to note is that they don't have much in the way of gluten free or vegan options.
---
Chicago, IL
Chicago Diner
Lakeview:
3411 N Halsted St
773-935-6696
Logan Square:
2333 N. Milwaukee Ave
773-252-3211
Chicago's go-to vegan restaurant has killer breakfast foods that everyone can enjoy. Their vegan cinnamon rolls are an steal at 2 for $5, and their potato hash is not to be missed. They have a variety of vegan proteins, including seitan sausage and tofu bacon, and a build-your-own breakfast option where you can pick your favorite parts of the menu. If you've still got room after all that, order one of their decadent lactose-free milkshakes. You won't regret it.
Dunlay's on the Square
3137 W. Logan Blvd
773-227-2400
Dunlay's is a bar, so the first items on their brunch menu are drinks. Sip one of those while you choose from a full menu of eggs, pancakes, hash, sandwiches and more. Big Mike's Irish Breakfast comes complete with a Guinness, if you're into that sort of thing, and the roasted chicken chilaquiles are authentically Latin with queso blanco, poblano crema and avocado. Their creamy, gooey hash browns are almost a meal on their own, but save room for an order of their monkey bread — basically a big pull-apart cinnamon roll — after your meal. If you don't feel like waiting an hour to get into Logan Square's other famous brunch spots, Dunlay's won't let you down.
Cozy Corner Diner & Pancake House
2294 N Milwaukee Ave
773-276-2215
The best diner in Chicago is in the process of getting a facelift, and if you see how busy they are on weekends, you'll see why they're expanding into the former grocery store next door. They serve cheap, delicious breakfast foods with a smile, and they'll go out of their way to get your group whatever you need during your meal. Is diner breakfast food usually worth a 40-minute wait? No, but if Cozy Corner wasn't worth it, there wouldn't be a line out the door every Sunday morning.
m.henry
5707 N Clark St
773-561-1600
Both m.henry and its sister restaurant, m.henrietta, serve up what they call "globally inspired, new American style cooking." That's just a fancy way of saying it's freaking delicious, huge portions of decadent breakfast foods. When every menu item has an ingredient list that takes up two lines, you know how much thought has gone into making sure it's good. By far the best item on the menu is Fannie's Killer Fried Egg Sandwich, which comes with applewood smoked bacon, gorgonzola, arugula, thyme and plum tomatoes, but the baguette French toast with fresh berries and vanilla creme is light, fluffy heaven on a plate. They don't serve alcohol but are very BYOB-friendly, and will bring out an ice bucket to keep your champagne chilled while you make your own mimosas.
Sweet Maple Cafe
1339 W. Taylor St.
312-243-8908
This sweet and quaint cafe puts love in their food. Seriously, everything in this place has a homemade heartiness and is perfect post hangover food. The must have items are homemade biscuits, pancakes, and home fries. Please go here now!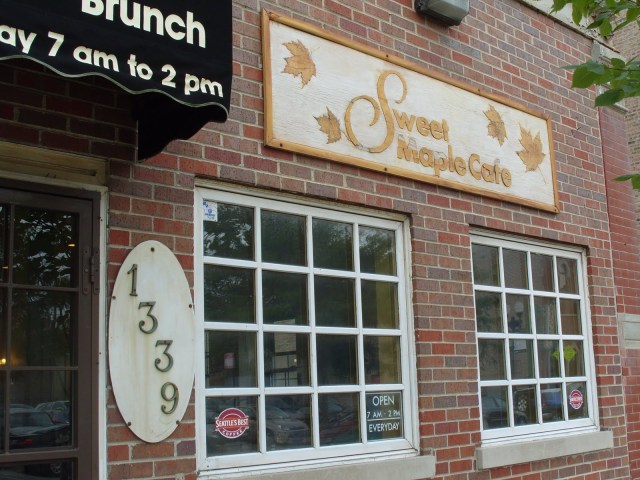 Taverna 750
750 W. Cornelia Ave.
773-904-7466
Martinis, mimosas, and scrumptious well plated food is what you will dive into at Taverna 750. The fabulous Italian style eatery must haves are the steak and eggs, veggie hash, or the eggs benedict which are equally amazing. They're always adding new items that can suit anyone's taste palette or wallet. This brunch is perfect for folks who want to go dutch!
---
Houston, Texas
Baby Barnaby's
602 Fairview,
713-522-4229
There are several Barnaby's in Htown but only one Baby Barnaby's and it is the best, most rainbow brunch spot in town. They have a rainbow painted roof and a sweet little patio in the front. The wait can be long for the coveted Sunday brunch and famous green eggs but you sign your name on a clipboard and a handsome waiter calls them out in delightful ways. They also provide you with ice water and coffee while you wait which is lovely.
---
London, UK
Black Cat Café
76 Clarence Road
Hackney
020-8985-7091
Black Cat Cafe uses 100% vegan (and often local) ingredients. They've got a considerable amount of space if you're bringing a large party — the cafe was the venue for our post-Pride London Autostraddle meet-up and the staff were great to us. They've also got a fridge full of food to take home (including vegan haggis!) and a neat book collection for sale.
The Deptford Brunch Club
Douglas Square (next to Albany Theatre)
Douglas Way
Deptford

This pop-up brunch club is only going to be around till October 2014. If you're into street food in the style of London's many weekend markets and bottomless booze, this is for you.
The Gate
370 St John Street
0207-278-5483
51 Queen Caroline Street
020-8748-6932
The Gate Restaurant is fully vegetarian, and also often fully booked up for weekend brunches so save yourself a spot in advance. The food is excellent (albeit a bit pricey) but the main memory I have of this place is this one time my friend and I spent a good amount of time trying to decide if the waitress was queer, only to have her later tell us she "recognised my accent" as she handed us the bill. We couldn't decide if this was just an offhand remark or a hint that she'd overheard our whole conversation (the restaurant was fairly empty then) so naturally, we fled in embarrassment.
---
Los Angeles, California
Blu Jam Café
7371 Melrose Ave.
Los Angeles, CA 90046
323-951-9191
Monday-Sunday
The wait can be upwards of 30 minutes on the weekends and parking in the Fairfax District is bordering on nonexistent. But it's completely worth it when you sit down to Chilaquiles or the Vanilla French Toast. While they don't do bottomless mimosas, they do have tasty vegan options like the Spicy Tex Mex Tofu Hash. Also, it's super close to the Melrose Trading Post, LA's best flea market/spot for people watching.
Border Grill
1445 4th St
Santa Monica, CA
310-451-1655
445 S. Figueroa St.
Los Angeles, CA 90071
213-486-5171
Sundays only
Owned by the awesome, Mary Sue Milliken and Susan Feniger (a queer lady and general LGBTQ ally) these hot spots are the best for brunch! For $30 you get all you can eat small plates of anything from Fish Tacos to Bread Pudding French Toast. For an extra $10 you get bottomless Mimosas! The Downtown location never, ever has a wait and Santa Monica generally has a 15-20 minute wait. And for the love of all that in confectionary, have the Churro Tots!
Hamburger Mary's
8288 Santa Monica Blvd.
West Hollywood, CA 90046
323-654-3800
Monday-Sunday 11am- 3pm
This place has the most interesting collage walls and even more interesting clientele. Located right at the edge of Boys Town, this is where you go to have a good time and flirt shamelessly with everyone who walks in the door. The Cinnamon Roll French toast is die for,as is their menu of coffee/alcohol combos. There is never a dull a moment here,the waiters are hilarious, L Word cast members show up at random and the music is to die for.
Kitchen 24
8575 Santa Monica Blvd
West Hollywood, CA
424-777-0959
This spot is located in the heart of Boys Town and caters to anyone awake enough to make it. True to its name it's open 24hrs and serves pretty much everything. The Disco Fries go exceptionally well with the Build Your Own Omelet option, and on Saturday you can add $10 bottomless Bloody Mary's or Mimosas to your order. With its ample outdoor seating and really sweet waiters, this place is the best for a relaxed meal with friends.
Moonshadows
20357 Pacific Coast Hwy.
310-456-3010
Moonshadows is the perfect spot for lovers and friends. The restaurant has a gorgeous view overlooking the ocean, live music, and nothing but beauty in a brunch. It's right on the ocean and while you dine you have the pleasure of hearing the waves crashing as you enjoy your beautiful meal. From the oysters to the beautifully crafted crab cakes to the wonderful red d'anjou pear salad, anything you pick from the menu will be a great choice! Enjoy!
WeHo Bistro
1040 N. La Cienega Blvd.
310-657-9696
Be prepared for a short wait, great service, and delicious food! Starting with the most amazing french toast, delectable filet minot & eggs, or a wonderful crepe paired with your choice of mimosa or select wine. The best part about WeHo bistro is the wonderful patio area and the pet-friendly atmosphere makes it a superb brunch date!
---
New York, NY
Amy Ruth's
113 West 116th St. Harlem, NY.
212-280-3109
This is a very famous soul-food restaurant with a very serious waffle menu. Treat yourself to The Rev. Al Sharpton (Chicken & Waffles), The Monica Brown (waffles & fried whiting), The City Councilwoman Inez Dickens (5-grain waffles), The Bishop Charles Reed (original waffles w/ fresh sauteed apples) or chicken, pork chops, omlets and other classics not necessarily named after anybody.
Bocado
1293 Lexington Avenue
212-289-9004
They have a breakfast pizza. If that's not enough to convince you, try their belgian waffles or a delicious Croque Madame. Every brunch comes with a free mimosa or bellini, and it's worth splurging on a second one. Delicious, classy and not too expensive!
Crooked Knife
29 E 30th St (b/t Madison Ave & S Park Ave in Midtown East)
New York, NY 10016
(212) 696-2593
BOTTOMLESS BRUNCH. BOOZY BRUNCH!
Good Enough to Eat
520 Columbus Ave (b/t 85th St & 86th St)
New York, NY 10024
(212) 496-0163
This is a family-friendly option for queermos with kiddos who will undoubtedly enjoy the farmhouse decor. They serve breakfast every day from 8am to 4pm (9am on weekends), with homestyle American dishes like Silver Dollar pancakes, Pumpkin fresh toast and a Deep South Scramble.
Josie's
300 Amsterdam Ave (at 74th street)
(212) 769-1212
This kinda-bougie all-vegetarian restaurant has been around for a while, boasting a variety of inventive brunch options and a pretty unbeatable pre-meal bread situation. Vegan tofu scramble! Apple pancakes! Homemade turkey sausage!
La Palapa
77 St. Marks Pl (b/t 1st Ave & 2nd Ave)
New York, NY 10003
(212) 777-2537
This neighborhood Mexican spot in the East Village, which has a lot of vegan/vegetarian options, is an Autostraddlers' favorite, especially if you like to start your morning with a margarita. Their brunch deal is unbeatable – $15 for coffee or tea, a brunch drink, a brunch entree and a plate for fresh fruit. Plus it's great for groups!
---
Northampton, MA
The Green Bean
241 Main Street
413-584-2326
I lived in Northampton for exactly 7 weeks three years ago, and it was long enough to establish that the Green Bean makes the best brunch. It's always packed — expect to wait, and expect the wait to be worth it. All their major egg dishes (and there are also not-egg vegan dishes, and fake meat options) come with bomb home fries AND a delightful scone (just the right amount of sweet to go with your savory). Their menu is full of winners, but if asked to pick a favorite, I'd go with their delightfully simple breakfast sandwich: the Itty Bitty, which is a fried egg on an english muffin with goat cheese, pesto and tomato. Highly recommended. Also, there's bottomless coffee and you get to pick your own mug off a tree.
---
Oakland, CA
Aunt Mary's Cafe
4307 Telegraph Ave
510-601-9227
Aunt Mary's has brunch with a Southern fusion twist– eggs with collard greens, shrimp and grits, etc! All the waitresses are way cute, and appear to be fierce femmes (though who knows!), and their pozole is almost as good as mine!
Cock-a-doodle Cafe
719 Washington Street
510-465-5400
You gotta love a queer-owned brunch spot that also has its own Taco Truck on Fridays and Saturdays! Also, fried chicken with graham cracker encrusted French toast, holy shit!
Mama's Royal Cafe
4012 Broadway
510-547-7600
The fact that Oakland has more lesbian couples per capita than anywhere else in the country is abundantly clear circa every Saturday/Sunday at noon on the sidewalk outside of Mama's, where they're all waiting for a table at the same brunch spot. Mama's feels kinda like a diner but with locally sourced ingredients, inventive specials and tofu scramble. Once you get in, service is fast and everything tastes good.
---
Phoenix, AZ
Liberty Market
Mon – Fri 7am – 11am
Sat + Sun 7am – 1pm
230 N. Gilbert Rd., Gilbert AZ
Liberty Market has vegan, vegetarian and gluten-free options, and the historic space is large enough for you and several of your closest, queerest friendos. There's a fistful of breakfast cocktails to choose from and their coffee/espresso bar is amazing. Get Chef David's Breakfast Sandwich and sit near a window so you can take in Old Town Gilbert. (Don't leave without finding the kugel in Water Tower Park. Thank me later.)
Morning Glory Cafe (at The Farm at South Mountain)
Tues – Fri 8am – 11am
Sat + Sun 8am – 1pm
6106 S 32nd St, Phoenix, AZ 85042
Morning Glory Cafe is a little outdoor breakfast spot serving meat and vegetarian options, right there on the farm grass. The entire sky is over your head and you can pick up a bouquet of wildflowers from the shop on your way out. It's also super intimate and quiet (you're outside on a farm, you know?) and even though they will accommodate larger parties, it's better to just keep it small. Limited breakfast cocktail selection, but who needs alcohol when you're ON A FARM. The Brioche French Toast is so good you'll probably just lie down and cry when it's all over.
Pomegranate Cafe
Tues – Sun 8am – 4pm
4025 E. Chandler Blvd., Suite 28, Phoenix, AZ 85048
This is all the way down in Ahwatukee, but it's the best damn vegan/vegetarian food in the entire valley, so it's worth the drive (and the strip malls). Pomegranate is probably best for an intimate brunch with two or three friends because of its size (though they did expand their space a couple of years ago), but don't let that stop you and 20 friends from stopping by anyway. They serve kombucha beer, mimosas and sangria, but the Hibiscus Cooler is my favorite. Get the Green Garden Protein Bowl with a side of tempeh bacon if it's the last thing you do.
---
Portland, Oregon
A N D
5420 E Burnside St
Almost every restaurant in Portland has good vegan, vegetarian and gluten-free options, but AND really specializes. It's vegan by default but you can ask for egg or cheese and best of all there is none of those pesky extra charges for the veg and gluten-freedom.
Broder
2508 SE Clinton St.
2240 N Interstate Ave. Suite 160
Two locations means that all Eastsiders can enjoy this Scandinavian themed brunch spot. It also means that, even though it's popular, the wait is only medium, even on a Sunday.Plus the staff is almost all adorable Portlandy gay men who are sweet and great servers.
Interurban
4057 N Mississippi Ave.
Known for its incredible happy hour Interurban has not yet been discovered as a brunch place so there is usually no wait, at least for the next 6 months. Firendly gay wait staff serve up specialities such as homemade Pop-Tarts, salted caramel french toast and and to-die-for brunch greens.
Pambiche
2811 NE Glisan St.
A busy Cuban dinner eatery, Pambiche also serves a Caribbean style brunch with some of the best Cafe con Leche I have ever sipped. They've been doing this for awhile so I'm not sure why no one has figured out that you have less wait time on a weekend morning but I'm all for it. They helpfully label everything veggie, vegan and GF. I'd even go for just the free sweets basket that comes to every table.
Sen Yai
3384 SE Division St.
Another spot not usually thought of as a brunch option is this noodle house from the same folks who bring you the wildly popular Pok Pok restaurants elsewhere in the city and now even in NYC. They don't have the crazy (read: 2+ hours) wait of the other locations in general and their morning offerings are an interesting look into how Thai's break their fast with dishes such as rice porridge in pork bone broth, Vietnamese style sunnyside up eggs, Chinese sausage and muu yaw ground pork served with a baguette or fried Thai-style savory crullers.
Sweedeedee
5202 N Albina Ave.
This twee little spot has some of the best baked goods in town and items like the salted honey pie are not to be missed. The most accurate description I have ever heard was when a friend said it was as if Marcel the Shell with Shoes on opened a cafe. Locals, hipsters, tourists and even your mom will fall in love with this place so there is a little bit of a wait, but it's still not too bad by PDX stadards.
---
Queens, NY
Il Bambino
34-08 31st Ave
Astoria, Queens
718-626-0087
Il Bambino takes all your favorite breakfast elements and puts them on a panini. Even better, they'll make any of the 16 brunch sandwiches vegetarian for no extra cost — just tell them what you'd like to substitute for the meat. The cute back patio is the perfect sunny spot for a weekend meal, but they also serve brunch on Fridays until 3:30 if you want to beat the rush.
---
Rochester, New York
The Owl House
75 Marshall Street
585-360-2920
Fresh ingredients. Seasonal and always changing menu. Tasty brunch drinks including your standard mimosa and fun non-alcoholic concoctions like the Put Up Your Dukes–locally roasted coffee, vegan bourbon cream and black walnut bitters. Come for the watermelon salad with mint, cucumber olive oil, and feta (or housemade sunflower seed cheese). Stay for the breakfast poutine. Almost everything can be made vegan or eggy-meaty and many items are gluten free, so bring all your special-dietary-needs friends!
---
San Antonio, Texas
Candlelight Coffeehouse
3011 N St Marys St,
210-738-0099
Candlelight is a beautifully cozy brunch spot with a huge, shady sprawling patio. For their "food styles" on their Facebook they straight up say brunch.You order at a counter so the wait is however long it takes you to muscle into a good spot (from no time at all to ten minutes), the best are these really opulent couches placed around coffee tables. They really know how to make Eggs Benedict but it is the Smoked Salmon Scramble that is truly addicting. I don't know what a "semi-bottomless" mimosa is; when I lived down the street, they were bottomless…
---
San Francisco, CA
Brick House
426 Brannan St. (b/t Ritch St. & Zoe St)
San Francisco, CA 94107
415-369-0222
It's sort of off the beaten path and a bit crowded — the decor and menu has an Austin, Texas vibe — but worth it. The menu is pretty f*cking scrumptious, including a signature eggs benedict, jalapeno golden polenta grits, vanilla bean french toast and killer huevos rancheros.
---
Singapore
Eight Cafe & Bar
8 Bukit Pasoh Rd
6220-4513
Located close to the CBD, Eight serves brunch on Sundays. While I generally steer clear of anything that markets itself as "Asian fusion," Eight serves very decent food for a decent price in a relaxing atmosphere.
The Garden Slug
55 Lorong L Telok Kurau
#01-59/61 Bright Centre
8688-8575
The Garden Slug is a little out of the way but well worth the visit for its tasty, inventive food. They've got plenty of vegetarian options and a track record of strong support for queer causes and people, both of which I know better than to take for granted in Singapore.
---
Todmorden, West Yorkshire, UK
Todmorden is a little Lancashire/Yorkshire border-town at the meeting-point of three valleys. Each valley has a road leading to a now-depressed post-industrial mill-town, and each of these roads has a tip-top brunch place on it. Like so!
There are also many, many, many queer ladies here. They came in the seventies to start communes n stuff and now it's a veritable mecca for lesbians and veggies. Of course, you might think that a Yorkshire brunch guide would be all fried foods and pastry, but that's where you would be wrong. It's only half fried foods and pastry! Although to be fair you're probably reading this article for fried foods and pastry joints so yeah.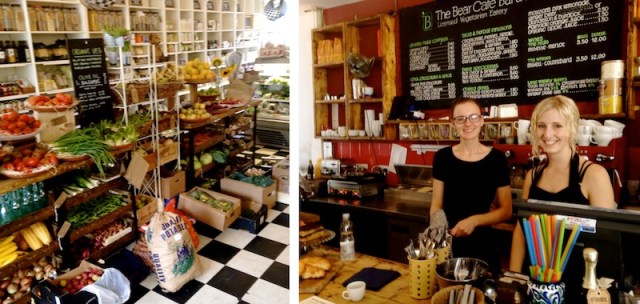 The Bear Cafe
29 Rochdale Road, Todmorden
01706-433606
Super-awesome cult veggie-vegan was-once-a-co-op local-fairtrade-organic-and-all-that-jazz health-food emporium and cafe, everyone round these parts knows The Bear. There is an actual brunch section on the menu featuring such delights as Huevos Rancheros (poached eggs and salsa), miso and tomatoes on toasted caraway rye bread (NOM!), homemade granola and pancakes. Shedloads of vegan options.
Exciting fact! Many moons ago, for my sins, I was the manager of this cafe…in fact that's kinda how I ended up in this odd little town.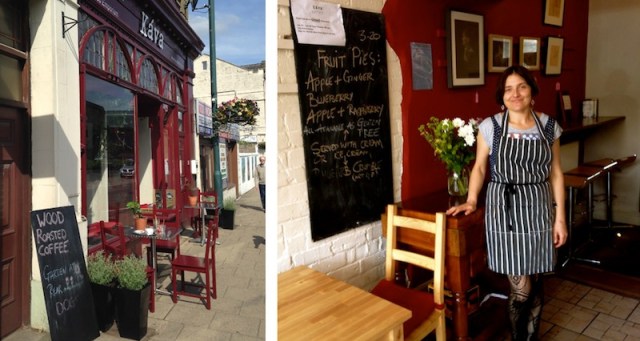 Kava
53 Halifax Road, Todmorden
01706-818730
My favourite breakfast spot in Tod, vegetarian Kava do a totally mean fry-up. Plus the co-owner Svet is the most charmingly enthusiastic barista you will EVER meet. Bar non. There's also a cute garden out the back, dogs are welcome, the food leans in a Unkrainian direction, the coffee is wood-roasted and the music is a depressing mix of early-90s dirges plus The Smiths (because the co-owner Dale used to be in that very band!! I know, right?!) (BTW you should totally click on that link to see Svet being gorgeous about Tod.)
Brunch highlights include Yufka (baked stuffed Ukrainian pastries), filled croissants and a full vegetarian/vegan English. Loads of vegan options too.
Exciting fact! Svet has the world's best collection of tights. I've literally never seen her wear the same pair twice.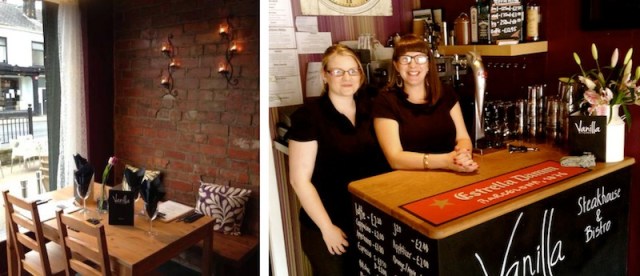 Vanilla Kitchen
52 Patmos, Burnley Road, Todmorden
01706-433748
Recently-opend bistro near the park with a crazy-imaginative menu. Not officially a brunch spot as it doesn't open til 12 but the food is so yum that it needs a mention. Highlights include Croque Mon Tod – a fried ham and cheese sandwich with Lancashire cheese, and a ridiculously delicious dish of sautéed halloumi with olives, spinach and baked eggs.
Exciting fact! This is the last place in Todmorden to get the evening sunshine so it's officially the best place for dinner al fresco too.
---
Winter Park, FL
Ethos Vegan Kitchen
601-B South New York Avenue
407-228-3898
Ethos is hands down the best brunch spot in the Orlando area. It's an entirely vegan restaurant which offers delicious brunch options like seasonal pumpkin pancakes (which are unreal) and biscuits and gravy. There is pretty much no wrong choice when it comes to their brunch menu (and their regular menu, honestly). Their brunch hours are Saturday & Sunday from 9am-3pm and they have a different brunch special every week.
---
Vancouver, British Columbia
Bandidas Taqueria
2781 Commercial Dr,
604-568-8224
My vegetarian pick! I kind of hate vegetables but this place makes me forget. I hightly recommend the eggs benny; instead of english muffins they use cornbread muffin tops. CORNBREAD MUFFIN TOPS. Guys. GUYS. CORNBREAD. If you are super early, almost zero wait time. Around 10:30-noon it's about a 35-50 min wait on weekends, because everyone rolls out of bed around the same time.
Chewie's
Kits: 2201 W 1st Ave
604-558-4448
Coal Harbour: 110-1055 West Hastings St.
604-620-7634
To be honest, I've only ever had the chicken and waffles at Chewie's because it is damn delicious and it's hard to find in Vancouver. It's very easy to make reservations online, and I've never had to wait to get seated. If you want late Sunday afternoon decadence, this should hit the spot (if you are a carnivore)!
The Dutch Wooden Shoe Cafe
3292 Cambie St.
604-874-0922
Minimal to no wait. Tuesdays are 2 for 1, you can get bomb pannekoeks for little funds (mid-week deliciousness). Quick service and off-the-beaten-path option.
Medina
556 Beatty St.
604-879-3114
The last time I hit up Saturday brunch, we arrived around 9:30 and it was a 45 min wait. A known brunch spot in the city, prepare to spend a bit of time hanging out in front. Tasty and fancy feeling at a decent price (under $20), it's a lovely treat yoself option!
Insider tip: make sure your entire party is present, as they won't seat you unless everyone is there.