With a small number of exceptions, the rage-inducing comments sections of the web come with the territory of being online at all. However, as Jezebel reported yesterday, someone has taken trolling to a new level of viciousness: "For months, an individual or individuals has been using anonymous, untraceable burner accounts to post gifs of violent pornography in the discussion section of stories on Jezebel."
Jezebel calls out its parent media company, Gawker — specifically Gawker's reluctance to modify its commenting system, Kinja, so that Jezebel can be more proactive in keeping pornography out of its comments. Implemented by Gawker Media in July of 2012, Kinja is intended to "break down the walls" between readers and writers, creating an "ecosystem" of content and conversation. What it means, in practical terms, is that Kinja takes the moderation out of the comments section. Comments that are insightful and inspire discussion rise to the top of the section, while one-liners and otherwise unproductive responses fall to the bottom of the page. Kinja also gives a potential commenter the option of remaining anonymous with a burner account, which does not log IP addresses or even require a password. Instead, the burner account is issued a unique account key, which the commenter must keep track of if they want to re-access their anonymous account. If the key is lost, it's simply lost; Kinja won't be able to retrieve it or reset the burner with a new key.
Burner accounts are intended to protect tipsters and other readers who feel uncomfortable with giving Kinja their personal information just to join a conversation. You can see how that backfires for Jezebel. With no way of tracing its troll, Jezebel can ban an offending burner account, but it can't stop the person or people behind it from creating another one and continuing to terrorize Jezebel readers without missing a beat. Additionally, because comments appear without moderation, the offensive comments must be removed manually and only after they've already been posted. There's no real way to protect readers from encountering violent, upsetting images as they scroll through Jezebel, no matter how hard the staff works to retroactively moderate it. Kinja's system puts a dangerous and unfair burden on the staff itself: "[We] are the only ones capable of removing the comments and are thus, by default, now required to view and interact with violent pornography and gore as part of our jobs. None of us are paid enough to deal with this on a daily basis."
There has been no official response from Gawker, only comments from its editorial director, Joel Johnson, who commented on Jezebel's post,
this is exactly the right thing to do when people aren't paying proper attention to a real problem; it's not something I completely ignored but I obviously didn't give it proper attention, and I'm sorry about that; give me about 24-48 hours to figure out some sort of fix. It'll involve more than just me to fix it so I need some time to get the right people involved (Tech, etc)
His response feels disingenuous at best. Johnson was the one who encouraged Jezebel to go public with its commenter issue in the first place. He clearly already considered it a "real problem" that needs proper attention, but he didn't offer to take the 24-48 hours to fix it until now. Today, Johnson confirmed on Twitter that Gawker will disable all image uploads on comments as a stop-gap solution.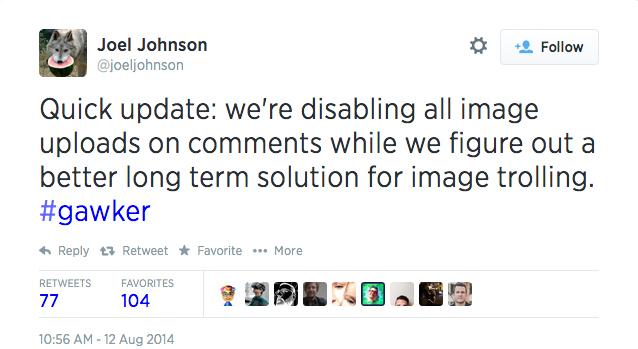 As noted in the replies, there's still a way to insert images, but hopefully the tech team is working on closing that loophole. Meanwhile, before image uploading was disabled, sites besides Jezebel (including Gawker itself) were suddenly "flooded with streams of graphic images." It's not clear if it's a coincidence of timing or if the rest of Gawker simply felt unmoved to do anything until it was attacked as well.
Methods of dealing with malicious commenters vary around the internet. Last year, Popular Science shut off its comments section altogether, claiming that comments can be "bad for science." Huffington Post did away with anonymous commenting, forcing its commenters to provide a Facebook-associated name along with their words (though it does grant anonymity on a case-by-case basis for tipsters and targets of harassment). Bustle doesn't host comments at all; it instead encourages its readers to share its articles and post their comments to other social media platforms. Slate doesn't allow videos or photos in its comments. For comparison, Autostraddle is based on WordPress, which has comment moderation built into its platform.
None of these are perfect methods for keeping trolls at bay, especially for a media site like Jezebel that's built around its reader-writer ecosystem, but they're all steps that Gawker could have taken to protect its staff and readers from violent pornographic images. As Jezebel puts it,
Higher ups at Gawker are well aware of the problem with this [anonymous] feature of Kinja… nothing has changed. During the last staff meeting, when the subject was broached, we were told that there were no plans to enable the blocking of IP addresses, no plans to record IP addresses of burner accounts. Moderation tools are supposedly in development, but change is not coming fast enough. This has been going on for months, and it's impacting our ability to do our jobs. In refusing to address the problem, Gawker's leadership is prioritizing theoretical anonymous tipsters over a very real and immediate threat to the mental health of Jezebel's staff and readers.
While moderations tools "are in development," Gawker could have disabled image uploading in comments sooner instead of waiting months and then scrambling to do so. If it really valued anonymity for its tipsters so much, it could look into adopting a system like Huffington Post's. Instead, Gawker was downright lazy, and its inaction and silence show not just a poor choice of priorities, but a complete disregard for the mental health and safety of Jezebel's readers and staff. Even if it was working on a long-term fix for all its sites, it hadn't bothered to come up with a short-term solution to address Jezebel's immediate need until Jezebel felt forced to report on it. As Jessica Coen, outgoing editor-in-chief for Jezebel, commented, "It honestly breaks my heart a little bit that this post even needs to exist… everyone deserves better. This is a damn shame."