In February 2015, Autostraddle launched The Ultimate Lesbian Sex Survey, open to all "lady-types who sleep with lady-types." We garnered over 8,566 complete responses (89% of which were from people between the ages of 18 and 36) and now we're sharing the results with you, bit by bit. Previously: How Often Do Queer Women Have Sex?, 100 Gayest Places You've Had Sex, The Masturbation Habits of Queer Women, 50 Really Fascinating Things You Wanted Us To Know About How You Have Sex, 26 Bits of Solid Sex Advice, 41 Feelings You Have About Scissoring, Here Are Your Very Queer Underwear-Wearing Habits and When It Comes To Orgasms, Lesbians Are Nailing It. Today we're talking about when and where you have sex!
---
Earlier this month, I told you that I'd been putting together a listling of "the weirdest places you've had sex" and compiling numbers about where you've had sex for a post devoted to that topic when I began to notice another listling opportunity was right there for the taking- The 100 Gayest Places You've Had Sex! So I wrote that list. It was glorious. And now it's time for that original list I told you I was working on to have its time in the sun. First, your topical infographic: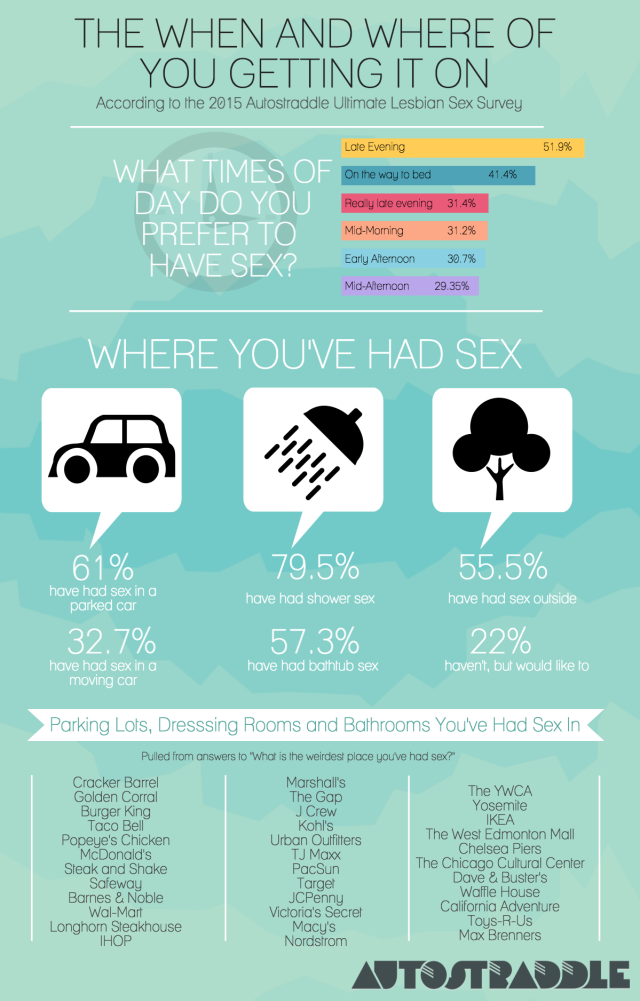 Now for the list! We asked you "what is the weirdest place you've had sex?" and nearly 7,000 of you gave us the details on your experiences in dressing rooms, bathrooms, parking lots and wooded areas all over the universe! Here are some of the most ambitious stories you shared with us.
1. In an ark at Christian summer camp
2. In the cramped backseat of a two-door car under a blanket while parked in a crowded parking lot after dark.
3. A youth hostel bathroom in Portland. A group of Dutch lads started cheering outside.
4. Radio station recording studio — neither of us worked there
5. At the top of the Eiffel Tower
6. At the table in Ruby Tuesday
7. At a Blue Man Group concert
8. Parked near that skate park under the Burnside Bridge in a PT Cruiser
9. On a faux bear fur rug on a hill overlooking Skywalker Ranch
10. UCLA's botanical gardens (after hours). Also, several roofs of public buildings at UCLA.
11. Magic Mountain under the water ride
12. Track 22, Grand Central Terminal, on a stack of pallets
13. My boss' desk. She was such an asshole, so it was extra fun.
14. On a giant ferris wheel in Taiwan
15. On a bowling alley lane — started on the beginning of the lane ended up by the pins :)
16. Every rest stop between Indiana and Virginia
17. A moving cab after getting hammered at the Philadelphia Flower Shower for free, less because of the cab sex and more because of how strangely and unexpectedly easy it is to get hammered at the Philadelphia Flower Show.
18. The top of a spiral staircase in a fancy strip mall.
19. In a chicken coop
20. In front of a Winnie the Pooh painting in an art gallery.
21. A beach in a chair — starting a low tide, ending at an inconvenient higher tide
22. A jungle gym at an elementary school in the middle of the day during a rainstorm
23. In the wardrobe department on the lot of Paramount Pictures.
24. In the desert while a coyote was licking my foot!
25. In a car park during a drug raid
26. Mattress factory
27. The aardvark exhibit at the zoo
28. In front of a monkey exhibit at a zoo I worked at.
29. In the campus fossil museum in front of a cave bear skeleton
30. In the mountains of a foreign country far away from home overlooking a fucking castle in the town below, on a very random bed which just seemed to have been dropped up there. It was a full moon and big fires were lit. I would have felt like some kind of Disney princess if it wasn't for the raging drunkenness. And the fucking, obviously.
31. In the kids section of H&M
32. Suspended from an outdoor rock climbing wall.
33. In a tank in Iraq
34. In a bulldozer scoop
35. The Temple of the Moon at Teotihuacan, Mexico.
36. Behind my really religious middle school, by a statue of Michael defeating Lucifer.
37. This hotel in Munich that Hitler had stayed at. I had to stop. It freaked me out.
38. In the lake where Otis Redding's plane crashed.
39. Within the Ancient Egyptian section of the British Museum
40. The drinks trolley in a Texaco storeroom
41. A Civil War battlefield
42. Holocaust Museum
43. Inside a wax museum
44. At adventure river in the Wisconsin Dells water park
45. Spiderman roller coaster at Universal Studios
46. Lost in the Dole pineapple maze in Hawaii
47. On a small boat in the middle of a lake in Croatia
48. On an oil rig in the ocean
49. On an ant colony, unfortunately
50. In a poison Ivy Patch
51. On a hay stack. And she ended up being allergic. :(
52. In a Zipcar when we only had 10 minutes left.
53. The Montreal Science Center's glass room
54. In a Model T
55. In a geodesic dome
56. Against the crumbling facade of an old Spanish bordello in the Arizona borderlands, while close friends and coworkers danced to a classic rock jam band playing in the courtyard of the cantina next door.
57. Bow of a cruise ship, Titanic-style.
58. On a cliff top at high tide in the middle of the night during a meteor shower.
59. On the fire line while fighting fire in Montana. Hot. Literally.
60. Once I had sex in a parked car at the U.S.-Mexico border while we were waiting, because the line to get in was taking forever.
61. In a radio station while on the air (I was a DJ being fucked by another DJ)
63. My girlfriends office when she was a campus minister.
64. On top of a ship's stack (where the smoke comes out- but the engines were off, so it was safe) And also in a ship's 'shaft alley'- google it.
65. Party City
66. In a grain silo
67. For the sake of religious people I apologise but in a church with my partner at the time tied to the cross.
68. The roof of Northwestern's psychology building
69. In a mini golf course in the cave in the middle of the day.
70. In a Barnes and Noble parking lot next to a cop car with the cop in it.
71. In a rent-by-the-hour shower room at a truck stop off a highway in rural Kentucky
72. Middle of a freeway. As in on my back on the freeway. That chunk of the freeway was closed and I was exploring with a Tinder date when we both kind of simultaneously decided how cool it would be to have had sex in the middle of the free way. Also on an abandoned bridge later
73. On my back in a Corolla on a bridge in a Little Bo Peep costume
74. The back end of a van that was cut in half and retrofitted to look like one of those sex mobiles from the 70s
75. In Colonial Williamsburg, against the courthouse.
76. Drunkenly in the dry food storage pantry in the kitchen of a legion-type hall. It happened during my partner's aunt and uncle's 40th wedding anniversary party. We thought no one knew. Everyone knew.
77. My girlfriend years ago was a bridge operator in Portland Oregon. We had sex on pretty much each bridge, inside of the booth where the buttons and levers are. Now they are all touch screen. I still smile when I go over bridges.
78. I lost my virginity during the movie "Elizabethtown" while in a movie theater.
79. An abandoned mall food court
80. Driving 80 mph in the carpool lane
81. Next to my girlfriend's sleeping ex
82. In my college president's bed… twice. With two different people.
83. Ethan Allen showroom/store
84. Halfway up a fig tree
85. In the doorway of an old, closed synagogue in Cracow, Poland
86. Against a windmill in Holland
87. In my high school classroom during a lecture. My girlfriend and I covered each other in our jackets and jerked each other off until we came. We even answered questions to the teacher in the middle of it.
88. On a plastic lawn chair in a walled garden behind my girlfriend's college dorm room, in the corner of the garden closest to the garbage bins because that was the part that wasn't visible from dorm windows.
89. College library (I was a library assistant so I knew which barcodes and therefore which floors were the least popular.)
90. The fact I lost my virginity at a Disney World resort is something to talk about, I guess.
91. In a Best Buy parking lot.
92. Grassy knoll behind a Walgreens :-/
93. Behind a bush in Kansas.
94. That high threesome I had in the forest on the bank of a pond adjacent to the evangelical Christian midwestern college I attended at the time.
95. In the parking lot of a Jehovah's Witnesses' church in front of the security camera.
96. At the top of a doorframe. i.e., my ass five feet off the ground, knees over a partner's shoulders, hands hooking onto the doorframe.
97. In a car dealership parking lot in the back of a pickup truck, standing.
98. In the backseat of a boat parked outside a Bass Pro Shop (in a parking in the middle of the Arizona desert)
99. On a volcano. No lie.
100. Splash Mountain. Just kidding, that was my roommates!