Hello marvelous creatures! Since we last spoke, the world has changed and become a better place because of lesbian sex. Our post about how often queer women have sex served to enlighten the readers of New York Magazine about the mysteries of the female libido and to inform the readers of The Daily Dot that lesbian bed death is a myth. Today we continue fighting the good fight with data on how you get off… by yourself.
The Lesbian Sex Survey — open to all female-identified folks who have sex with other female-identified folks — garnered 8,566 complete responses (and another 7,000 incompletes), of which 89% came from people between the ages of 18 and 36.  In addition to asking about the sex you have with other humans, we had quite a few questions about the sex you have with yourself. Let's get into it.
How Often Do You Masturbate?
First, let's look at data about the entire population to see how we compare. Five Thirty Eight's analysis of data from The 2009 National Survey of Health and Behavior found that 10.4% of women 18-24, 12.9% of women 25-29 and 10.5% of women 30-39 masturbated twice a week or more. Men reported a much higher frequency of masturbation — 39.6% of men 18-24, 43.5% of men 25-29 and 34% of men 30-39 masturbated twice a week or more. Here's that infographic:
It's statistically unlikely that you'll be surprised to hear that your masturbation habits go above and beyond those of the average straight woman — and even, apparently, above those of the average straight man. A full 54.73% of the women in our survey reported masturbating multiple times a week or more and only 2.02% reported never masturbating. 10.71% of you reported masturbating once a day or more.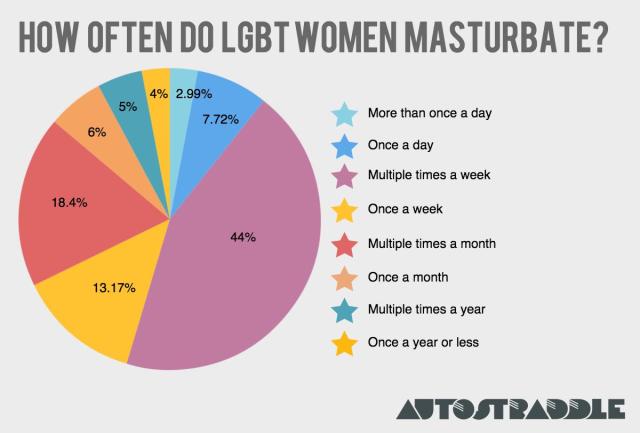 Although Five Thirty Eight found significant disparities by age, our variance wasn't quite so dramatic. We're also dealing with a smaller sample size for women over 40 than we are with the younger groups, but regardless, this is what we came up with: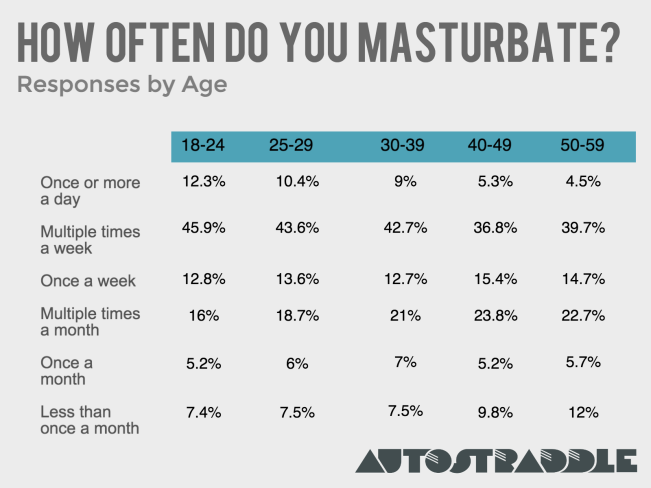 When it comes to us queers, there are other factors with much more of an impact on masturbation than age.
Do single ladies masturbate more than coupled ones do?
Slightly more, yes, but not dramatically more. It's a popular misconception that masturbation is a reluctant substitute for partner sex, when in fact people who have sex regularly masturbate more than those who don't. In the wise words of Psychology Today, "Why give up chocolate cake once you've discovered apple pie?" In fact, those of you in non-monogamous relationships and single folks masturbate at very similar rates — 64.42% of the former and 64.66% of the latter masturbate multiple times a week or more, compared to 46.97% of those in monogamous relationships.
How does that compare to women in general? Looking at that same National Survey of Sexual Health and Behavior Study analyzed by Five Thirty Eight, 43.6% of single women had masturbated in the last 90 days, opposed to 69.7% of those who were "single and dating," 59.5% in a non- co-habitating relationship and 50.8% of those in a co-habitating relationship. The only group who masturbated less often than single women were married women.
Five-thirty-eight spoke to Babeland co-founder Claire Cavanah about why women who were dating were more likely to masturbate than those who weren't, and her answer makes perfect sense: "Sex begets sex. Once the sap starts flowing you're going to do it more… once you're saying yes to pleasure, it's easier to keep the groove going."
This is consistent with our findings: as we touched upon in How Often Do Queer Women Have Sex?, masturbation rates on our survey were highest amongst those who had sex once a year or less and those who had sex multiple times a week or more. Masturbation rates were lowest amongst those who had sex once a month or multiple times a month. That curve looks like this:
Still, to some degree, the longer we go without having sex the less we seem to crave it — although this doesn't seem to be the case for men. According to FiveThirtyEight, men were much more likely to have masturbated recently if they're single. 72% of single guys had masturbated in the last 90 days.
This variance by relationship style may explain another area in which there was a significant variance between our study groups — women who identified as lesbians masturbated less often than women identifying as bisexual, queer or pansexual. (Although we permitted survey-takers to select more than one sexual orientation, so there might be some overlap.) 53.27% of lesbians masturbated multiple times a week or more, compared to 59.11% of bisexuals, 61.7% of pansexuals and 59.31% queer-identified folks. See, although lesbians are only slightly less likely to be single than the other groups, they're significantly more likely to be in a monogamous relationship (60.87% versus 43%-48%) and significantly less likely to be in a non-monogamous relationship (10.2% vs 20%-27%). Those in monogamous relationships, as discussed above, had lower rates of masturbation than single folks and non-monogamous relationshippers.
One more thing: We didn't ask our subjects if they'd masturbated in the last 90 days, but if you masturbate monthly or more, it's safe to say you've masturbated within the last 90 days, and thus it's safe to say that 95.8% of our single ladies have masturbated within the last 90 days. That's double what all single women reported to the NSSHBS. DOUBLE.
Do people in long-distance relationships masturbate more?
Yes. Relative scarcity of queer people in general means that LGBTs are more prone to long-distance situations than the heterosexuals, even moreso now that so many queer couples are initially connecting online. And those monogamous long-distance lovers are beating the beaver more frequently than monogamous couples who aren't long distance — 73.9% are masturbating once a week or more, compared to 61.3% of locally-located lezzers.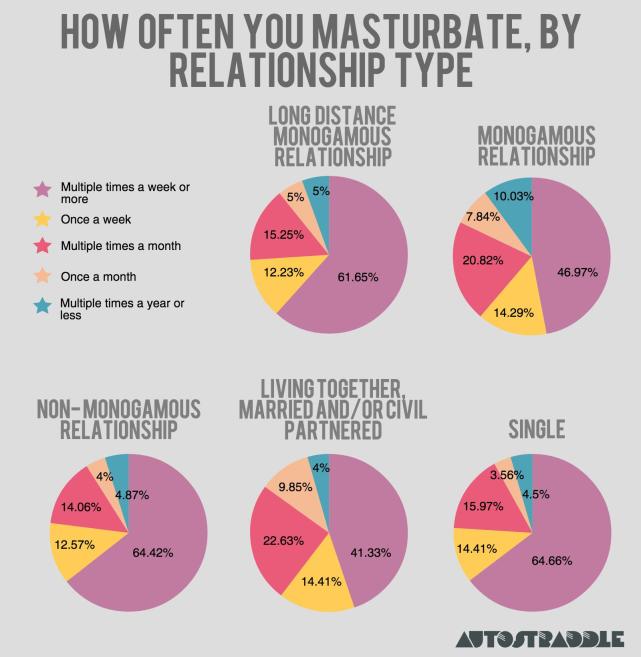 However — people who are "dating casually" also masturbate more often than the other groups. "Long distance" and "dating casually" are two situations in which one's desire is wildly outpacing one's access to the subject (or subjects) one desires. Socially imposed restraint (carefully pacing the progression of a new relationship) or wild, passionate longing heightens the senses and makes you more likely to make the time to get off solo.
Furthermore, it's likely that those in long-distance relationships are having long-distance masturbation sessions. 67.65% of long-distance daters sext, compared to 46.34% of the entire survey group. 28.44% have phone sex (compared to 13% of the whole group) and 31.6% have video/skype sex (compared to 10.26% of the whole group).
So, what do we do when we do ourselves?
As illustrated below, you get off quickly, and usually you do so using your hand and your imagination. We'll be talking more about your erotica/fanfic and pornography habits later this week, but here's an initial overview of your masturbatory practices:
We also found 4% of the group reporting BDSM involved in their masturbation and 2.33% using nipple clamps. Although we intended for "fingering (genitals, external)" to also apply to non-op trans women who masturbate their penis manually, several comments indicated that the language was confusing — trans women (who comprise 2.9% of the study group) who noted this method in the comments were added to the "fingering (genitals, external)" numbers and that larger category has been re-named "external manual genital stimulation," above.
Time spent masturbating was consistent across all potential demographic groups, although trans women did report taking significantly more time to get off than other survey respondents — only 39% of trans women masturbated for an average of 15 minutes or less, compared to 62.7% of the entire group, 59.9% of genderqueer folks and 50% of intersex people. There are numerous possible explanations for this depending on many factors such as surgery status, including: dysphoria, internalized social stigma, re-learning one's post-surgery body and decreased sensitivity or gradual adjustments due to hormones. Trans women were also much more likely to involve anal play in masturbation — 29.55% reported anal play with toys, compared to 6.45% of genderqueer folks and 4.71% of cis women.
Also interesting is that most survey-takers are somewhat or very in favor of watching a partner masturbate, but are a a bit more bashful about revealing their own poodle-petting practices. However, although only 49.5% are very much or somewhat in favor of being observed, only 15.4% are truly against it —35% selected "neutral/if my partner is into it."
Furthermore, a lot of you included descriptions of your masturbation practices that fell outside the bounds of the multiple choice responses. The most popular thing we failed to include was water play, showerheads and bath faucets (things that often come up in "my first orgasm" stories, too) but we also got a lot of "fantasizing about fictional characters." Other descriptions of your methods included:
Riding furniture tbh, ex: arm of couch
#1 technique, squeezing legs together
Friction with underwear on labia
Watching haircut videos
Recall scenes from movies famous actresses then I rewrite scene adding others and myself
Kegel exercises – some people can cum from doing them in a certain way.
Grinding my heel in between my legs, rubbing legs together.
Fantasizing about Xena
Fantasizing about engaging a male in anal intercourse as another male
reddit.com/r/gonewildaudio, the 100-1 challenge, you're welcome.
Balloon fetish
Sending pictures or receiving pictures from partner or people I know
Whipping/impact play/riding crop/butt plug
Fantasizing having a different body
I can achieve orgasm by tensing my muscles a certain way without touching
Hanging ab crunch with legs crossed
Sometimes "fantasizing about an ex" sneaks up on me but then I just end up crying instead of coming. 0/10, do not recommend.
Thinking about non-sexual abstraction: logical structure, energy, intangible stuff like that. Something about the concatenation of the carnally, primally physical and the metaphysical is hot, in a transcendental kind of way.
Overhearing sex sounds from a neighbour — rare but awesome.
Reading craigslist ads
Drawing porn for myself
G-spotter, rope bondage, clothespins
Fantasizing about monsters having sex with humans
Inserting my clit into a condom covered water bottle (homemade fleshlight)
So, why do queer women masturbate more than straight women?
We have a few theories — but we're interested to hear yours, too, so please chime in in the comments.
In general, queer women might just have a more intimate sexual relationship with themselves than straight women due to the private way in which early desires developed. Whereas straight women are often socialized to view their sexuality in relationship to straight men — a thing you discover as you discover men and men discover you — queers learn early on that the dominant sexual narrative doesn't have a role for them. Thus much of their early exploration happens outside of public purview, making the leap to uber-private (read: solo) pleasure-seeking not all that dramatic. Many queer women lack access to other queer women for potential hookups and perhaps, then, their imagination is the only place queer sex can conveniently take place.
So much of how women feel about sex is a result of what we've been told to feel about sex. But queer women and genderqueer folks aren't told much at all about how to feel about queer sex, which could mean that our sexual habits are more revelatory of "innate" desire than researchers have previously considered. How do we decide what we like or dislike when we're not privy to the same type of sexual socialization as cis hetero women are? We figure it out alone.
Furthermore, cis heterosexual women can have decades of heterosexual sex without having to know where their own clitoris is, let alone somebody else's. For cis queer women, what little sex advice we do get often amounts to "get to know your own body." Meanwhile, heterosexual sex advice for women, until very recently, focused on pleasing one's man and saving one's orgasms for him.
There's still a significant stigma around female masturbation, too, but for queer women, there's a stigma around pretty much everything we want to do in bed. We have to let go of those stigmas in order to live with ourselves pretty early on, which could make us less prone to masturbation-related hang-ups. Anecdotally, we get started pretty young.
In Conclusion
Honestly ladies, the more I get into this data, the more it seems to me that pretty much every stereotype about lesbian sexuality is nonsense and we're actually very sexually active, very sexually adventurous and very sexually preoccupied. It's a loose hypothesis for now, and of course we realize the implicit bias of a voluntary survey, but we're gonna dig into it and see what we can find.
For now, we know simply this: y'all love yourself, it's not a sin, you can't control what's happening, 'cause you just discovered, imagination's taking over, another day with (or without) a lover, the more you come to understand the touch of your hand. You feel me?