This week has been list-tastic! We gave you Eight Queer Blogs We Really Like Right Now, 41 Geeky Women to Follow on Twitter, and you can enter yourself to be in our Hot 100 List of Real Lesbians.
Plus, Julie & Brandy In Your Box Office episode 5 premiered, we gave away a Gossip prize pack, we talked about M.I.A.'s "Born Free Video" in the weekly music fix, and we recapped The Real L Word Preview. And of course our roundtables returned with the first part of our discussion about Becoming Queer Feminists.
And with that, let's get to the awards!
---
On Is Jennifer Knapp the Brave Christian Lesbian We've Been Waiting For?
The Paper Clip Award to Lucia: "'She has no Word content to back up her story' sounds like some kind of Microsoft Office-based failure. I hate it when that happens."
On Julie & Brandy In Your Box Office #5: Hot Tub Time Machine
The We've All Been There Award to wasteunit: My roommate heard me laughing, so he came into my room to see what was going on.
Dave: What are you watching?
Me: Lesbians talking about fingering and tampons.
Dave: You could have just said "the usual."
The Family Ties Award to Brandy's Mom- aka- Pam: The "baby" comment puckers the butt a little bit, and shame on you for trying to get Nacho to drink beer!
..and Russ Howard: I've gone back via my Hot Tub Time Machine ___ Now I have one word to describe the review by Julie and Brandy ——
"BITCHIN'" and, WOW!!! It's nice being young again!!!
On Autostraddle Hot 100: It's Your Turn to Be Hot. Seriously. You.
The O. Henry Award to allisonb: "I submitted my gf because she's an ultra geeky photographer.
…and it turns out she submitted me too. I'm having a moment BRB."
On Recap: Real L Word Extended Behind-the-Scenes Preview
The Burning Bush Award to Amo and Bren: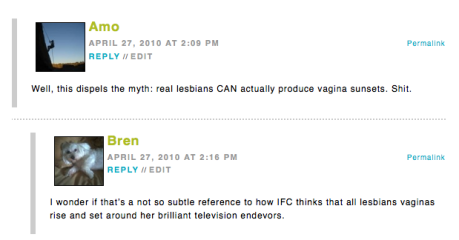 On 41 Geeky Women to Follow on Twitter
The OMG THAT EXISTS?! Award to Krrru: Hold on Olivia Wilde has a Twitter? This is almost as amazing when I realised that Jillian Michaels has a Twitter after my constant tweets about wanting her to beat me up for eating taco fries. WIN!
On Who's Coming Out May 5? We Think We Know
The bcw Award for bcw to bcw: They're like Penny from Inspector Gadget! Her computer book might've been my first crush.
On GLEE: Brittany & Santana Aren't Gonna Fall in Love, Become Girlfriends
The Gravatar Award to Sally: I've only just noticed the new default avatar! I love how it just gets subtly snuck in there so you can tell something is going on, you're just not sure what yet, then the joy of it hits you. A lot like surprise wake-up sex.