by Laneia & Riese
We're always telling each other about blogs we find. You know, on the internet. Like, 'omg I'm in love [link]' and then you wait there for a bit, staring at your gmail screen whet with anticipation, hoping to hear your sentiment echoed.
Sometimes you stare forever and nobody writes you back. It's a long & ultimately endless pause which becomes a closing note; and in that endless pause, you realize you were wrong to think they would love it. And that maybe you were wrong to love it too.
But sometimes your friends write you back right away OMG I WANT TO EAT HER and when that kind of confirmation happens, you write that shit down. We have like a list. For ourselves. It's getting long. So let's start sharing!
We want this to be a series 'cause obvs these aren't the only eight blogs you should read. But we're historically bad at maintaining series so.
Also, "people we already know either online or IRL" aren't included on this list, because the idea is that we FOUND these blogs organically, not 'cause you nagged us to read your shit or 'cause of nepotism. We're not Aaron Spelling.
+
---
+
1. Effin' Dykes:
What the f*ck is going on 'Effin' Dykes'? Some seriously clever shit, that's what. It's kind of amazing? Yeah, it is. Find out why the author loves to fly in Never Leave Your Fags Unattended, or why, in the battle of microwave vs. grill, microwave will always win. She even went to a Naked Girls Reading show in Chicago and wrote all about it and I am super jells. The imagery is more akin to a Tumblr and there are so many funny words and such. You'll probably love it. You'll probably never come back here again. We've lost you.
+
---
+
2. Fit for a Femme: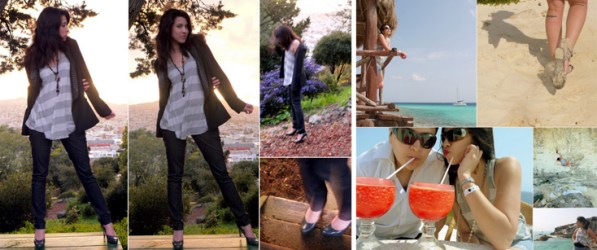 So basically what you've got here is a gorgeous woman in adorable outfits, and it's a blog called Fit for a Femme. More specifically, you've got a gorgeous femme, SBJ, showcasing these hot f*cking boots or this perfect dress. And just when you think it can't get any cuter, BAM there's a photoshoot like this one with M in which they're at the beach and omg I think she stole M's hat and would you look at that mothereffing wool coat?! Stop it both of you STOP BEING SO LOVELY.
+
---
+
3. Nobody Passes: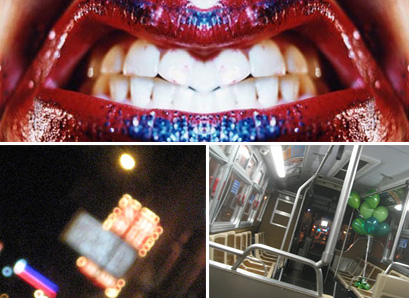 Besides having an awesome/in-your-face banner that makes me want to watch the Rocky Horror Picture Show, Nobody Passes — the product of queer/gender theory writer Mattilda Bernstein Sycamore — is a great mixture of art, feelings, and deep thoughts. We really dig her narrative posts, as well as her artistic projects like lostmissing. If you like Sycamore's blogging, check out her books!
+
---
+
4. Sartorial Butch: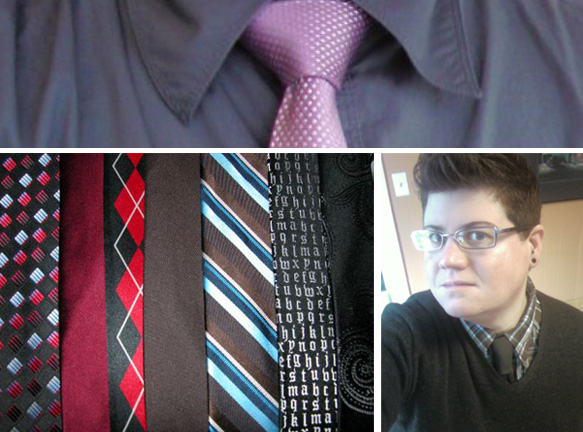 Sartorial is arguably the best word in the English language, so this site has a lot going for it right from the start. The Sartorial Butch has a love of great ties, great button downs, great suits, great shoes… Everything you need to look hot sans heels. She also posts recipes, including breakfast foods, so we're pretty much sold. Oh, and there's a good number of posts on butch identity, too!
+
---
+
5. Queer Fat Femme: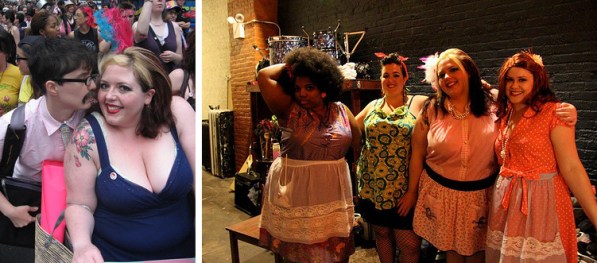 Queer fat femmes looking hella cute, having fun, doing stuff, changing the world. Bevin's based out of Brooklyn and she and her friends obvs know how to have a good time. She even does a pod / video deal: The FemmeCast! There are QFF Guides to Life, like Beginning a Yoga Practice, and Battling Insecurities and Asking People Out. Don't miss QFF's additions to the Queer Lexicon! Laycation! Bevin you badass, do you ever sleep?
+
---
+
6. Young Creature:
If you're looking for someplace to binge on superhomosexy queer culture, dreamy internet mixtapes, and new videos and music releases from your favorite queer artists (Tegan and Sara and CocoRosie, anyone?) Young Creature is your jam. Not just lesbians, but queer artists all across the board are represented – Owen Pallett, you guys! And just when you think "Music is cool and all, but I think I need something a little more substantial in my RSS feed," you get hit with Lesbian Herstory and Emily Dickinson. Could you ask for more? We think maybe not.
+
+
---
+
7. A Brown Girl Gone Gay:
+


Let's talk feelings. I mean really, just like, tell me how you feel. All of your feelings. When I first stumbled upon A Brown Girl Gone Gay, she was up against autowin for Best Lesbian Personal Blog in the 2008 Lezzies and if I recall correctly, she was anonymous back then. And now she's got her real picture up there, with those feelings I was talking about. And I thought, wow, that's so f*cking honest, you know? It's like talking to a person.
+
---
+
8. Grumpy Granny: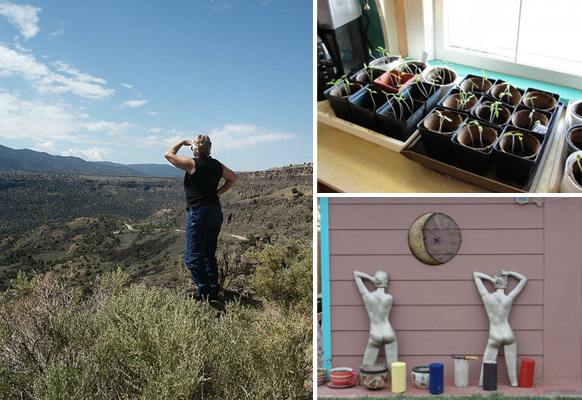 The lez-blogosphere isn't just for lesbian moms and younguns, let's get some age diversity up in hurr with Grumpy Granny! 53 and a self-described "mostly happy, sometimes cranky, living too much in my head, lesbian grandmother, residing in Colorado USA," Grumpy Granny writes about her life with her special lady, children, and grandchildren. Sometimes shit gets serious with the fam and sometimes she's just gonna make some fucking furniture and she's gonna tell you why "think pink" got her thinking about how the economy is run by disease and sickness. Yeah, it gets deep.
+