"It's important for me to be open and honest about [my bisexuality]," Jessie J (née Jessica Cornish) told Glamour Magazine UK in the interview accompanying her August 2011 cover story. "My Mom and Dad have known for years and were super cool, my sisters made jokes about it because they were married with kids and I was the rebellious one. I had a girlfriend and tattoos… Because I haven't tried to hide it, people have gone, 'Oh, she's so cool about it, so we're cool about it."
It's a bit unclear, structurally, which "people" she's referring to but it doesn't really matter because I think more or less everyone is pretty "cool about it."
Sure, girl-on-girl action makes for sensational headlines, like the bajillion permutations on this quote from her aforementioned Glamour interview:
"How old was she when she had her first girlfriend? A shrug. "Dunno. Seventeen? It wasn't a girlfriend, more my first girl experience. And that's an exclusive."
But beyond those tawdry SEO-friendly declarations, Jessie J's sexuality has been a relative non-issue — which is a super-special idea as far as female pop & hip-hop artists go. Perhaps Jessie J is part of a brilliantly spectacular future of gay pop stars where being gay from your very first day is okay!
Pop, hip-hop and country music tend to be one part person and one part PR, and so unlike other genres that practically invented lesbians (see: Lesbian Folk-Rock music, kd Lang, Melissa Etheridge, The Indigo Girls, Ani DiFranco, Tracy Champan, Joan Armatrading, etc.), those areas have become the last frontier. For Ricky Martin, Chely Wright and Lance Bass, image mattered just as much as the songs they sang, and because they were aiming for mainstream appeal, they needed a mainstream image.
Look anywhere outside of mainstream pop/hip-hop/country and you'll see an expansive world of day-one homosexual acceptance — artists who broke out within the last ten years or so who never skirted sexuality questions include Brandi Carlile, Holly Miranda, Beth Ditto, Tegan & Sara, Sia and Kaki King.
In her earliest interviews–most likely to protect her girlfriend's privacy more than to fit some kind of man-ready blow-up doll image–Jessie J was more withholding. But now, with her first single "Do it Like a Dude" peaking at number 2 on UK charts, "Price Tag" going straight to number one in the UK and her album (released earlier than initially planned due to intense burning hot fan demand) charting at number two on the UK Albums Chart, she hasn't chosen the path well-paved by initially closeted pop/hip-hop stars like Lady Sovereign (who eventually came out last year). Instead she's just being candid. Also the fact that she doesn't drink or do drugs helps.
February 2011, in a "Cup of Coffee" interview:
"I'm very open, and it's funny because people say I'm very mysterious. They want me to be mysterious. I don't think I am at all. I think they want me to be mysterious because that's what they're used to… but I've never denied it, even four or five years ago when people used to talk to me about it, I always said I've always liked girls and I've always liked boys. I've never put my sexuality in a box and I've never named it, and I've never labeled it."
I wrote about Jessie J for the first time in January when I saw the music video for Do It Like a Dude. It was this super grungy and aggressively sexual spastic thing and it celebrated masculine women in a way nobody else in mainstream music has ever dared to (save a few minutes in Lady Gaga's "Telephone"). To be blunt, I'd never seen so many studs on my teevee at the same time before on a channel other than Logo. It was hot and subversive and fun and catchy and everything you could ever want from a woman and her first single.
Most striking, however, was its authenticity. "Do It Like a Dude" was clearly created by someone who knew the culture, there was nothing tAtU-ish about it.
Rumor had it Jessie's girlfriend was one of the background dancers, which was never confirmed or denied anywhere besides in our own heads. But it wasn't just protecting a loved one that made Jessie nervous about blazing this trail. She told Glamour:
"I never wanted to be called a hypocrite, but I didn't want my sexuality to become a gimmick. There are lots of people who go, 'Oh, I'm bisexual.' No. You've kissed your friend."
Exactly — and before I go any further, let me address the topic of this topic. Obviously we don't want to be like other media outlets and sensationalize her sexuality or make it more important than it is. But we ARE lesbian media. Sexuality and its representation in the media is, in fact, our primary point of conversation.
This is an Autostraddle/AfterEllen/SheWired story, and if she had given this quote to AskMen.com or Maxim instead of to a mainstream women's magazine like Glamour UK, it might be perceived as a gimmick and that's got nothing to do with Jessie and everything to do with the sordid history of bisexuality in pop music.
Where do we begin?
There have been bisexual/lesbian rumors/truths about Rihanna, Pink (took it back), Britney Spears, Christina Aguilera (has gone back and forth on identifying as bi, which is largely perceived to be a gimmick by the media), Miley Cyrus, Janet Jackson, Lindsay Lohan (now openly identifies as bi), Kelly Clarkson, Queen Latifah, Nicki Minaj (took it back), Missy Elliot, Mel B of the Spice Girls, Nelly Furtado (identifies as bisexual because she believes all humans are bisexual) and of course Madonna (who I believe had some kind of lesbian thing happening with Sandra Bernhard back in the day). Let's not even talk about t.A.t.U.
Just this very week we have everybody questioning whether Lady Gaga is "using" the LGBT community by advocating for equal rights and whether or not she's "truly" bisexual.
Ultimately though, it's not surprising that pop music is such a ripe forum for this kind of speculation – so much of pop music is sex. I mean most of it's about sex, like, explicitly. Everybody performs in their underpants and all the music videos are like three-minute ads for having sex with the musical artist. Sex is on the brain, so to speak. And love, too, I suppose — you want to know who the love songs are for.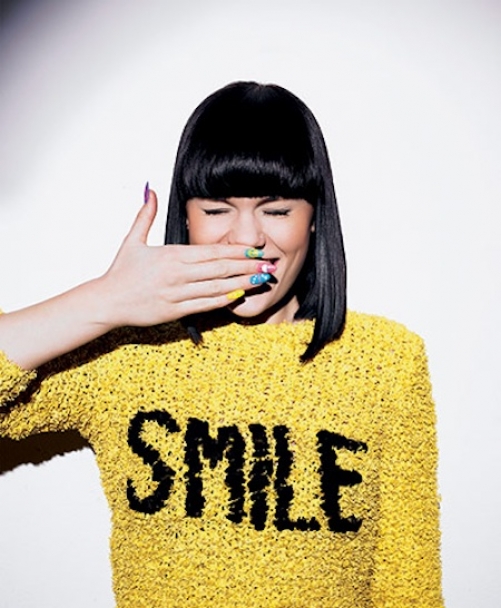 I can't really say that I care enough about most of these people to spend any time thinking about whether or not those who claim to be bisexual TRULY ARE, but where Jessie is concerned there can't possibly be any doubt where her affection for girls is concerned.
April 2011 in a South Florida Gay News Interview:
"My family and friends never made me feel like I had to put a label on it. The same goes for my music. I don't feel like I have to say I'm pop or I'm rock or I'm hip-hop. I make music – and if people like it, they like it. And I think it gets people frustrated because they need to pigeonhole me, but I won't allow them to, because I just think it's about being who you are."
Obviously the game is changing, and a lot of it has to do with society's rapidly changing conception of homosexuality moreso than anyone's personal integrity. From a May 2011 Telegraph interview:
She doesn't go as far as discussing her sex life – 'that wouldn't be right on the other person' – but she is open about her bisexuality.
'I've been with guys and I've been with girls. And I kind of think it's about the person not the genitals. A lot of people are like, "'Oh, she doesn't know what she is,'" she says, sighing with impatience. 'But I definitely think my generation is more easygoing about it.'
Indeed.