Christina Aguilera has filed for divorce from her husband Jordan Bratman, with whom she has a son. Bratman, it would seem, is a producer and enjoys sporting varying levels of facial hair from day-to-day. They had an open marriage allowing for sexual activities with all genders. It has taken us three days to write this post due to vacillating peaks of interest/disinterest.
You may remember Christina Aguilera due to her being a famous talented superstar, as well as from such "bisexual" events as her music video for Not Myself Tonight and the Great Madonna-Britney-Christina Kiss and for being one of the best vocalists of her generation. She came out as bisexual at the height of her career.
Furthermore, Aguilera was honored by GLAAD for using gay & transgender images in the video for her song "Beautiful" and has spoken out against Prop 8 and supported other LGBT causes.
The divorce, according to heaps of totally unreliable sources like Radar Online, is somehow related to Christina's lesbionic tendencies. Within the context of an open marriage, this makes only remote sense and therefore unreliable sources encourage us to speculate that perhaps [insert something random here]. It has been said that the divorce "got ugly." Also there is the suggestion of irreconciable differences, which is the official reason for the divorce and also a relatively vague, meaningless term that could defo mean "Christina is a homo."
Other sources have reported that the divorce was spurred forward by Christina's all-girl vaycay in Mexico a few weeks back with Samantha Ronson and Nicole Richie. Many other sources report that Christina Aguilera is now dating Samantha Ronson. Furthermore, additional sources report that Christina Aguilera is NOT dating Samantha Ronson. Also, according to the United Nations, a child dies every 6 seconds from malnutrition. Check out freerice.com to learn how you can help be a part of the solution.
Here's Radar with their anonymous unnamed Abbey-crawling source:
Christina Aguilera and hubby Jordan Bratman are getting a divorce but RadarOnline.com has learned the couple had an open marriage when it came to Christina's lust for women.
"I was at The Abbey one night when Christina's bodyguard approached me," a woman who wishes to remain anonymous told RadarOnline.com.
"He said, 'My boss would really like you' and pointed over to Christina."
"I met Christina in the bathroom and she told me she liked to play with girls.
"I ended up not pursuing anything with it because the situation just seemed so weird to me, but Christina was definitely looking to hook up."
According to the source, Christina has been known to frequently approach women while out at gay bars in Los Angeles.
Huh. Well. What the hell. We're not sure if this is supposed to annoy us or not. But you know what it DOES make us think of? Back in May Christina Aguilera said the following for her OUT magazine cover story:
"I don't get to kiss all the girls and the boys," she says. "But my husband knows that I get into girls. I think it's fun to be open and play."
Nevertheless, Aguilera knows what this girl wants. "I don't think I could ever really be with a woman because that's a lot of…" Aguilera pauses. "Yeah, there's a lot of estrogen and I'm a lot to deal with when it's that time of the month, so I can't imagine it times two." She then shakes her head and adds, "And you know, I love dick. To be honest, that I cannot live without."
… Sia explains, "I feel like Christina's probably supporting the majority of the lesbian scene in Los Angeles because she really only works with gaylords, like her dog walker, her personal trainer, her cowriters." As Stein puts it, "Bisexual or not, Aguilera is queer in the word's most literal sense."
We found this maddening because we've heard it so many times and anyhow let me just copy-paste that this is what we had to say about that:
Seriously. Seriously now. ["I love dick"] is just the most annoying thing in the world to say. You can buy a penis if that's your primary concern. And although wearing a strap-on does not feel like being a man with a penis, being fucked by one does not feel all that incredibly different so JUST STOP SAYING THAT THING.
Remember last year when Pink was asked about her bisexuality, and she said, "I never said I haven't [been with a woman]. I just said, going forward, I like penis." That was annoying too.
Let's refresh. These things are boring, and we are over hearing them:
1. Girls are crazy and have so many feelings!
2. I love penis!
Can't you just say, "I'm straight! But kissing girls is fun!" Because you know, that's fine. It is fun! Some lesbians like to kiss boys too for fun. Kissing is fun! We should all kiss each other a lot!
Essentially, "I love dick" is dumb. It's a dumb argument and it doesn't make sense and it's unlikely to be true. "I love the male body" certainly makes sense. But you know, this seems to be a standard-issue answer when a lady doth protest too much.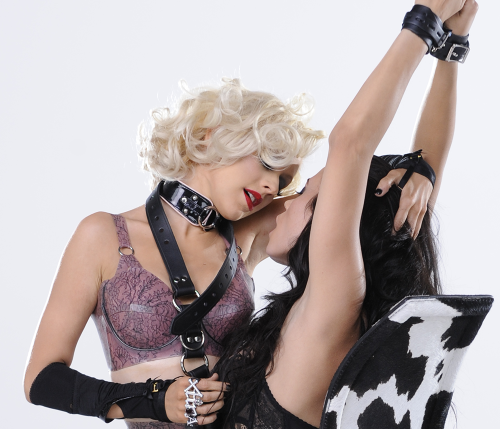 Maybe if it was true — that she's not truly open to relationships with ladies — she'd have a better reason why or wouldn't feel the  need to explain. Maybe I'm just saying this because "girls are so crazy with all their estrogen I can't imagine ever dating one" is something many of us said once to deny accusations of our homogayness.
If anyone wants to go try and hook up with Xtina and get back to us that would be great.