If, like us, you have been wondering exactly what strategies and options the Pentagon needs to research with its ten-month review of a DADT repeal, we may be able to answer that for you, at least partly and possibly. It appears that the military has been considering separate housing for gay and straight soldiers if DADT is repealed – or possibly it's "absolutely off the table" and is just a thing people are joking about on coffee breaks, depending on who you listen to. If you listen to the military itself when questioned directly about the matter, you might think this is unfair speculation.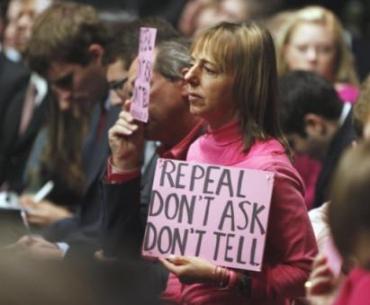 [Pentagon Spokesman Geoff] MORRELL:This could be dealt with through education programs, through training programs, or it may require "facilities adjustments." But no one, no one is considering "separate but equal" bathing or living facilities for you know, gay and straight troops. That's just not ever a consideration.
Q: So that's off the table.
MORRELL: Absolutely off the table.
Or, if you ask different people who work for the same organization and word the question slightly differently, you might get a completely contradictory answer!
[Marine Corps Commandant General James Conway] said the Marines may make such housing arrangements "voluntary" to accommodate any "moral concerns." He said many Marines are "very religious" and because of their moral concerns "don't want to room" with homosexuals.
(@jezebel)
My questions here are a) whether that's effectively any different from segregation, the point of which has always been to make the majority group feel comfortable and safe, and b) whether, if it is different, it might actually be worse? Is it helpful at all to allow servicemembers to be out if you also allow their comrades to completely ostracize them? Is this what we've been waiting ten months for? Maybe they would also like to advise us to make sure to leave room for the Holy Spirit between us and the other inhabitants of the foxhole?
And while it wasn't brought up in the original post, this Jezebel commenter makes a good point I think: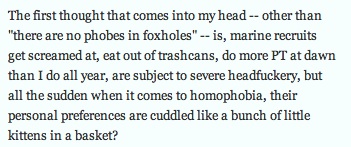 Regardless of whether or not this aspect of military life is something I agree with, it does seem to be a basic tenet of military philosophy that the individual's needs are secondary to that of the group, and that we all need to make sacrifices for The Team – except apparently when we are "very religious" and have "moral concerns"? Specifically w/r/t The Homosexuals? I wonder how it feels for non-homophobic soldiers, who don't get any special considerations when it comes to, oh, seeing their families, or choosing not to bunk with people whom they disapprove of for arbitrary reasons. Does it feel like watching your more bigoted coworkers getting rewarded for their bigotry? Because that's my best guess.