The UK is Full of Happy Gay People
There are two reasons I am happy with news from the United Kingdom:
+ Fewer lesbian and gay couples get divorced in the UK than straight couples.
+ A Jamaican lesbian was granted asylum in the UK after an appeal on her initial rejection. Immigration judges agreed with her attorney that "a deeply homophobic society" like Jamaica is no place for an out queer woman, especially one who had lived in the UK for 7 years in a long-term relationship.
Everyone's In Love in Illinois
More than 1,600 couples in Illinois got civil unions in the first month of their being legal. The law allowing gay civil unions, signed in January, took effect in June. At the close of the month Equality Illinois asked county clerks for their numbers, but it is predicted that the 1,618 couples they counted in over 80 percent of the state's counties is actually an understatement.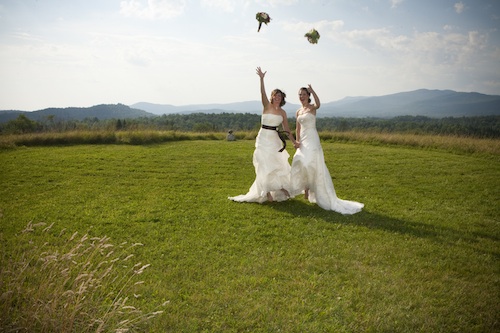 Lesbian Androids
Janelle Monae has always been circumspect about her personal life, answering questions about her sexual orientation by explaining that she "only dates androids." But now maybe she's revealing that more about what that means? In a new interview with The Evening Standard, Monae says: "That's great, they can claim me as well as the straight community, as well as androids," she says. "I speak about androids because I think the android represents the new 'other'. You can compare it to being a lesbian or being a gay man or being a black woman … What I want is for people who feel oppressed or feel like the 'other' to connect with the music and to feel like, 'She represents who I am'." She also says she'll talk about her sexual orientation "in due time… when I'm ready to have a family and be out and in public with my family." So… not NOT coming out?
Presbyterians Open Doors To Gay People
Jeannia Oakes wants to be a pastor but she's a lesbian. And to that she says, who gives a fuck:
"I need to be fully who I am, and the church needs to accept that. God calls me to both things equally, to be who I am and to be a pastor of the church."
The ban on gay pastors in the Presbyterian Church ends today because of Oakes, who asked her church to endorse her and then went on to receive the proper instruction for her service. The Fourth Presbyterian Church, which Oakes attended, accepted gay parishioners and taught her that gay people could actually be a part of religious institutions. Sounds crazy, right?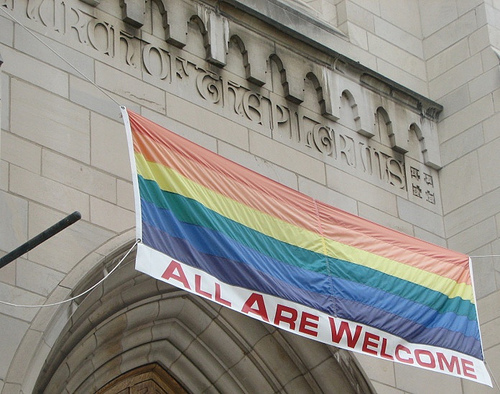 And even though it was a long challenge to an ever longer-upheld ban, Oakes was willing to fight through it for God:
"God wasn't giving up on me. I wasn't giving up on God."
Churches have the right to opt back in to the ban on gay clergy, but for now, Oakes is on Cloud 9. Let's hang out there for a second.
Let's Get Naked and Do Yoga
Doing yoga naked sounds awkward, right? Well, get over it. It's good for your mental body image, confidence, and attitude. Plus, it still has all the old benefits of yoga and everyone else will be naked.
Vancouver's Saturday in the Park
Northbank, the only gay bar in Vancouver, is no longer open. But hey, the gay people there still exist! And the 17th annual Saturday in the Park, an event in downtown Vancouver put on by Saturday in the Park Pride, celebrated the LGBT community of the city with an even bigger turnout than last year. Beer, drag queens, and rainbow balloons were included.
People Apologizing To Us
Two major league athletes this week came forward and apologized for being total homophobic jerks.
DeSean Jackson of the Eagles apologized for saying a multi-word homophobic slur on a radio program last month – on Twitter:
"I am sorry for using words that I know to be hurtful and unacceptable in a recent radio interview," Jackson tweeted Saturday. "I have made a mistake and would like to make it clear that words I used meant no disrespect to the Gay and Lesbian community. Intolerance is unacceptable and I apologize to anyone I have offended."
And Chicago White Sox second baseman Gordon Beckham apologized for calling his former teammate Chris Getz gay as a big funny joke at a game:
"Obviously I apologize and kind of want to move on. Obviously it was meant as a joke but obviously it was in the wrong place and I didn't mean it that way. I will just try to move on. …It's one of those things that was unfortunate that happened and I want to try to move on from it."
Nautical Photo Shoot Day
There is only one thing I want to do today, and that's have a nautical-themed photoshoot for the New York Times. They're collecting photos of girls on sailboats – er, of nautical-themed outfits for their Street Style column from people around the globe, and their favorites will be featured. So if you've got some stripes, or anchors, or anything else you saw on Tumblr, go ahead and submit. I bet you look so nice in blue stripes and brass buttons.
I Really Love Sunglasses
Magnum Photos and Slate Present: Sunglasses, or at least 23 great photos of them.
Britney Goes Down (South)
The Femme Fatale Tour is going to be hitting additional cities – in South America. Sources reported she is going to go to Colombia, Mexico, Brazil, and maybe Argentina, Chile, Venezuela, and Peru.
This Puppy Is Excited