Ever since an anonymous reader asked about her ladyflower on Formspring Friday: Even Brighter Than the Moon, we've gotten several tips in the way of body-positivity. To refresh your memory:
"One of my labias is A LOT bigger than the other. Im 22 and am scared to try anything even hitting on a girl bc my biggest fear is someone going down on me only to reject me bc of that. Ive been too embarrassed to ask any1, but should this be a fear?"
Also, from last October:
"I have a long inner labia and I'm very self-conscious about it. I never let girls go down on me because I'm afraid they'll think something's wrong with me down there. I was thinking of having a labiaplasty when I turn 18. What do you think I should do?"
This Sunday we're looking at ALL THE VAGINAS. All of them. Do you have a mirror? You should look at your own. You should sit in front of a mirror with another mirror and position them so there's nothing but infinity vaginas.
Infinity vaginas!
+ The Swedish Association for Sexuality Education has several booklets for you to browse. I took the liberty of linking to the three I felt were most relevant to your interests.
What happens when we become sexually aroused is that blood rushes to the erectile tissue, stimulating the nerve cells in the genitals. All parts of the clitoris swell and stiffen. The corpus becomes erect beneath the prepuce, and the much enlarged glans rise with it. The erectile tissue of the inner labia becomes engorged – so much so that the inner labia may become three times their normal size.
In experiments, women were fitted with special moisture sensors in their vagina, and when they were made aware that lubrication had begun, the wetness intensified. It therefore appears that, by being aware of what is happening in their vagina, women can be aroused further by their own arousal and produce even more lubrication.
– Masturbation: A Hands-On Guide
You can use your pelvic floor muscles in various ways while masturbating. It may feel good to alternately tense and relax them one or more times by squeezing and then letting go.
+ ALL ABOUT MY VAGINA! This website is chock-full of vagina-related links, including like, entire lists of where you can see vaginal imagery. It used to be a blog but it hasn't been updated since like 2005. Still, it's like an old book chock-full of information.
+ Also if you'd like to give your cervix a close-up, you're smart, because that's a smart thing to do.
+ Jiz Lee told us about this vulva book and we totally missed it. I'll Show You Mine is full of a variety of vulvas and if you visit Jiz Lee's blog, you will also see Jiz Lee's vulva. It's practically a vulva party.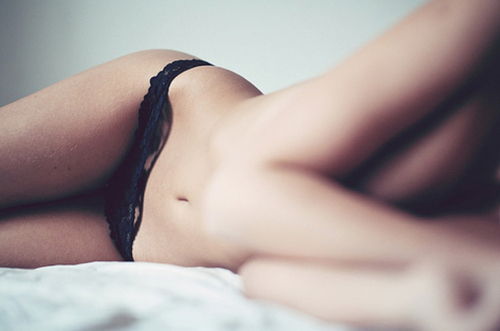 + Maybe you'd like to learn how to ejaculate? I don't know, just an idea.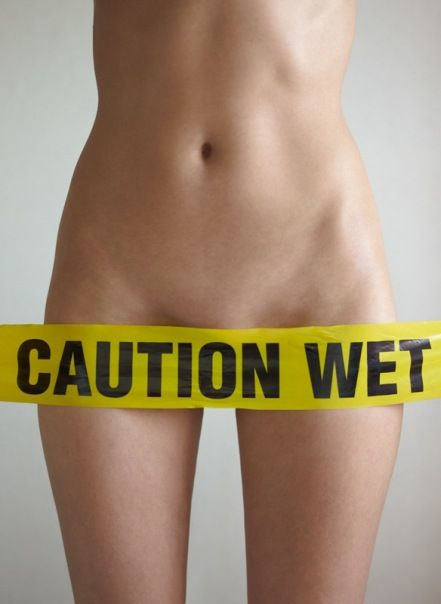 + Have you ever wanted to know more about porn, fisting and censorship? I thought so.
+ What about 20 Songs About Cunnilingus? You could rock out all day long.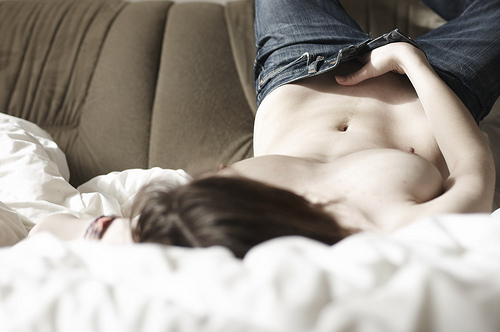 ---
Autostraddle Anonymous Sex Toy Review #7:
It's our seventh Autostraddle Anonymous Sex Toy Review! Over the last 2-3 years, we've been propositioned frequently by sex toy companies wondering if we'd like to review their toy in exchange for, you know, their toys. In 2011, in addition to "saying yes to the dress" we are saying YES to the sex toys!
This week we have a Form 4 from Good Vibrations.
Size: 3 1/4″ x 2″ at widest point (8.25cm x 5.08cm)
Material: silicone and stainless steel
Price: $145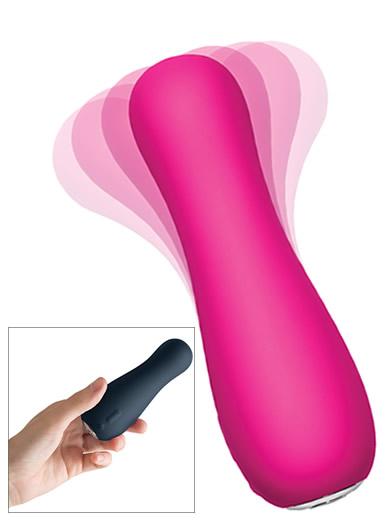 Description: Style and Strength strike a harmonious balance in the Form 4 Recharageble Vibrator by Jimmyjane. This innovative and versatile addition to their vibrator line features stainless steel and silicone construction, supple enough to adapt to the curve of your body for maximum comfort, yet firm enough to apply pressure exactly where you want it. The oversized motor powers the Form 4 through 4 vibration modes and 5 levels of intensity for maximum internal and external stimulation, while the high performance battery runs the Form 4 for up to 7 hours on just a 2 hour charge. The intuitive two-button controls make the Form 4 easy to use, and the completely waterproof design makes it the ideal companion for all of your sensual bath time encounters. With the Form 4 vibrator, powerful pleasure is in your hands.
Review: This is my new favorite thing. Not just my new favorite toy but actually my new favorite thing of everything. It's super soft and, most importantly, not phallic. The charging dock makes it seem less like a typical vibrator and more like a respected electronic device.
For external stimulation, the variety of speeds and rhythms is enough to keep you busy for a while. There are two buttons for speed — up and down, obviously — and one button nearer the bottom for rhythm. Even though I'd read the directions, I'd forgotten about the rhythm button until my partner switched it from 'constant' to 'slow build-up' (I'm making up these names as I go) and things got a lot more interesting. Once I'd used it a couple of times the controls became second-nature.
The different rhythm settings are reason enough to love the Form 4. Definitely.
Also once you've had a waterproof vibrator, you will never go back. It's waterproof. You can use it in the water. I really don't know what else you could ask for in a vibrating toy, besides maybe breakfast.
Disclaimer: All of the photographs on NSFW Sundays are taken from various tumblrs and do not belong to us. All are linked and credited to the best of our abilities in hopes of attracting more traffic to the tumblrs and photographers who have blessed us with this imagery. The inclusion of a photograph here should not be interpreted as an assertion of the model's gender identity or sexual orientation. If there is a photo included here that belongs to you and you want it removed, please email our tech director at cee [at] autostraddle dot com and it will be removed promptly, no questions asked.
---