This week we have a Form 4 from Good Vibrations.
Size: 3 1/4″ x 2″ at widest point (8.25cm x 5.08cm)
Material: silicone and stainless steel
Price: $145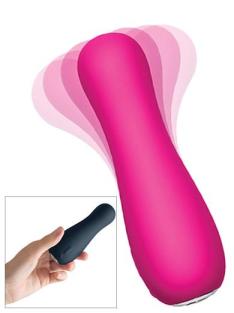 Description: Style and Strength strike a harmonious balance in the Form 4 Recharageble Vibrator by Jimmyjane. This innovative and versatile addition to their vibrator line features stainless steel and silicone construction, supple enough to adapt to the curve of your body for maximum comfort, yet firm enough to apply pressure exactly where you want it. The oversized motor powers the Form 4 through 4 vibration modes and 5 levels of intensity for maximum internal and external stimulation, while the high performance battery runs the Form 4 for up to 7 hours on just a 2 hour charge. The intuitive two-button controls make the Form 4 easy to use, and the completely waterproof design makes it the ideal companion for all of your sensual bath time encounters. With the Form 4 vibrator, powerful pleasure is in your hands.
Review: This is my new favorite thing. Not just my new favorite toy but actually my new favorite thing of everything. It's super soft and, most importantly, not phallic. The charging dock makes it seem less like a typical vibrator and more like a respected electronic device.
For external stimulation, the variety of speeds and rhythms is enough to keep you busy for a while. There are two buttons for speed — up and down, obviously — and one button nearer the bottom for rhythm. Even though I'd read the directions, I'd forgotten about the rhythm button until my partner switched it from 'constant' to 'slow build-up' (I'm making up these names as I go) and things got a lot more interesting. Once I'd used it a couple of times the controls became second-nature.
The different rhythm settings are reason enough to love the Form 4. Definitely.
Also once you've had a waterproof vibrator, you will never go back. It's waterproof. You can use it in the water. I really don't know what else you could ask for in a vibrating toy, besides maybe breakfast.
Disclaimer: All of the photographs on NSFW Sundays are taken from various tumblrs and do not belong to us. All are linked and credited to the best of our abilities in hopes of attracting more traffic to the tumblrs and photographers who have blessed us with this imagery. The inclusion of a photograph here should not be interpreted as an assertion of the model's gender identity or sexual orientation. If there is a photo included here that belongs to you and you want it removed, please email our tech director at cee [at] autostraddle dot com and it will be removed promptly, no questions asked.