Over the last few years, sex toy companies have asked us to review their toys in exchange for, you know, their toys. Today we're reviewing the Crave Vesper, available at Babeland.
---
If you've ever thought to yourself, "Well, golly gee! If only there were a subtle, flirty way to wear a sex toy around my neck," allow me to introduce you to the Vesper. This sleek, rechargeable, external vibrator is made of stainless steel. It comes in three different colors: silver ($69), rose gold/silver ($79), and 24k gold ($149) — oh, and you can wear it on a chain.
The whole vibrator-as-necklace thing might seem gimmicky, but the Vesper genuinely looks like a decent piece of androgynous jewelry. I'm a muscle-tees-for-all-occasions person, but I imagine this vibrator/necklace would pair well with a number of different outfits. Most importantly, it's subtle. I wore the silver Vesper out and about on multiple occasions, and to my knowledge, no one noticed that I was WEARING A LITERAL SEX TOY  — probably because it lacks the classic sex toy shape and its one and only button is fairly discreet. You can probably get away with wearing the Vesper just about anywhere, and if you're feeling flirty, you can quietly disclose its function to your date. That's some varsity-level foreplay, folks — get on it.
Now you know that the Vesper looks good, but you're probably wondering how it feels and functions. Trust that I THOROUGHLY and DILIGENTLY tested this toy so I can deliver my feedback to you. Let's start with the pros: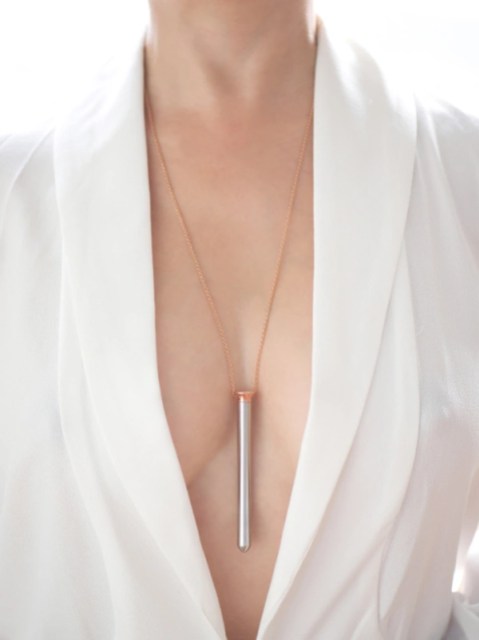 Pro #1 — Despite its size, the Vesper is powerful, so if you like intense, pin-pointed, clit stimulation or buzzy nipple torture, add this one to your cart. The Vesper can also keep you stimulated for a decent amount of time — the toy can operate for 40 minutes without dying. For a small vibrator, those are impressive specs.
Pro #2 — The Vesper offers three speeds and one pulse pattern that are all controlled by a single button, so this toy is a straightforward option for first-time users. I was actually quite impressed with the pulse option. I'm typically a single-speed dyke, but the Vesper's pulse pattern provided a perfect, slow build-up to an orgasm.
Pro #3 — The Vesper is easy to charge. Unlike most modern vibes with magnetic chargers, the Vesper's USB charger screws securely into the top of the toy, so you don't have to worry about knocking your toy off its charger at an inopportune moment.
Despite my compliments, I do have three cons:
#1 — The Crave website boasts that the Vesper is "whisper quiet." I hate to be the bearer of bad news, but this toy sounds less like a whisper and more like a tiny lawnmower under the covers. If you live with others and you're trying to be discreet about your masturbation habits, this might not be the best toy for you — unless you're willing to blast music or run a white noise machine while you do the deed.
#2 — After prolonged use, this toy can get pretty hot — and I don't mean "hot" as in "sexy;" I mean, "Ouch, my clit is burning!" Using the Vesper over my underwear resolved the clit-burning issue, but for folks who need direct vibrator-to-clit contact, the heat could present a bigger issue.
#3 — This toy is very slim, so it can be difficult to grip during use, especially if you're someone who deals with chronic hand pain or limited finger mobility.
In summary, if you like a lot of bells and whistles, this vibrator won't blow you away, but if you're looking for an intense, simple toy that doubles as a statement piece, the Vesper will be your best wingman.