NICKI MINAJ:
Maybe-bisexual Rapper Nicki Minaj graces the cover of OUT magazine this month, where she addresses the homophobia pervasive in hip-hop and declares her hopes to curb it, but does not address the relative likelihood that she'll ever want to f*ck and/or cuddle you, which is unfortunate because she's pretty awesome, redic talented and smokin' hot.
Once upon a time we thought Nicki Minaj was bisexual. Why did we think this? We're not sure. It just seemed true, like knowing that if you lick a pole in the wintertime that your tongue will be stuck there forever. Maybe because Andrea said so. Actually, we still think it's probably true, but not everyone was so convinced, like Jonah Weiner for Slate.com who earlier this year questioned the "unreliability" of her lyrics's narrative, claiming they vacillated wildly from homosexual to "no homo."
Then, in a May 2010 Details interview, she let this comment slide, which cemented our already-certain certainty that Nicki Minaj was indeed the openly bisexual rapper she's addressed as:

Q: As an openly bisexual rapper, do you think hip-hop is getting more gay-friendly?
A: I think the world is getting more gay-friendly, so hip-hop is too. But it's harder to imagine an openly gay male rapper being embraced. People view gay men as having no street credibility. But I think we'll see one in my lifetime.
Then in June she made us feel upside-down heart-shaped feelings (which is like a frown with a weird chin) when she went ahead and redacted her bisexuality to Black Men Magazine:
"I don't date women and I don't have sex with women…that's of course, until Cassie comes available ….."
Clutch Magazine's article on the bisexual woman in hip-hop sums up a long list of concerns about homophobia that pre-date even those problematic interviews. But now she's on the cover of a gay magazine! (Sidenote; people don't come out in gay magazines, that ruins the point. Except Sean Hayes, but he did so under protest. So don't get too excited.)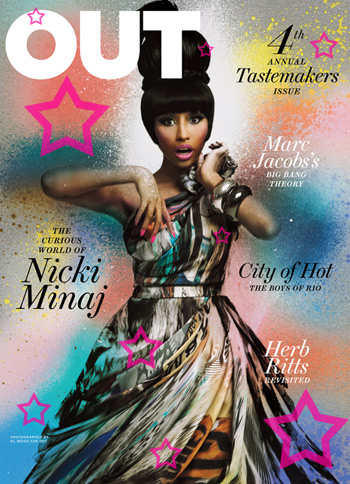 The intro:
"Minaj may or may not be attracted to women (more on that later), but she draws a fierce gay following with her brazen lyrics and outsize persona. Beneath her blunt-cut bangs lies a cunning mind capable of weaving sports metaphors and references to '80s sitcoms into complex rhymes about scoring with girls and blowing guys' minds. Lady Gaga's audience was primed to accept her as a sexually adventurous nonconformist by artists like Madonna and David Bowie, but in hip-hop, Nicki Minaj is a real space oddity."
+
The article cites how Minaj incorporates lesbian themes in her lyrics, like declaring "I only stop for pedestrians or a real, real bad lesbian" [notably absent: little old ladies with shopping carts]:
Minaj may have encouraged all the lady love with lyrics that imply she's sexually flexible — or at least curious. None of the famous female rappers rumored to be queer have dared utter the L word, but Minaj has used it repeatedly.
Howevs, Minaj doesn't wanna go there:
"People who like me — they'll listen to my music, and they'll know who I am. I just don't like that people want you to say what you are, who you are. I just am. I do what the fuck I want to do…The point is, everyone is not black and white. There are so many shades in the middle, and you've got to let people feel comfortable with saying what they want to say when they want to say it. I don't want to feel like I've got the gun pointed at my head and you're about to pull the trigger if I don't say what you want to hear. I just want to be me and do me."
That's the kind of thing we normally interpret as "homogay." But let's try to stop thinking about ourselves for a second, and think about Lil' Wayne, star of our favorite documentary of all time, The Carter Documentary, because Nicki Minaj will be touring with Wayne and expects a diverse audience:
"Normally, Wayne probably wouldn't have gay guys coming to see his shows much," she says, "but they're definitely a big part of my movement, and I hope they'd still come out and see me. I think that will be really, really interesting, just to start bridging that gap. We'll see."
You should read the whole article at OUT Magazine.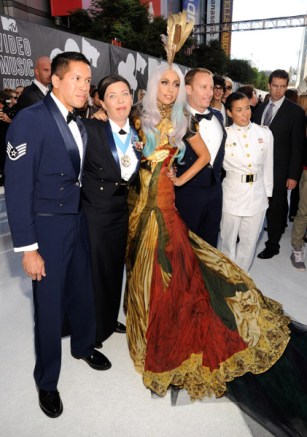 GAGA:
Speaking of queer celebrities using their fame to change things for gay people, there's been some controversy over Lady Gaga's political activism and alleged queerness. Yes, despite my passionate Gaga fanhood even I admit that lately I've sometimes cocked my head and wondered, "Really Lady Gaga?" But then I decide I don't really care — she's getting our issues "out there" and changing the public conversation wherein gay issues –  no matter how pressing they seem with respect to human rights – are percieved as "niche issues."
After bringing DADT discharges as her dates and mentioning gay rights in her speeches at the MTV VMAs, Yahoo noticed a change in its search traffic:
"After the [VMAs] aired, Web searches soared on everything from "lady gaga guests" to "what does SLDN stand for" (it stands for "Servicemembers Legal Defense Network"). The official site for SLDN has posted a message encouraging those who feel "Don't Ask, Don't Tell" should be repealed to call their representatives in Washington. Lady Gaga is an outspoken supporter of gay rights."
Today Lady Gaga and Senator Harry Reid exchanged tweets, which I'm guessing Phillip K. Dick predicted would happen one day: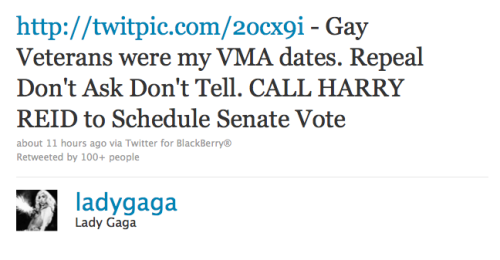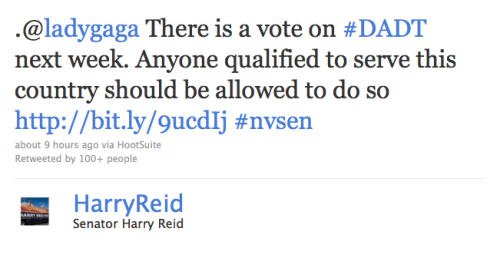 Lady Gaga has SEVEN MILLION followers, btw. Seven million people! The most recent estimate of the homogay U.S. population is slightly over ten million, so that's a solid number.
See what she did there, Lady Gaga? She just told a bunch of people about an issue that, for as much as we'd like to think otherwise here in our gay bubble of Tegan & Sara and gender theory debates, most people don't know about, much less care about.
With respect to both Minaj and Lady Gaga's stories today, it's important to remember that most people AREN'T gay, and most people don't care. So maybe we shouldn't underestimate the power of outspoken allies — just as young homos look to people like Ellen DeGeneres or Neil Patrick Harris or Wanda Sykes to make them feel confident about coming out as gay, there are lots of young strais who could use a Lady Gaga or Nicki Minaj to inspire them to stand up for gay rights, regardless of the speculation or critique that may follow.
If Nicki Minaj did come out bisexual, would people put the same pressure on her to "prove it" by dating girls as they do on Lady Gaga, accusing Gaga of "trotting out the tired bisexual card that seems to be the soup du jour of every female celeb lately"?
In our skeptical-of-bisexuals media climate, maybe the fact that Nicki Minaj doesn't want to assign herself a label and be subject to the judgments therein is not so much a reflection on Nicki as it is a reflection on how the media treats women who do agree to label themselves "bisexual." Perhaps that box isn't really any more comfortable than a dress made out of ribeye, you know?