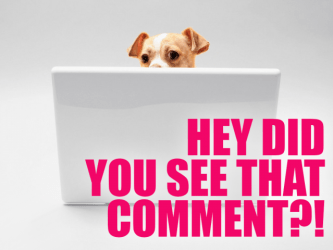 Hey chitlins, happy pre-winter! Have you gotten sick yet? I have not, but I have gotten vertigo. It's 3 parts hilarious and only one half part really obnoxious. In celebration of the season, we've brought you about a thousand gift guides this week including homemade gifts, hilarious gifts, secret santa gifts, and gifts for wearing. Crystal cooked a basil and tofu stir fry, Riese went to see The Muppets movie, and Lizz dressed you off your floor. We were really into numbers this week so we had 14 people you sit next to on a plane, top 10 viral videos about gay marraiges, 13 movies starring cereal mascots, 10 ways to eat citric acid, a lot of things about law and crimes. Riese told you what reality tv does to girls, Crystal gave us an exclusive Holly Miranda cover, in honor of Santana's episode of Glee sucking, we had a nice little girl-kissing playlist, and last but most don't forget to check out the season finale of Unicorn Plan-It.
And now the group of the week with Brianna:
Hello. Happy Friday. Here is a comic that makes me think of AS.
The perfect group for those of you who, like me, are too dumb to understand the xkcd comics and need to find someone to explain them. Just kidding, this is about all the webcomics. Even the ones that aren't about math.
---
On Get Baked: Basil and Tofu Stir Fry:
The And Flannel Award to dizzy: "You know, we queer ladies have a reputation for loving to get offended over everything and anything, but getting offended over TOFU? I'm not sure whether to hand you a Lesbian Award for Extreme Lesbianness, or just a chill pill. Maybe both."
On GetUp! Australia's Ad Is the Cutest Thing to Happen to Gay Marriage Since Ellen and Portia:
The Fourth Wall Award to apple juice: "wow i really got into the role play element of that ad. now i'm crying because it seems like some guy just stole my boyfriend."
On 10 Best Ways To Throw a Citric Acid Party In Your Mouth:
The We Love Weirdos Award to pip and SC: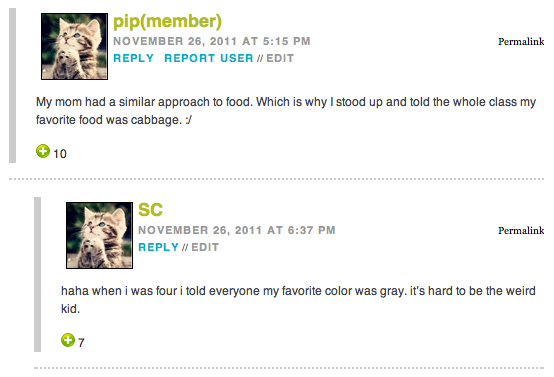 The And It Was Close Enough Award to Steph: "One time I had a horrible allergic reaction and mu gums swelled up and covered my teeth and were soooo sore that I couldn't even eat anything. After about three days of not eating, I had a massive craving for tomato soup, but the citric acid in it burned my gums so much it made me cry.
So, eventually I figured out that if I sucked up the soup in a syringe and squirted it directly down my throat without letting it touch my gums, I could eat it! Best discovery ever.
I hope deepthroating that syringe of soup is the closest I will ever get to giving a blowjob."
On It's Time For Hey! Did You See That Comment? Friday:
The THIS Is Meta Award to riese: "this is meta"
On Listicle Without Commentary: Fourteen People You Sit Next to On Airplanes:
The When Real Life Turns into a Sitcom Award to B\'alam : "I cried on BART once because I had to get away from my girlfriend of the time who was being an asshole and wanted to go out to dinner even though my uncle just died. But no one cares if you cry on BART. I once saw a homeless man make it rain over and over with 5 singles then snort lines of crack from the cloth seats. So, there's other focuses for attention on the train."
The Details, Please Award to Mindy: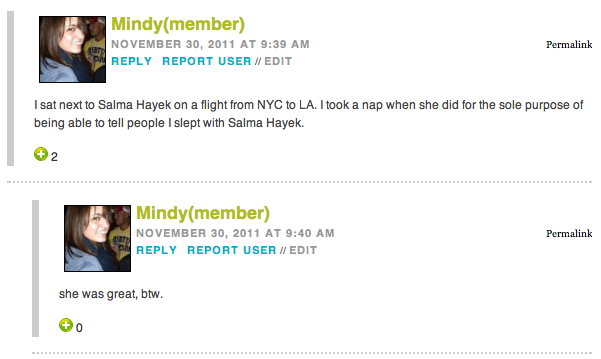 On Secret Santa 101: The Art of Anonymous Gifting:
The Winner. Award to Bra: "Office Gift Horror Story:
My dumbass waited to the last minute to buy all the people (I know) gifts and I had a girlfriend too (good times)! So all the gifts I bought where boxed shaped for easy gift wrapping because I actually enjoyed wrapping gifts.
I bought gifts from various places such as Spencer's, a local porn shop and a cool craft store. The porn shop gift was a cute beginner portable S&M kit and the craft gift was to make your own label/scrapbook set (I bought two since it was awesome) were about the same size and weight and I forgot to use different gift wrap because I was being cheap and yeah.
Ahhh the fun part: I mixed the two gifts up and gave the porn gift to my co-worker and the scrapbook/label set to my ex-gf. My ex-gf LOVED her gift since she has so many pictures to make all kinds of scrapbooks with and she was really happy.
My co-worker…I can't even right now, opened the gift in front of a large group of people and the reaction was priceless but horrifying because he was a father of 3 kids and loved Jesus, amen? Amen.
My saving grace was that we did not put the name of the giver but I had a feeling everyone knew it was me or the manager of the HR department which we (well me) felt was a freak in the sheets. Also. also. ALSO, as horrified he was receiving the gift, he didn't throw it in away! Plus office gossip a couple days later some people saw "S&M" like marks and bruises on his wrists *side eye* I think people were making shit up and he probably did throw it away I don't know.
AS peeps, secret Santa scarred me for life and I put my gifts in gift bags, I don't wrap anymore. I just can't anymore. People find this story funny because it is but I need to know that I am not alone in giving people *extremely* inappropriate gifts by mistake."
On Playlist: I Kissed a Gay Girl and I Loved It:
The Is This Real Life? Award to Jules: "Just looking at this playlist makes me blush. Um, one time I wandered into some Alaskan woods and stumbled upon a short-haired woman in plaid playing acoustic guitar and singing a song about bathing in Canadian rivers with other ladies and never shaving or caring about men, and some characters named Betty and Sue who were into dancing together. Then she winked at me and my grandmother was like, "…". That song should be on the playlist."