It's no secret that I'm not a huge fan of (most) reality television and probably unsurprising that I reinforce my hatred by obsessively reading all the critical Reality TV-related studies, articles, and books I can find. I'm especially passionate on the topic right now as I've just finished reading Reality TV Bites Back: The Troubling Truth About Guilty Pleasure TV, by Jennifer Pozner. I admit at times I felt her criticism went a tad overboard — apparently there's just no way to photograph a woman on ANTM that isn't offensive — but in general I loved the book, it added like 18,000 gallons of fuel to my fire.
And then, due to the mystical convergence of the all-knowing universe and its wily ways, just last month a new study from The Girl Scout Research Institute found that female Reality TV viewers "accept and expect a higher level of drama, aggression, and bullying in their own lives, and measure their worth primarily by their physical appearance."
72% of Reality TV watchers vs. 42% of non-viewers say they care more about and spend a lot of time on their physical appearance.
Furthermore, Reality TV watchers are more likely than non-watchers to believe that:
+ "Gossiping is a normal part of a relationship between girls" (78% vs 54%)
+ "Girls often have to compete for a guy's attention" (74% vs 63%)
+ "Girls are happier when they have a boyfriend or significant other" (49% vs 28%).
This is bleak, my friends. This is very bleak.
Once upon a time it wasn't always like this — and by "this" I mean reality television dominating primetime network and cable schedules. It's easy to forget that for a lot of kids growing up right now, it has always been like this. Reality TV isn't a thing they got into or they didn't, it was a thing that was always there, right from the start.  This is a big problem, because reality TV is establishing new standards of interpersonal behavior that are, at best, psychotic, and at worst, insidiously abhorrent, self-obsessed, consumerist, racist, homophobic and misogynistic.
How did we get here? Well, there are missteps at every stage of reality television show development. Let's take a journey together.
+
The Problem Starts With Casting
As more and more reality shows pop up, there are more and more opportunities not just to watch them, but to be IN them, or perhaps more importantly — to aspire to be in them. What was once a bizarre novelty is now, apparently, an increasingly viable and often strategically sound option for people "needing" makeovers, modeling contracts, husbands, new window treatments, a career boost, a million dollars, or, perhaps most frequently — attention.
We used to dream of pounding the pavement and getting discovered like we were all in Fame or something. Do kids now dream of lining up for ten hours in winter with 5,000 other hopefuls to maybe earn a trip to Hollywood wherein they'll become Ford Focus spokespeople stripped of their individuality in favor of mainstream makeovers and ridiculed nightly on national television by Simon Cowell — all for the chance of winning a record contract with the label responsible for the lackluster careers of Kris Allen, Ruben Studdard, and that gray-haired guy? My pre-teen self would've lined up to be in a reality show in a heartbeat, whereas my present self would rather sit on a knife. Back then, I was constantly begging my Mom to take me to Mickey Mouse Club auditions.
But the benefits of appearing on a reality TV show vary dramatically, and for all the cast members who make careers out of their appearances, many other cast members practically make careers out of post-show image rehabilitation. On-air stipends generally run a few thousand for a season, but I've also heard estimates of $300-$750 a week (the latter for a show that required participants to leave their jobs). Afterwards, it's a bit of a crapshoot whether or not you'll be able to transition your fame into more fame. The fact that Tyra Banks has never produced a Top Model and The Bachelor has never led to a successful marriage doesn't seem to bother the viewers. The giant media conglomerates help here by booking reality personalities on talk shows and putting them on magazine covers owned by the same parent company — it's easy to create an illusion of popularity that simply isn't reflected on the ground.
If you've not taken a look at this standard example of a reality TV contract, you should. The fine for breaking the contract, which includes revealing "trade secrets" (for example: telling anyone that the show was scripted, that you felt manipulated/coerced/mistreated by the show, or that episodes were edited deceptively) is one million dollars, which is how many shows can get away with being exploitative or even inhumane — the repercussions are too severe for any cast member to dare complain that they were misrepresented or that the show was loosely scripted.
Some key elements of the contract:
How does this affect the viewer? Well, we can't expect the viewer to come up with more respect for the show's subjects than the producers have themselves. In an interview published in now-defunct Radar Magazine in 2005 called "Rewriting Reality,"  Reality TV writer Todd Sharp confessed, "…the one instance when I was on the set and the cast found out I was the story person, I did have trouble talking to them face to face knowing I was going to go back and manipulate them. I didn't like it."
Taking a reality TV show at face value is taking a world where micro-fame is more important than literally everything else in the world — friends, family, money, health, FREE WILL — at face value. That's a really fucked up face.
+
The Problem Multiplies Itself During Production
From that same issue of Radar Magazine we have an article entitled "The Cult of Tyra," in which two cult experts dissect and explain the inner workings of America's Next Top Model (similar techniques are used on other competition shows involving celebrity judges.)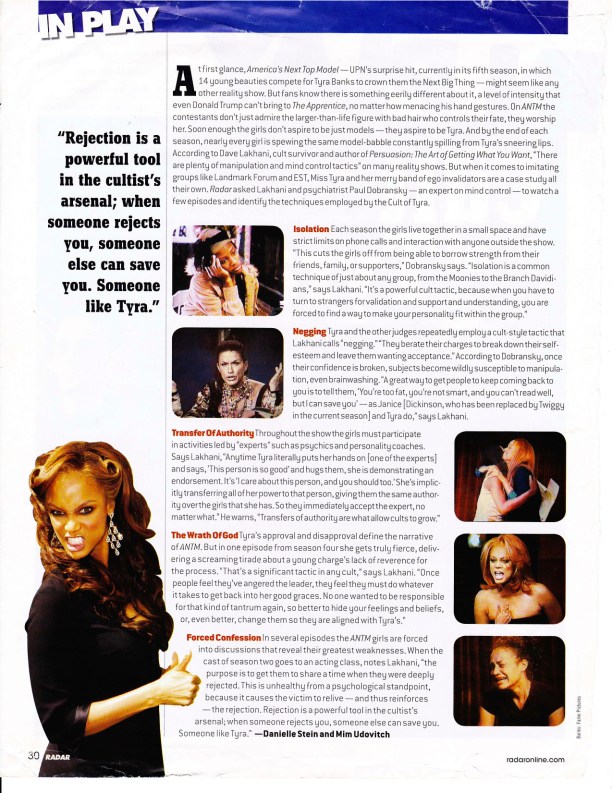 The aforementioned "Rewriting Reality" interview with five Reality TV writers illuminates some classic (and familiar) production "tricks": subjects are aggressively baited or lied to in interviews to provoke specific reactions, subjects are plied with alcohol, "frankenbyting" is used to piece together sentences from multiple tapes of actual dialogue therefore putting words in their subject's mouths, and situations are set up or re-enacted and passed off as organic.
Regardless, as Pozner illustrates in her book, the most important element of any Reality TV show is always its relationship to advertisers and to larger corporate media conglomerates. Despite shorting its cast members, networks reap millions from advertisers for product placement — The Apprentice has gotten up to $2.6 million per episode for incorporating brands like GM, Burger King and Crest Whitestrips. Back in 2005, Promo Mag reported that reality TV had fueled a 30% jump in television product placement from the year before. Advertising Age noted that Mark Burnett "envision[ed] 'Survivor' as a commercial vehicle as much as a TV drama." Many reality shows are completely funded by advertisers, including clients of industry heavyweight Magna, an entertainment development wing of media heavyweight Interpublic which is "dedicated to the creation of original television programming that is funded by and serves the needs of Interpublic's clients" like Mitsubishi, Coors and American Express.
In a 2005 Writers Guild of America report on the pressure to incorporate product placement into their scripts without being compensated as copywriters, they place a special emphasis on reality TV: 
"The concept of content-commerce alliances coincided happily with the rise of reality TV (think Joe Millionaire or The Bachelorette), a genre that seemed ready-made for such tie-ins and can be credited with providing an instant, high-profile platform for such deals." Furthermore, "reality shows have been the new frontier where long-held content standards and practices no longer apply."
+
The Problem is Now a Show
So we've got an inherently problematic premise — an exploited cast, a deceptive production process, crucial stealth advertising, et al. What happens when this show is then aired and passed off as "real life"?
In 2010, Sarah Coyne, a psychologist at Brigham Young University, found that reality tv shows (e.g., The Apprentice, Big Brother) featured more verbal, physical and relational aggression and showcased more acts of aggression per hour than fictional shows (e.g, ER, Torchwood). She also found that both types of programming tended to show females as relational, verbal and physical aggressors more often than males. This clashes strongly with real-life behavior: "Real research shows that boys are just as likely as girls to be relationally aggressive. These TV shows are kind of perpetuating stereotypes."
Reality TV's fallback plot point is always backstabbing and gossiping — even when it's not a competition show, tension revolves around conflicts between women who will do anything to get what they want. As fourfour so accurately spoofs, nobody is there to make friends. In real life, we theoretically should all be here to make friends, or at least to be open to making friends. It's a fundamental life approach that's constantly undermined by the catty Real Housewives or the Alliance-Builders of Survivor. Evaluate, degrade, attack. Over and over and over.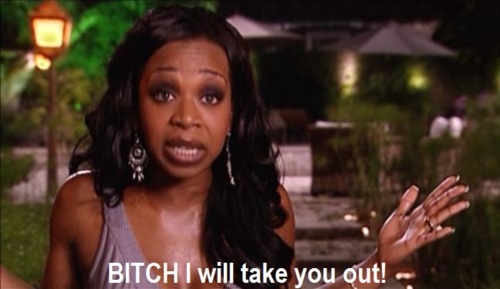 This is especially insidious when it comes to women and people of color. Pozner writes that these shows "are very intentionally cast, edited, and framed to amplify regressive values around gender, race, and class, underscore advertisers' desire to get us to think less and buy more, and create a version of "reality" that erases any trace of the advances made during the women's rights, civil rights and gay rights movements."
What This Means For Girls:
"Brilliant from a business standpoint, this model has serious implications for programming, and for our culture,"  says Jennifer Pozner. Advertising aims to "deprive us of realistic ideas about love, sex, beauty, health, money, work, and life itself, in an attempt to convince us that only products can bring us true joy. Its practitioners are trained in psychology, sociology, argumentation, poetry, and design. These are powerful tools in the art of persuasion, more so when deployed by a multibillion-dollar industry." Pozner doesn't think the timing of this is a coincidence:
"Reality TV producers are diametrically opposed to women's liberation, portraying the female population as ditzy and inept workers, wives and mothers…. reality TV isn't simply reflecting anachronistic social biases, it's resurrecting them. The genre has done what the most ardent fundamentalists have never been able to acheive: They've created a universe in which women not only have no real choices, they don't even want any."
Miss Representation 8 min. Trailer 8/23/11 from Miss Representation on Vimeo.
If reality TV makes you feel bad about your appearance, competitive with other women, and feel that you need to be in a relationship — then you're perfectly susceptible to these embedded messages from advertisers!
So when The Girl Scout Research Group says it has some "positive" statistics, too, and one of them is that 68 percent of viewers say that reality TV shows "make me think I can achieve anything in life," I cringe. See the thing is that you actually CAN'T achieve anything in life (as the We Are The 99% movement attests, this country is not a meritocracy after all), and in these programs "achievement" is framed in strictly material terms, except when it's framed in terms of "getting a husband." And while the rags-to-riches stories peddled on many competition shows may inspire some, they shouldn't, really: in exchange for the riches, these contestants literally sign away their rights to their own life and become the property of a studio which is the property of one of the larger media conglomerates. A deal with the devil, so to speak. Furthermore, when the cameras go off, things get less shiny — like it has for contestants on Extreme Home Makeover who find themselves swamped in bills related to their new homes that they're unable to pay.
Another "positive" statistic is that "75 percent say reality TV depicts people from different backgrounds/belief systems," I wonder how true that still is when those backgrounds/beliefs are either subsumed by the typical Reality TV trappings of drunken sex (which is ultimately just boring) or just churned out to reinforce the same stereotypical norms we've been digesting since television was invented. This applies to race, gender, class and sexual orientation.
I'll end by saying that I kept wondering throughout what Pozner would've thought of The Real L Word if it had come out before her book was published. Honestly, despite the fact that I truly do hate that show, most of what Pozner criticizes is absent from The Real L Word. Lesbianism quickly eliminates a host of damaging heterosexual tropes, class issues aren't invoked to create conflict, catfights are rare and most disputes are eventually reconciled. You don't see any post-show bitchiness; all any cast member will say about the other is that she's a "great girl." Even product placement is minimal.
So what does that mean? I think it means that the worst woman in the whole entire world can make a more lady-friendly reality TV show than any man in the business. And we all know what this is, right?