+ Power Lezbians: Sarah Gilbert and Linda Perry are dating! Previously Gilbert was in a ten-year relationship with Alison Adler and Linda Perry had dated L Word actress Clementine Ford, who is also the daughter of Cybill Shepard.
+ Nigeria: Nigeria voted today to penalize same-sex couples with up to 14 years in jail for marrying, while at the same time David Cameron has said that he plans to withhold aid from countries that do not recognize gay rights. According to The Box Turtle Bulletin, the Nigeria bill also makes it illegal to register gay clubs or organizations and criminalizes the "public show of same-sex amorous relationships directly or indirectly."
+ In gay marriage news, President of the Center for Marriage Policy, David Usher's newest argument against marriage equality is that it would lead to"feminist marriage." In Vermont, Beth Robinson, a "champion" of the state's gay marriage law, has been sworn in to the Vermont Supreme Court as their first openly-gay justice.  Mitt Romney has signed a campaign pledge created by NOM which commits him to fight for a federal constitutional amendment defining marriage as between one man and one woman, and to appoint federal judges who share that view. And Maine's campaign for marriage equality is incredibly moving, like this video explaining that "Your Lesbian Daughter Is the Same Person You Loved Yesterday:"
+ Barney Frank: Barney Frank arrived in the house in 1981, but he won't run for re-election this year after 16 terms in office. The 71-year-old said he's "tired of the scorching partisan battles that did not exist when he first won office three decades ago" and "tired of campaigning, which he detests." Furthermore: "By the end of next year, I will have been doing this for 45 years with one six-month sabbatical. It's been a privilege to fight for the quality of people's lives, but I'm ready to put a little more quality into my own life."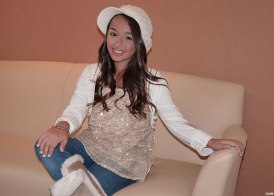 + Fox News: SURPRISE! Watching FOX News actually makes you less informed than watching nothing.
+ Japan: One in four Japanese women in her 30s hasn't had sex, a new study reports. Furthermore, 61% of unmarried adult dudes lack a girlfriend and half the adult women lack a boyfriend or husband. 45% of these single adults don't want a girlfriend/boyfriend, spouse anyhow.
+ Trans: The Oprah Winfrey Network premiered a new documentary following an 11-year old transgender girl. I Am Jazz: A Family in Transition stars Jazz and her three siblings, friends and parents,"as they navigate the world with a gender-variant kid and grapple with the possibility of hormone blocking therapy as she reaches puberty."
+  Obama: In Obama news, "President Obama upped his nerdy dad cred considerably when he took Sasha and Malia shopping at a local independent bookstore," and changes in the way President Obama is mentioned in rap lyrics reflects a shift from hope to disillusionment.
+ Sandusky: One of Jerry Sandusky's alleged victims, now 17 years old, has been forced to leave his high school under the pressure of bullies who blamed him for Joe Paterno's firing. Tyler Perry has composed an "open letter to Penn State 11-year-old" commending him for speaking out and letting him know he's a survivor and he's not alone. A woman who discovered her husband was a leader of NAMBLA (North American Man-Boy Love Association, a pedophile group) six years ago explains what might be going on with Sandusky's wife.
+ Pakistan: Pakistan's national government had planned to ban some words, including "gay" and "lesbian" from being included in text messages, but have put the plan on hold after a major outcry.
+ South Africa: Four men convicted of murdering Zoliswa Nkonyana, a lesbian, outside of Cape Town were found guilty of the crime, but their sentencing is being pushed back until after Christmas. The case has been postponed more than 40 times.
+ Spain: The Popular Party, which intends to repeal same-sex marriage rights in Spain, won the election last week. But one couple staged a sexy protest:

+ TI told VIBE magazine that gay people are too sensitive and defended Tracy Morgan. In response to backlash over that statement, TI has refined his point to clarify that he doesn't mind discourse around these issues as long as it stays respectful. Furthermore he thinks that gay people aren't the only ones who need to lighten up – "It's not just about gays. I [also] think that African-American groups sometimes take things just a tad too seriously."
Also: "The Constitution affords us the right to speak out peacefully and respectfully in opposition of any point…I believe you have the right to do whatever it is that makes you happy in life as long as you're not hurting anybody else… I'm not against gay marriage." 
+ A new study shows that even when faced with hard facts those ignorant of energy, economic, and environmental issues choose to remain so.
+ You can probably relate to these ten myths about introverts.
+ Some gay people are boycotting the Salvation Army's Red Kettle campaign.
+ T Cooper, acclaimed FTM novelist, publishes essays with OUT.
+ Sebastian Flowers, a trans-identified dogwalker and DJ, is making Queer Brown Porn.
+ DADT: The military totally loves gay people now.
+ Occupy: An action organized around the International Day for the Elimination of Violence Against Women addressed issues of sexism often missing with the Occupy movement.