The legislature in St. Petersburg, Russia is pursuing a controversial new bill introduced by the United Russia party nicknamed the "gay propaganda" law.  If passed, the law would call for a penalty on activities that "promote sodomy, lesbianism, bisexuality and transsexuality." Anyone found disobeying the order could be eligible for a fine of up to 5,000 rubles, and organizations could face fines up to 50,000 rubles.
In theory, the law's purpose is to "protect minors" from "propaganda" around homosexuality; however, since the bill's language doesn't get much more specific than the idea of "promotion," there's widespread concern that it could come to apply to anything and everything from pride parades (which were already banned in Moscow this year, propaganda bill or no) to wearing rainbows or queer iconography. Perhaps most offensively, the same bill contains language banning "propaganda" promoting pedophilia, essentially equating the two.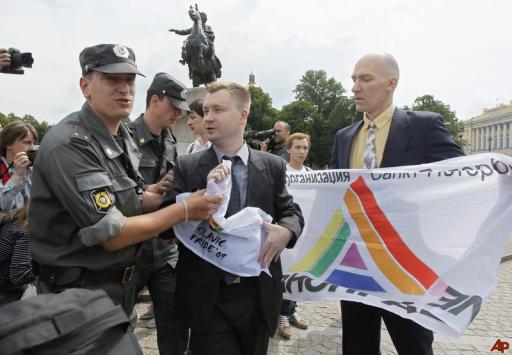 The bill has already had the first of three readings it will undergo, in which it passed 37-1. It will come up for a second reading and vote tomorrow, November 30. Human rights groups worldwide are denouncing the St. Petersburg legislature for creating a law that essentially exists only to ensure that Russia's LGBT community remains invisible and unheard, while simultaneously painting them as a danger to children. The Europe and Central Asia director at the Human Rights Watch said:
This bill is a blatant attack on freedom of expression and a thinly disguised attempt to silence Russia's LGBT community. The effort to have this law adopted in St. Petersburg, known as Russia's northern capital, is a test case for those who want to entrench discrimination against the LGBT community throughout the country.
The UK Foreign Office has called the proposed law "wrong," noting that it violates the guarantee of non-discrimination in the European Convention on Human Rights, and also that "the idea that children need protecting from 'gay propaganda' is… mistaken." Authorities in the UK also put together an initiative in which 12 European countries have sent letters of condemnation to St. Petersburg. In addition to their statement issued months ago after Moscow Pride was banned, the State Department has spoken out against the 'gay propaganda' bill: "The United States places great importance on combating discrimination against the LGBT community and all minority groups… Gay rights are human rights and human rights are gay rights."
Russian politicians, however, seem to resent attempts from the West to comment on their legislation. Konstantin Dolgov, the Russian Foreign Ministry's Commissioner for Human Rights, Democracy and the Rule of Law, was quoted as saying:
We are perplexed by the American side's attempts to interfere in the legislative process in Russia, especially publicly. We consider these attempts inappropriate and inconsistent with the practice of interstate relations.
Furthermore, Dolgov doesn't seem to see the law as at all discriminatory, noting that "all Russian citizens – despite their race, gender, religious and other beliefs – are guaranteed rights protection by the state."
Even without any commentary from Europe, the UK or the US, however, Russian activists are obviously incensed and threatened by the bill. Nikolai Alexeyev of GayRussia.ru called the law a "disgrace," saying that it "theoretically allows the ban of anything anywhere where kids could be present." The second reading of the bill was temporarily delayed and moved to the 30th, but the third reading is still continuing as scheduled.
Russia's LGBT community has always been struggling against oppression and repression from the state; even before now, when Alexeyev and his organization have attempted to hold rallies or events, they've found themselves opposed by "riot police and activists with Russia's dominant Orthodox Church and pro-Kremlin youth movements." The European Court of Human Rights found Russia in violation of the freedom of assembly in 2010 for banning a gay pride parade. Being punished for agitating for greater freedom and rights is nothing new for Russia's gay community, but if this bill passes, this might be the first time it's provided for by the law.
AllOut and Change.org are both hosting online petitions for the international LGBT community to voice their disappointment in the Russian legislature for pursuing such an unconscionable agenda against their queer citizens.