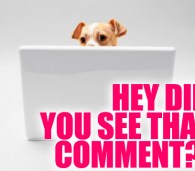 Happy Friday, nerds! I started school this week and boy am I glad to see the weekend. You know what I had to read besides the first chapter of 4 different books? Your comments! It was a good time, so let's get started.
This week A.J Conroy talked about feminism, and Fit for a Femme showed you just how stylish San Francisco can be. Half the time I'm confused about these tech posts but this title tells me that Star Trek wasn't gay and you have feelings about it, Laneia worked really hard and reviewed Tao Lin's latest novel "Richard Yates", and Corey interviewed Florence and the Machine.
---
On Listicle Without Commentary: Reactions to a Photograph of Rachel Maddow & Ira Glass:
The Ira Glass & Rachel Maddow Can Do No Wrong Award to J-Elizabeth:
They even go shopping together and buy the same pair of jeans!! This is wonderful!!.
On NSFW Lesbosexy Sunday: Thrill Me, Kill Me, Scissor Me, 69 Me, Kiss Me:
The Lost My Marbles Award to wepa:
My main thought-feeling is I want to watch that South Park episode.
I think my sex drive ran away because it felt bored and neglected. If someone sees it frolicking around let me know. I don't want it back just yet, but I do need to know it's safe and happy.
The I Never Want To Know What Penis Fencing Is Award to southpaw: i went to that wikipedia page on tribadism and somehow ended up clicking a page about penis fencing, idk but i hope you guys are ready to take responsibility for my browsing history now
The Is Pink Eye A New STI? Award to multiplecats: i've 69′d twice, but both times i was terrified of getting farted on. or of farting. and giving/getting pink eye. and having a staring contest with the stink eye when i'm supposed to be having fun. and that was enough for me.
On Your Friendly Neighborhood Lesbian One-Ups NYT's "Style Tribes of San Francisco":
The Award For Looking Cute While On A Date to cosmogonic: These amazingly cute people just made me stop being mad at my closet and start thinking about outfit remixes. THANK YOU AUTOSTRADDLE FOR SAVING ME MONEY I DIDN'T ACTUALLY HAVE TO SPEND. I'll probably take a girl out to a movie instead or something.
On Top Ten Most Gayest Jobs: A Labor Day Special!:
The Omfg Hot Award to Katy:
I'm working as a carpenter/construction worker. I'm super bad ass. I've only been doing it for like 2 1/2 months, but it has made me feel super, super butch. Like today, I cut the sleeves off of my t-shirt and demolished a carport/roof with my sledge hammer.
The They Didn't Think Of This When They Implemented DADT Award to jog:
i think i have the gayest job in the military. i load missiles and bombs on fighter jets. i work with lube, have my own toolbox and it's a necessity to wear a tool belt. it's like they're asking lesbians to sign up!
On Gay Me Up, Scotty: How Star Trek Failed To Boldly Go There:
The I Think This Might Be Funny But I've Never Seen Star Trek Award to Stace, doctormccoy: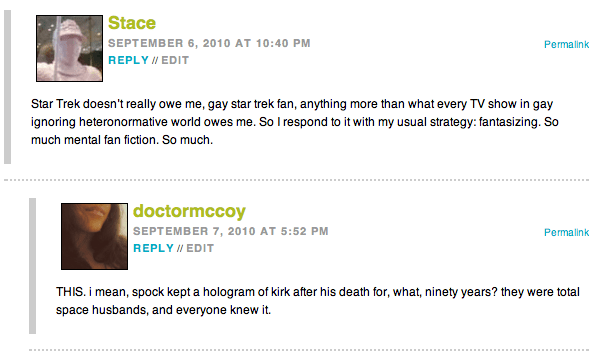 On Lady Gaga Wants to Gay Marry Her Fans, Therefore Must Be "Manic":
The Scissoring: Not Just For Your Hair Award to nosidam:
Is shear exhaustion what happens after too much scissoring?
On California Here We Come: Taylor and Kelsey's Winged Migration to San Francisco, Part 1:
The Exit To Eternal Summer Slacking Award to Meg Duffy, TSwizzle:

On Good News, Ladies: You Can Be Good At Math, Bad At Feelings:
The bcw Award for bcw to bcw:
I'll comment as soon as I stop crying.
On Lady Gaga Covers Vogue Hommes Japan in Male Drag, Is Sexier Than Danny Zuko:
The, Award for Best, Grammar and Use, of Apostrophe's to Rawrosaur:
I, humbly, submit that the only thing that could, be worse than, the misused, and abused, apostrophe, is the overused comma.
On Apparently Everyone Just F*cking Loves Us Now:
The Award for "Waiting for Mr. Right" to Bri: