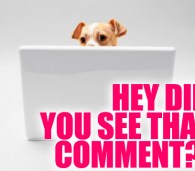 It's lesbian spring break week! Are you at Dinah Shore? We are! Actually, that's a joke. A lot of Autostraddle is there, but I'm not because Sarah wanted to wear a wedding dress to the white party, and there wasn't enough room in her suitcase for me to stow away. Speaking of The Dinah (do people really call it this? cringecity), check out our live blog!
Other things happened this week, too. Taylor asked why the gays are always the geeks, Alex provided a cartoon recap of a night in Las Vegas, and Brooke meant business with Curve Founder France Stevens. Dani Campbell talked to Pam Grier and Rea Carey and we reflected on Tegan and Sara's cuteness. Jess interviewed Orianthi and Crystal, Riese, and Sarah gave you world's best song breakdown of Lindsay Lohan's "Stuck". (I just typed "snog breakdown" which sounds fun, too.) Alex and Riese cracked the coming out code, and on April 1 we figured out everyone is gay. We talked to Leah on I'll Have What She's Wearing, and Rachel reviewed Heavy Rain. Alright, that was a mouthful, and so was your mom!

On Lady Gaga's Birthday, SamRo's @-Reply, UK's Gay Wedding, Math & Amanda Seyfried Naked:
The Sartorialist Award to Niklas: "If only Chris Bryant and his partner had read EquallyWed, which explicitly warns against matching ties, they could have looked even better. Oh well, congratulations!"
The Nerd > Gay Award to Lucia: "OH NO WAY I looked at that photo when gaga posted it, and I swear I only saw the teacup. Did not notice nudity. This shows how much I like tea."
On Reflection of Tegan and Sara's Cuteness:
The For Shame Un-Award to dose: "The only good thing about this duo is their art director and marketing team. They make questionable music (with poor critic ratings and reviews). They are gimmick after gimmick (think "Lesbian Twins"). But you know, they're really happy to take your money, so keep spending it on branded shirts and tote bags that will cause Real Lesbian Hipsters to laugh at you when you use/wear them. Thanks, and have a nice day."
The No One Knows How To Say Palahniuk Anyway Award to JentheJew: "The first rule of hipster club is no one talks about hipster club!"
On Feminists Are Out Best Hope for Change:
The Me Too award to Lucia: "I think that feminists are probably our best hope for everything."
On Adam Lambert Headlines GLAAD Awards:
The Genesis Award to birobot: "Tila Tequila's outfit makes her look like she's wearing a skirt from the Garden of Eden. Had Eve been wearing that, her getting thrown out would've made a LOT more sense."
On Everyone is Gay, Study Finds: That Includes Your Mom BTW:
The Caveman Award to gena: "ms word attachments! people i work with send me word attachments all the time. they also FAX me things. so I don't know what year/century/world they think this is exactly, but I don't like it."
The Montage of Learning Award to JentheJew and Wasteunit:
The lifetime inspiration award to LtFlippy: I was at a cast party a couple years ago, and there was this awkward girl…she was ridiculously high apparently, and she was sneaking around the house with a label maker making labels that said "EVERYONE IS GAY EVERYONE IS GAY EVERYONE IS"
She continues to inspire me to this day.
The bcw award for bcw to bcw: