Orianthi Panagaris, better known by Orianthi, picked up the guitar at age 6 and hasn't put it down since. At 24-years-old, this Australian singer-songwriter and guitarist extraordinaire is proving she can do it all.
She's battled axes with the best of them, including Carlos Santana and Steve Vai. She was chosen by the King of Pop himself to play lead guitar on his comeback world tour. And she's written a hit song, "According To You," which has reached No. 3 on the U.S. pop charts. Now, to the delight of lesbians everywhere, she's bringing her smokin' hot skills to Dinah Shore 2010, playing at GirlBar's Splash Pool Party.
I first encountered Orianthi after Crystal gushed about her in the Audiostraddle Weekly. After watching her shred it up with guitar legend Steve Vai on "Highly Strung," I was hooked. Despite her incredible musicianship, it's her ability to fluidly between genres that is most impressive. Her dexterity on the fretboard has won the respect of guitar nerds across the globe, while her catchy pop melodies have earned her commercial success.
+
Last Thursday, I spoke to Orianthi about her extensive music resumé. Though our conversation occasionally wandered into the realms of guitar geekery, we talked about her steady rise to fame and what's in store for her in the future. I might've gotten a little too excited about our mutual love of Go West's "King Of Wishful Thinking," but she was a joy to interview and has further solidified my opinion that all Australians (including our Music Editor, Crystal, but excluding Party Boy) are exceedingly polite.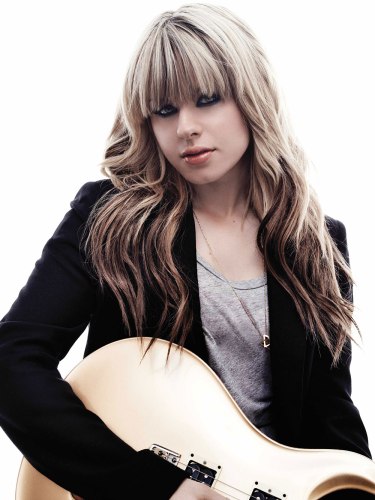 Jess: Let's start with background – when did you pick up guitar and what music inspired you to practice more?
Orianthi: I picked up the guitar when I was around 6 and my dad had it around the home. And I decided to get strumming initially. He taught me how to play a few chords. I listened to Elvis records, Roy Orbison, The Beatles. I really got into that. Then my dad took me to one of his friends who was actually a guitar teacher and I learned from him. I studied classical when I was 10 then moved on to electrical when I was 11 after attending a Santana show in Adelaide.
Jess: When did you start to sing? Was that just a progression of being a songwriter?
Orianthi: I actually started singing at the same time I started strumming, I was writing songs and singing along to Elvis.
Jess: The age old question: being a female guitarist you're obviously a minority. Have you felt support from fellow women in music, and have you tried to support other female musicians with your own band?
Orianthi: Yeah, totally. I hope to inspire more girls to play guitar or who had already picked it up to keep at it. It wasn't easy for me playing guitar at school because it was kind of a guys thing, and I just think it's so important to believe in yourself and I really look up to Jennifer Batten and Bonnie Raitt — they're awesome.
Jess: Not many musicians can count Steve Vai and Carlos Santana as their mentors and biggest fans. How did it feel, your first professional gig being the support act for Steve Vai?
Orianthi: That was just crazy. I was only 15 and it was in Adelaide, Australia. I remember being so nervous being their support, and then seeing Steve play. He's this incredible player. He's kept in contact with me since then and been a huge supporter of mine. Then Santana came in contact with me – when I was 18 we jammed together at his concert, and he took the DVD to Paul Reed Smith guitars and as a result Paul invited me to demonstrate at the guitarmanship booth. I got to jam with Santana and someone from the audience.
"It wasn't easy for me playing guitar at school because it was kind of a guys thing, and I just think it's so important to believe in yourself."
Jess: You still play PRS guitars right?
Orianthi: Yeah. I've been playing them since I was 11. They're my favorite guitars ever.
Jess: How many do you have? I saw a sparkly one and a lot of crazy ones.
Orianthi: I have quite a few. I have actually backups. I have "Maddoff" and "Pepper" — they're kind of my main guitars. They're kind of like my children — I always have to know where they're at. I just love them. They have different personalities too. Custom 22 has more of a blues tone, and Custom 24 has more of a lead tone… I have the sparkle one, which is covered in Swarovski crystals thanks to This Is It. I call that one "MJ" – he loved that one.
Jess: Tell us how you got involved with MJ.
Orianthi: It was actually through MySpace. I was contacted by Mike Bearden, the musical director. He was looking for a young female guitar player and asked around. My name came back about 4 or 5 times, and he reached out to me. He showed the performance at the Grammy Awards with Carrie Underwood to Michael, and he wanted me to come and play for him. It was pretty crazy!
Jess: So you released "Highly Strung" earlier this year, I love the song. It's so different from "According to You". Do you prefer one style to another or do you just like to mix it up a little bit?
Orianthi: I like to mix it up a little bit. I like to just play the guitar sometimes and not sing. I'm a big guitar head, so I hope to make an instrumental record down the road.
Jess: Do you have an instrumental album in mind for your next record?
Orianthi: Probably not next the record, but definitely down the road I want to come out with a completely instrumental record.
Jess: So you've played a lot of musicians, Prince, Vai, Santana, and also as you mentioned Carrie Underwood. Was that out of your comfort zone? She seems to stand out among the rest.
Orianthi: I love country music, and hers, and it was just really awesome that she invited me to get up and jam out and my iPod's so diverse. I've got Rascal Flatts, Carrie Underwood's record, Steve Vai, Jason Derulo, Kings of Leon — it's just a load of things. If it's a good song and they're a great artist, I'll listen to it. I think down the road I should release a country record. That would be really cool.
Jess: Our music editor mentioned that, at least in Australia, you're a bit of a quiet achiever – you've got a hit song and record out, and a lot of people now know you from the Michael Jackson tour and This Is It, but you could probably walk down the street without being mobbed. Is that sort of the level of fame you're comfortable with, or do you have your eye on that celebrity pop star status?
Orianthi: No, it's a good thing to walk down the street, for sure. It's kind of scary when you get people chasing you. It happened a couple of times. I've been followed from the record recording studio, from shows. Actually the last time — the Jay Leno Show — we were followed by about 7 people and they came out in front of my apartment and just bombarded me with posters and stuff. And that was pretty crazy. I don't mind signing stuff for people, of course. They're really sweet. But when they start following you places, that's a little odd.
Jess: You might be chased by a few girls at Dinah Shore this week. Are you excited about playing GirlBar's Splash Pool Party?
Orianthi: Yeah, definitely. I was invited to play it and I can't wait to come down with my band and rock out. It'll be fun.
Jess: Will this be your first time playing to a room full of lesbians?
Orianthi: Yes! This is the first [LGBT event] I've done, I think. It'll be a lot of fun, definitely.
Jess: So what's up next with you? Are you going on tour with anyone?
Orianthi: Yeah, I'm going on tour with John Mayer in April in Australia. I'm doing a couple of headlining shows in Australia as well. One in my hometown and one in Sydney. Then I'm coming back here to the U.S. and going on a tour.
Jess: Last question. Any favorite songs of the moment? Any guilty pleasures?
Orianthi: Favorite songs of the moment… Um, I put together an '80s playlist for my workout. On there, I have "Jump" by Van Halen and "King of Wishful Thinking."
Jess: I love that song! Go West!
Orianthi: I love that song — it's awesome. It's happy. It's the first track on my playlist. And I just bought the new Jason Derulo record, which is really cool.
Jess: Well, I appreciate you talking to me.
Orianthi: It was good chatting with you, have a great day!
Check out Orianthi's single "According To You" below and buy the record on Amazon
+